Levi David Addai is the writer of BBC One's new drama Dark Mon£y, which examines the effect on a family when their son is abused by a powerful Hollywood producer - and they are paid to stay silent. Dark Mon£y begins on BBC One on Monday 8th July 2019 at 9pm and on BBC iPlayer.
Watch the trailer for Dark Mon£y
What inspired you to write Dark Mon£y?
In celebrity culture there are a lot of stories of pay-offs, where parents have come out and said something's happened to my child - and then all of a sudden the story disappears because of an out-of-court settlement. And I think, an out-of-court settlement? What's happened there? And we never hear about the family or the case again.
Being a writer, I thought, if this was true, what next for the family? Because if this is true that they received money and didn't pursue charges anymore, where are they now? What's going on now in the dynamics of that family, especially if it was a huge pay-off where the parents don't have to work anymore and can live off the money they've been given, I mean, could I do that?
Knowing that when I'm going to the shop to feed my children, to know that this has been funded by this pay-off, the clothes that they're wearing... and even though the money could be used for the kids' future, to go to university, whatever it is, it's still the dark money. It goes back to that. So I just kind of ran with that. I never really had any fixed answers, I just had questions for myself and I thought, these would be good questions for the audience. So that's how it came about, and that's what I'm kind of doing in this series, I'm just throwing out the question, 'What would you do?'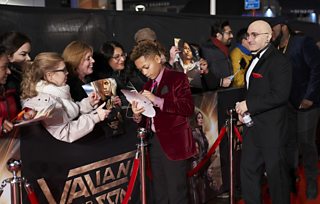 Isaac Mensah (MAX FINCHAM) in Dark Mon£y (Image Credit: BBC/The Forge/Des Willie)
And it's interesting, when you pose the question to people, whether it was the cast, crew or friends, hearing the different kind of views and the passionate discussions that come from it. You realise there is no straight answer to this, and you realise how evil and tragic such a thing can be. It's a horrible thing. But in terms of trying to find an answer and a way out of that, what is the answer? What is the way?
The common way out of it for those trying to silence it is money. So through this series I try to explore and show what the money can do, and what it doesn't do, and will this family ever get peace or justice...
Is there anything from your experience that you drew on?
I used to take my 5-year-old daughter to a Saturday drama school, just an hour and a half in the morning. While she attended I used to wait in my car, catching up on script work. I found myself observing the parents that would be bringing their children to the drama school and was intrigued how they would absorb the dreams being sold to them and their children. E.g "Your child could perform in the West-End, audition for big soaps or even Hollywood!" For me I was surprised how trusting the parents were and ready to hand over their children to people who were, no matter how nice they appeared - strangers.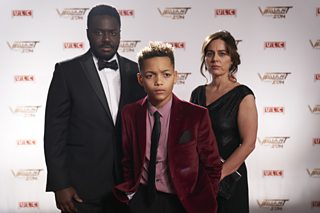 Manny Mensah (BABOU CEESAY), Isaac Mensah (MAX FINCHAM), Sam Mensah (JILL HALFPENNY) in Dark Mon£y (Image Credit: BBC/The Forge/Des Willie)
How important to the story are the circumstances of the Mensah family?
Very important as if the family were millionaires then the offer for millions for their silence would not have as much of an effect! And for me, this is the evil about these situations, where one party uses the power of the money to take advantage of those who have less, as a means to shut them up and move on.
Was it a difficult topic for you as a writer with children? How did you manage to keep an emotional distance?
Very difficult. This definitely wasn't a territory I thought I would be exploring, say five/six years ago when I was writing Youngers. But once the idea popped into my head I felt compelled to explore and do it justice. I feel this might come from my previous experience working on My Murder and Damilola, Our Loved Boy, where those stories were brought to me and I immediately felt a strong sense of duty to do those stories justice.
I've learned to keep all emotions within my laptop while writing. So that once I step away – I step away. However this isn't always as easy I hope. Simply turning on the TV and hearing the news talking about similar issues can easily trigger the emotions I go through when writing. This I where I'm fortunate to have my family and friends – who aren't involved in the industry – that allow me to truly step away and get back to being a husband / father / friend & weary Arsenal supporter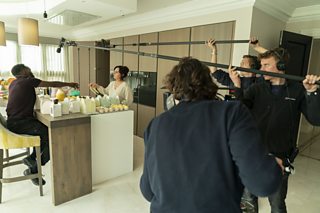 Filming Dark Mon£y - Ryan Osei (ARNOLD OCENG), Sam Mensah (JILL HALFPENNY) (Image Credit: BBC/The Forge/Des Willie)
How do you think viewers will respond?
I know for sure there will be a lot of debate, because you put yourselves in the parents' shoes and ask yourself would you do that, and each decision that the parents make will stir up a lot of debate. I didn't have a fixed answer on what is the right or wrong way to deal with this, I have a moral guide where I don't believe that accepting money for a wrong is the way forward - it's not a judgement on people that do accept money, but it just doesn't sit well for me. However, fortunately, I have never been in that position so it's been really interesting to explore that through these characters.
Drama can reach a lot of people. Maybe there are people out there who have accepted money, who are dealing with regret or guilt and may see this, and see some sort of hope that there is still a way of finding closure. Maybe it will make people think twice about using pay-offs as a method of controlling people. I'm unsure, but I know for sure it will make people talk a lot and debate the decisions that the family makes.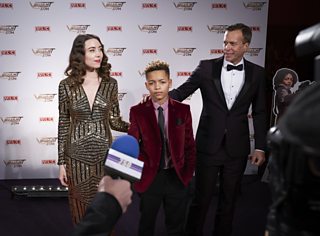 Mira Starr (HANNAH-LEE OSBORN), Isaac Mensah (MAX FINCHAM), Jotham Starr (JOHN SCHWAB) (Image Credit: BBC/The Forge/Des Willie)