The CBBC New Voices Initiative
The CBBC New Voices Initiative was an intensive, skills-based programme that ran throughout 2015, designed to give 10 emerging writers valuable insight into writing for CBBC, kick-starting an ongoing relationship with the drama team and allowing the writers unprecedented access to much-loved CBBC brands.
Gareth Sergeant was one of the 10 writers selected to participate. Gareth has written animation, radio plays, theatre plays and screenplays. In 2013 he took part in the BBC Doctors shadow scheme, and he has recently participated in the BBC Holby City shadow scheme. Since being involved in the CBBC NVI, Gareth has been commissioned to write an episode of The Dumping Ground.
Prior to the hearing about the New Voices Initiative, my experiences of children's drama was mainly limited to vague but deeply ingrained memories of malevolent headmasters, magic 50p pieces and that fateful paintballing episode of Byker Grove. Of course I was aware of contemporary shows like Wolfblood and The Dumping Ground, and I had written a few spec scripts with young protagonists at their heart, yet I'd never fully considered myself writing content about children, for children. With no kids of my own, perhaps I didn't feel qualified enough. Perhaps I felt too far removed from a generation that, by growing up in a de facto world of phones, tablets and social media, are tuned slightly differently to those who have come before, not only in how they conduct their affairs but who they are - how they view themselves as individuals, as minorities, as members of peer groups and their relationship with society at large.
Then I sat down and watched a load of children's comedy and drama. I emerged one week later kicking myself. Why hadn't I done this before?!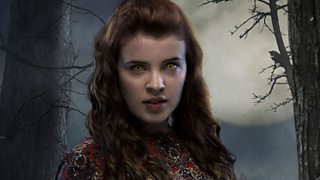 CBBC's Wolfblood
I was floored, not only excited as a writer by the current breadth of content ("It's a fantasy serial! A period drama! A sitcom!"), but also by the way in which I was engaging with it. With complex characters, sophisticated themes, highly developed wit and concise, purposeful storytelling, it brought home the often forgotten yet blindingly obvious point that storytelling is storytelling; if you have engaging, character-led stories then you're half-way there.
Half-way there… Clearly there must be an understanding and deep respect for the specific audience we are writing for. This is arguably more straightforward when considering a commercial rom-com cinema-goer or B-movie Horror fan but what about writing specifically for children? What do young people expect from their drama and what do they want out of it? Would they rather escape or relate, laugh or be challenged? Do they approach narrative, genre and tone differently from adults? How has all of this changed from the days when I was plonked in front of the TV with four channels to choose from with no tablets or mobile phones to compete for my attention? What are the responsibilities and/or moral duties as a programme maker and to what extent has this changed?
This was the aim of the first New Voices workshop – to take 25 writers from a variety of backgrounds and with varying experience in film, television, theatre and prose and give an intense crash course in writing for children's television comedy and drama in 2015. Some had written specifically for children before, others simply curious. Some had kids of their own or worked with children, some found the idea of interviewing 30 Year Sevens on our first workshop day truly terrifying (this actually happened). Either way, the intention was to offer a series of workshops in order to give us an insight, answer our questions, test our nerves and ultimately let us discover if writing for children is something we wanted to pursue in the future.
On top of these discussions we got to meet some awesome writers (a fascinating talk with Elly Brewer about her experiences on The Dumping Ground and an aptly hilarious comedy seminar with Mark Oswin), had a Q&A with CBBC's channel controller Cheryl Taylor and met with other writing departments based in Salford. We also had space and time to socialise amongst ourselves - always good to meet a bunch of other people who share common interests but sometimes need a bit of coaxing to emerge from the comforts of their writing caves!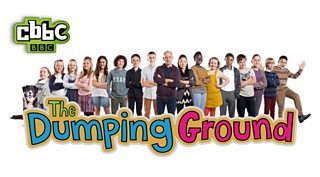 The cast of CBBC's The Dumping Ground
From this workshop 10 of us were invited to continue to the next stage of the initiative. This took things up a notch, with further workshops ranging from nuts and bolts writing theory to very practical industry insights such as the development process, how to approach writing for existing shows and even the art of selling your original ideas through the dreaded pitching process. All of this was consistently linked back to the CBBC audience and the specifics of CBBC itself.
As well as this we were given multiple opportunities outside of the traditional seminar format. Highlights included sitting in on story development meetings (watching living, breathing writers coming up with actual episodes in front of our very eyes!) and visiting the sets of The Dumping Ground, Wolfblood and Hetty Feather. Clearly we had all reached peak fandom at this point and so to see the shows getting made and have the chance to fire questions at the creative heads behind them was incredible. Each visit was accompanied by specific writing exercises and we were given detailed feedback from writers, script editors, producers and execs. We also sat in on script read-throughs and even spent some time in the edit suite – essentially getting a taste of the entire process from initial series concept to final cut.
A major part of the initiative was to pair each of us up with a mentor – an established children's writer to bounce ideas off, read our work, give industry advice or simply meet for a coffee and a catch up! I know we've all made really strong connections with our mentors and it would be safe to say that these are now friendships which will continue beyond the framework of the initiative (shout out to my own genius mentor Mark Oswin).
So, in the space of a year, I've not only found a whole load of new shows to fanboy over but I've also learned a great deal about writing for children, the television industry as a whole and myself as a writer. Top tips I've learned; be brave and bold. Understand and respect your audience, don't condescend or undermine. There's a big difference in being thematically or emotionally complex and narratively clear and concise. You might want to explore a challenging issue or be fiercely entertaining but you must always be engaging. Write about relatable human conflicts, even if you are writing a sci-fi thriller or comedy set in medieval times. Your audience isn't simply 'children' – an eight year old engages with/is affected by drama in a different way to a 12 year old. Humour as a device is your secret weapon, even in the unlikeliest of places.
Watch as much content as you can, find the shows you love and ask yourself why you love them. You might find that the worst thing that happens is being left on a cliffhanger and having to wait another year for the next series!
And there's the usual chestnuts – show don't tell, proactive protagonists, three dimensional antagonists, Chekhov's gun! Ultimately storytelling is storytelling – 'generation 2.0' might regard my formative years as pretty alien but we will always share a common bond in needing drama to entertain, challenge, broaden our horizons and help us make sense of who we are and where we fit in the world. And as anyone who has their own Demon Headmaster or specific Grange Hill episode doggedly lurking in their subconscious knows, this is never as important as when we are children.