From the Writers' Access Group to working as Story Consultant on Ben Mitchell's deafness storyline on EastEnders
You can't always see what's coming. EastEnders, on BBC One and BBC iPlayer.
On Monday night, a special 'silent' episode of Eastenders was broadcast from the perspective of the character of Ben Mitchell. The episode was unlike any previous episode of the show - to reflect Ben's deafness, it had limited audio, fractured sentences and incomplete subtitles.
Watching the episode was a proud moment for me because it was part of a storyline I pitched to the show's writing team last summer. And it was the latest step in a journey that began when I joined the BBC Writersroom's Writers Access Group.
How it began
Two years ago, I went to a scriptwriting workshop featuring the BBC Writersroom which was run by the Disabled Artists Networking Community (DANC) in Manchester. It was there that I found out about a new BBC writing scheme for writers with a disability.
Meeting once a month for nine months, there'd be masterclasses in all elements of scriptwriting for TV, from producers and writers from inside and outside of the BBC. It sounded almost too good to be true.
After applying with samples of my previous scripts and talking about my previous work and approach to writing at an interview in London, I was really pleased to be offered a place.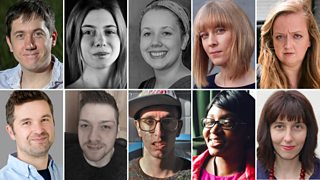 The Writers' Access Group
The Writers' Access Group
One of the best things about being in the group was simply getting to know the other writers as each month went by.
Everyone had previous credits in TV or theatre, and everyone was talented and passionate about their writing. They also happened to be very nice people who were willing to share their chocolate rice cakes during coffee breaks! Some of the writers became good friends and after a while we set up a WhatsApp group so that we could chat and debate stuff with one another wherever we were.
We all had different access needs which were provided for by the BBC Writersroom. I'm partially deaf and hearing everything when in group situations is the thing I find hardest, so I had a speech-to-text palantypist at each session, meaning I could read what was being said and fill in any gaps.
Monthly Masterclasses
The monthly sessions with writers like John Yorke, Tim Prager and Kirstie Swain, plus producers from different parts of the BBC, gave us a strong sense of the principles and realities of writing for TV and radio and what works for different types of programmes.
One practical tip has changed my daily writing routine. Frank Spotnitz gave us a tip of using a cork board to place story beats on, and emphasised the importance of spending serious time planning our stories. I've now got my own slightly worn out cork board which I spend a lot of hours staring at while rearranging pieces of card, which may not sound glamorous but has really transformed my approach to structuring my scripts. So a big thanks to Frank for that!
After initial sessions in London, we visited the set of Doctors in Birmingham to meet the show's producers, then went up to Media City in Salford to visit CBBC and CBeebies. We were assigned script editors and worked on new spec' scripts which would help us draw more interest for our work. In our final monthly session, we had a speed dating session with producers and agents where we were able to pitch both our ideas and ourselves as writers.
Getting involved with EastEnders
Each of us was assigned a mentor and I was linked up with Jon Sen, the Executive Producer of EastEnders. Jon gave me an insight into how the programme works, and invited me to visit a long-term story conference with all the writers.
To be in a room with 30 writers and producers talking about all the show's legendary characters and what might happen to them in the next year was an amazing experience. The BBC Writersroom arranged for me to have a palantypist there so that I could follow what was said. Listening to (and reading) all the stories and discussion got me thinking.
The character of Ben Mitchell had been deaf in one ear since childhood, but his deafness hadn't really been focused on for many years. I'd also long wanted to see a signing deaf character become part of the square.
So on the train home, I wrote a story where Ben loses more of his hearing, with Frankie, who is a deaf character, coming into his life to support him. The idea was that the two characters represented different ways of being deaf - while Ben struggles to accept his deafness, Frankie shows him how it's possible to be positive about deaf identity. The story drew on my own experiences of growing up knowing different types of deaf people.
After I sent the story in, Jon replied positively, asking me to develop the story further, and then after a few more drafts, he invited me to the next story conference to pitch it to the writers.
Ben Mitchell (MAX BOWDEN) Image Credit: BBC/Kieron McCarron/Jack Barnes
Pitching my own story
Pitching my story to the EastEnders writing team at the end of a very long, hot day of the summer was probably the most nerve-wracking moment of my life. Would they want one of their main characters to change so much? Would I be able to explain the deaf world in a way everyone could understand?
After I'd outlined my story and the character of Frankie, along with the idea of an episode from Ben's point of view, the writers asked me lots of questions about deafness and deaf culture and how it could be portrayed on screen. This time I had two sign language interpreters, again arranged with the support of the BBC Writersroom, which enabled me to understand everyone properly and (hopefully!) explain the deaf world as clearly as possible.
As I left the room everyone seemed really positive and I felt like the story had a chance.
Multitasking
In the meantime, having made contacts through the monthly masterclasses, I'd been sending my work to different producers I'd met, which led to meetings and workshops at Casualty in Cardiff, and CBBC in Salford.
This led to a real breakthrough - two script commissions, to write an episode of a children's series for CBBC, and co-write an episode of Casualty with another member of the Writers' Access Group, Sophie Woolley. Then I found out that EastEnders were running my story, and I was going to work as an adviser on the storyline. This is when things got really busy!
Over the next few months, if I wasn't writing either of my scripts, I was reading EastEnders story documents and scripts relating to my story and feeding back on them. It was fascinating seeing which parts of my original story were kept and which parts were changed, as the story expanded to become part of episodes running over a number of months.
I was busier than I'd ever been in my life, working with different production teams, hitting multiple deadlines, and learning about my own strengths as well as areas I need to work on!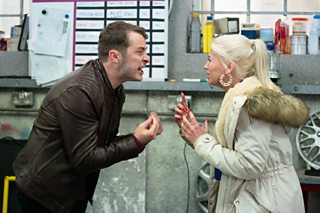 Ben Mitchell (MAX BOWDEN), Lola Pearce (DANIELLE HAROLD) Image Credit: BBC/Kieron McCarron/Jack Barnes
Reaching the screen
In late March, after EastEnders' 35th anniversary episodes, the storyline of Ben becoming deaf finally hit the screen. It was surreal watching the story I'd pitched finally becoming part of a show I'd watched since I was a child.
A few weeks ago, Frankie (played by the brilliant deaf actor Rose Ayling-Ellis) arrived on the square, then the silent episode (I worked with the writer Simon Ashdown as Story Consultant on the episode) aired on Monday night.
It's been incredible to see the audience response. Frankie is a character a lot of deaf people feel they relate to. I think the biggest achievement of the silent episode was taking the wider audience into a deaf person's perspective for half an hour, showing how altered Ben's world is. I've seen comments from deaf people who said that the silent episode helped their families to understand how they hear the world for the first time. It's amazing what can be sparked off by writing a story on a long train journey from London to Yorkshire!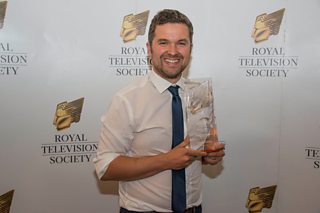 Charlie Swinbourne
The future
The Writers' Access Group has definitely transformed my career. I've learned from the masterclasses, gained experience, made vital contacts, and written for programmes I'd always dreamed of being part of.
What the group shows is that with the right access, writers with disabilities are able to show what they can do.
There's still a long way to go, but it feels like the industry is starting to change in terms of its approach towards disabled writers. People are realising that we offer a different perspective, whether we are writing stories related to disability or not.
The group are still in touch nearly every day, supporting one another through the ups and downs of a writer's life on our WhatsApp group! Writing is a solitary pursuit, so having people you can chat with and ask for advice from is really valuable.
You'll be seeing more of our work appearing on your screens soon. I'm also looking forward to seeing what future intakes of the Writers' Access Group get up to! If you're thinking of applying, I'd definitely recommend it.
Watch the EastEnders episode from Monday 1st June on BBC iPlayer
Charlie Swinbourne has written dramas, comedies and documentaries often focusing on deaf characters. He won an RTS Yorkshire Writer Award for his sketch show Deaf Funny in 2018 and has also worked as a journalist. He is based near Leeds. The episode of Casualty which he co-wrote will be broadcast in July, and his CBBC episode will be filmed later this year.