Editor's Note: This is an extract from a Q&A by Hugo Blick for the MIPTV event in Cannes in April 2014.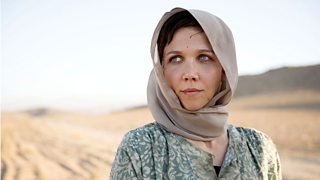 Maggie Gyllenhaal as Nessa Stein in The Honourable Woman
What was the inspiration behind the series?
The Honourable Woman is about Nessa Stein. The series centres around a woman who is deeply conflicted about past events, events that have haunted her, it is the reason why she is constantly battling a consuming internal conflict – this internal struggle for reconciliation with her past and her search for personal equilibrium – is manifested in her political activities – to try to reconcile a conflict that has equally haunted a region of the world, countless lives, and political agendas for many years.
Did you always have Maggie Gyllenhaal in mind?
Nessa Stein carried deep emotional complexity; from a professional requirement, I cannot possibly think of anyone better suited to deliver on this. Also it might be interesting to note that the role demanded an atmosphere of internationalism: Nessa is neither wholly Israeli nor British and to a degree this rootlessness, in tandem to being an orphan, helps explain her isolation. Maggie was a dream casting for this role and I am delighted that she chose The Honourable Woman as her first project for long form drama. 
How did you secure her involvement – especially as it is her first move into TV?
A trip to New York and the threat of flying back empty handed! That and my willing acquiescence to eating her homemade nettle pasta just before flying back. Her insight into the character and scripts was profound and her consequent performance more than delivered on that promise. The fact that my return flight didn't have to take an emergency detour to Iceland due to nettle poisoning was simply a bonus. 
It is a very eclectic, international cast – was that important to you?
It's an international story - the cast reflect that. It was a great coup for me to work with Lubna Azabal and Igal Naor, among others, of whose work I have been in huge admiration.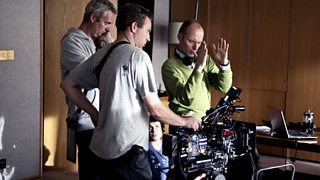 Behind the Scenes filming The Honourable Woman
You are creator, writer, director, producer – is it harder or easier when you are responsible for so many aspects of a production?
Basically, I get to say to every significant contributor to the project that there's this nail in the middle of the desert and this nail is the Vision Thing - it could be any number of nails but it's this one I want you to strike. In a production by the time you're ready to go there could be three hundred people gathered around that nail. And the key to it is that everyone's got to strike it at the same time and, crucially, they have to do it for themselves. I find tortuous metaphors like this useful because they appear to be equal parts confusing and gnomic. 
Do you prefer one "role" over the others? Is there one that gives you particular satisfaction?
Each one is extremely demanding but the role of producer and director with all their complex logistical and emotional demands are as nothing compared to staring at a blank page in the knowledge you're going to have to fill five hundred of them, sensibly, before anything else can happen. 
Would you ever consider getting in front of the camera again? In one of your own productions?
Maybe. But it's like horse riding – knowing what it demands makes you sensitive to others when they're doing it. It's a delicate thing for an actor to have the confidence to be vulnerable. As a director a massive percentage of what I do lies in the casting. Get that right, then all you have to do is watch and listen – everything else, where to put the camera, how to make the day, all that will follow.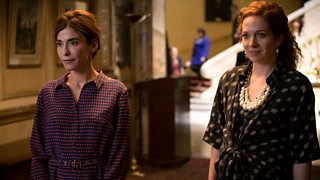 Lubna Azabal as Atika Halabi with Katherine Parkinson as Rachel Stein
Why did you choose to set it against the back drop of the Middle East conflict?
I have a lifelong interest in the region, it is a cauldron of human identity, and it's this turbulence reflected in the character of Nessa Stein that I wanted to explore. To a backdrop of the seemingly irreconcilable this is a story about personal reconciliation. It was very interesting to take a world issue, distil it into a single family and then to explore how this tested them. 
How much research did you undertake?
I have travelled extensively throughout the region to inform a story that is entirely personal and fictional. 
Having researched this subject/conflict – do you have a particular stance?
My political sympathies and/or ideologies are not relevant to the story which stands on its own particular platform. The Honourable Woman is a work of fiction and yes, it does look at real and current politics in the Middle East but, I am certainly not offering any actual, specific answers to such a complex and emotionally provocative issue except to explore what happens to fictional characters who do.My total interest is in the journeys my fictional characters take towards, or away from, personal reconciliation and it is only this that informs both the story's arc and style.
The lead character is an Israeli – do you think that might cause some to react to the drama suggesting it could be biased?
It is important that viewers and critics watch the entire series – as intended – before making judgements on the characters or story arc because great care has been taken to explore this complexity. It is also important to note that the character played by Lubna Azabal is a Palestinian and that the series title could equally reflect upon her.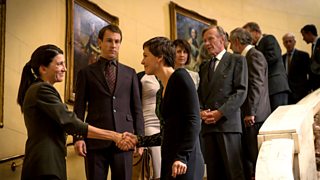 The Honourable Woman
There is some fairly graphic violence throughout the series. Is this an integral part of the drama? Will it not incite reaction from different groups?
The violence inflicted against Nessa Stein is crucial to the character – it is what has shaped her, created the complex character she has become. What she has experienced and witnessed offers an explanation to why she makes the decisions she does, why she is often dichotomous – in character and in her actions. The Israeli/Palestine conflict is characterised by violence with many victims on both sides and that is referenced in the violence that the characters experience throughout the drama – which should be viewed in its entirety.
David Hare recently criticised the "excessive" killing in TV and film dramas – do you agree with his points?
There are a number of dramas where there is a high level of violence and killing but I think is has to be seen in context. Often the violence is an important part of the story, plot, characterisation and it is hard to make a generalisation about drama in general. The Honourable Woman does contain some violent scenes and killing but it is relevant and intrinsic to the plot and characters.
Should a voice that is not associated with the conflict be the one to tell this story? What is it that gives this drama the necessary authority and authenticity?
If true, all art would be autobiographical – only the police could write about the police; politicians, politics etc. It is the fascination with a perspective that leads me through character and story - irrespective of nationality, race, gender or religion. Here this fascination comes from a lifelong interest and careful consideration of the real world conflict that serves as a back drop to this story – but necessarily it only goes so far as to relate to the motivations of my fictional characters.
Should a very real, very present and emotionally charged conflict as this be used as the backdrop to a drama – for entertainment?
Drama and entertainment in general should never shy away from difficult subjects, emotionally charged issues or complex themes. It is another medium through which we can explore different themes, ask difficult questions and highlight important issues. In The Honourable Woman the conflict is used as a creative device – a reflection of the internal conflict of the central character – but it also cements the drama in a clear time frame and a conflict that viewers can relate to or are aware of.
Nessa Stein is presented as a newly ennobled baroness in the British House of Lords; shouldn't the series title be The Noble Lady to better reflect her position?
The title The Honourable Woman is a reflection upon Nessa Stein's moral condition not her professional status. Of course it is hoped all members of Parliament are honourable whether of the Commons or Lords. In fact I did momentarily consider The Noble Lady but thought the title perhaps better suited to a belated picture starring Merle Oberon and Errol Flynn.
Did you always envisage this as a BBC drama? Were you surprised they commissioned it?
Yes and I live my whole professional life under the condition of eternal surprise. I am, of course, delighted that both BBC Two in the UK and Sundance Channel in the US commissioned the series. I hope The Honourable Woman remains in keeping with these channels' reputation for original, daring and stylistic drama.
Find out more about The Honourable Woman, meet the characters, watch clips and see photos