Writing for Doctors - 'The Heart of England'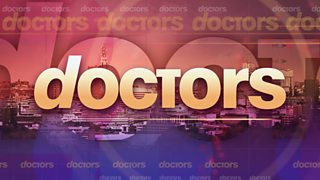 So, it's Tuesday and I have to come up with a good idea by the end of today. Or sooner, if possible. I've no idea what the idea is going to be. But by lunchtime, I will have thought of something. Then I write it down. Sometimes at that stage it falls apart, or I can see that it really doesn't work. Sometimes it's a story, fully formed, with characters who are already talking a mile a minute. Time to ring my Script Editor, and have conversation which frequently goes something like this:
Me: "Hi! You know I had that idea about an agoraphobic girl who thinks the world's ending today?"
Script Editor (warily): Ye-es…
Me: "Well I'm not doing that one. I don't think it works. But listen, I've had this idea about two clowns…"
And with luck, by Friday it's been passed to the Producer who has said the most important word in the writer's life. That word is"Yes." And I've embarked on a new episode.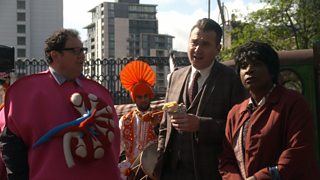 Doctors: Dr Al Haskey (IAN MIDLANE), Howard Bellamy (IAN KELSEY), Mrs Tembe (LORNA LAIDLAW)
I've been doing this for a long time. Doctors is celebrating 3000 episodes; it is my 73rd for the show (oh yes, I've counted). I'd like to do another 73 or so, because it's about the most fun you can have at a computer.
So what is 'Doctors'? It's the BBC's best-kept secret, seldom mentioned or trailed. I've lost count of the number of times I've explained to baffled people who actually work in the day that there is daytime drama on the BBC. It's not all property porn, makeovers and old episodes of Murder, She Wrote. 'Doctors' is not, repeat, not a soap – though there's nothing wrong with soaps. It's a continuing drama with its regular characters and ongoing stories – but roughly two-thirds of every episode is the creation of the writer. Each time, you come up with a different story, characters and a world – and it can be about pretty much anything you want. It's the quirkiest of the continuing dramas, one where we're positively encouraged to be adventurous. There have been episodes where the action takes place in a dream, or inside someone's head, or in flashback. An episode of 'Doctors' can be pretty much any genre – a romantic comedy, a tense thriller, a road trip (one of my own favourite episodes had Al driving a self-destructive, anorexic ex-girlfriend to a clinic that might save her life). 'Doctors' is a show which cleverly encompasses a doctor's surgery, a police station, a very peculiar practice at the University campus, and a whole Midlands town which has now become a suburb of Birmingham.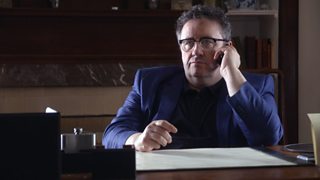 Doctors: Mal McBride (MARK BENTON)
I'd always wanted to write; I loved TV and especially series drama – starting with an addiction to the original Star Trek when I was eight years old. It seemed magical that we had the same characters, and weirdly shaped spaceship, but a different adventure every week. I started writing for The Bill, ITV's wonderful (and sadly axed) police drama in 1994. As with 'Doctors', it was in half-hour episodes (actually 24 minutes if you allowed for the advert breaks). I learnt a lot on 'The Bill' – mainly, just how much drama you can cram into 30 minutes. I moved, via Casualty and EastEnders, brief stint on Emmerdale and an event briefer stint on the revived Crossroads, to 'Doctors'.
The thing to remember about 'Doctors' is that it's made on a tiny, tiny budget - it would probably barely buy lunch for the cast and crew of Downton Abbey. You have no more than three speaking guest characters (four if they're feeling generous). limited numbers of locations and extras, and - as it's daytime - no swearing. These restrictions irk, but they also make you creative; you have to be really inventive if you don't have CGI to fall back on. I was well used to working within these restrictions. Then we came to the hour long episode.
There are long lead-in times for drama, and of course it starts with the writer. 'Doctors' typically works 6 months ahead, so I'm always writing a Christmas episode in July, or a midsummer episode in January. It was over the Christmas break last year that writers on the show were encouraged to pitch ideas for the 3000th episode. The brief was: celebrate the show and the city of Birmingham. The budget was bigger! Like my fellow writers on the show I spent January researching and pitching mad ideas - some madder than others. I spent the first half of February obsessively checking email and talking to other writers - "Did you pitch? Have you heard anything?" It was the day before Valentine's Day when series producer Peter Lloyd rang me and told me I'd got the gig. I celebrated. Then the hard work really began.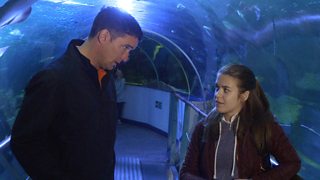 Doctors: Dr Daniel Granger (MATTHEW CHAMBERS), Mia Kelly (ELENI FOSKETT)
I have learnt over the years that sometimes you have to wait for it to be the right time to write about something. I've learnt patience - though goodness knows it's taken me long enough. I had been asking (er, nagging) 'Doctors' for years wanting to do a story about CSE - child sexual exploitation (I am famous for doing gloomy and gritty stories). I went to script meeting a year ago, shortly after Alexis Jay's damning report on how police, social services and all the other authorities had failed children who were being exploited in Rotherham. I said, for possibly the 70th time, ""this is important! Can we do a big story about this?" And now we are. The Heart of England is the climax of a story that's run for the past month. I had a brief, a budget, I had a shoot-out in Centenary Square to write - and I had a few unusual requests. Can you use lots of Birmingham locations? To which I replied, Can we have a sequence set in the city's Sea Life Centre? Could I include a dozen bhangra dancers and musicians for Mrs Tembe, the stalwart receptionist, to get involved with? I discussed all sorts of ideas (I'd still like to do the Arts Festival on a barge, featuring the Canal-Boat of Culture) but we finally agreed on a blood drive - an NHS campaign to get more black and minority ethnic blood and organ donors. And when they are present at the scene of a shooting, they may get more blood than they've bargained for (no, I'm not going to tell you who gets shot - you'll just have to watch!).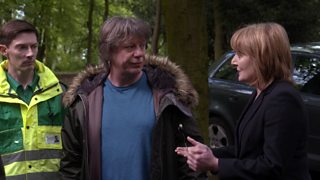 Doctors: Andy Weston (IAN MERCER), DCI Driver (ELIZABETH RIDER)
Fast-forward three months, and after a blur of rewrites and more rewrites I was on location - standing in Brindley Place, on one of the coldest May days since records were kept, watching the actors and crew bring my words to life. After months of writing things like, "The music starts and the dancers begin moving round the square," it was amazing to see the spectacle, an explosion of colour and music and drumming. Passersby stopped to stare, recognising the actors, ("Look, Steve. It's them off of Doctors!"). As a spellbinding dance routine finished, everyone in the Square broke into spontaneous applause. Writing isn't normally this exciting; it's just me, sitting in my study with my 19th cup of tea and eating too many biscuits. These are the moments that make it all worthwhile.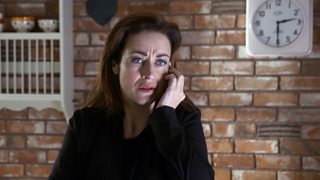 Doctors: Dr Zara Carmichael (ELISABETH DERMOT WALSH)
John Yorke had 25 top tips for writers. I have three. Well, three and a half, maybe. For what it's worth:
Pitch the story you really, really love. Even if you think it's a bit mad. If you love it, the chances are someone else will respond to it to. What's the worst that can happen? Someone can say "no". It's not gonna kill you. No-one's going to put you in front of a firing squad, or attack you on social media. DO NOT try to second-guess other people's tastes. Don't pitch the idea you think "they" want. "They" won't.
My first ever 'Doctors' episode was an idea I nearly didn't pitch, because I thought it was so strange no-one else would get it. So I pitched a selection of perfectly workable "disease of the day" stories - and then there was an odd little story about a bereaved 9-year-old boy who's lost his Mum, and who copes with grief by having an imaginary friend, a dragon called Billy. (As one does). Of course, the idea about the imaginary dragon was the one everyone else loved too. That was the episode that worked.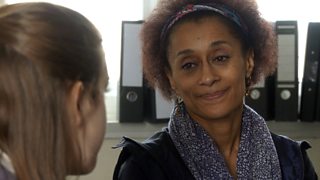 Doctors: Rose Blair (SUZANNE PACKER)
Don't write about "issues"; write about what is happening now - the zeitgeist. Drama is a reflection of the world, a way of exploring terrifying ideas but in a safe place. The Greeks invented it, and they reckoned it was about catharsis - pity and terror. I think it's about empathy. We're bombarded with 24-hour news about terrible things happening all around the world; drama makes it human. If you can make someone understand why a mother would kill her newborn baby, or why an idealistic teenager would go off to join IS, you're achieving something. Drama exists to say the unsayable, think the unthinkable and mention the unmentionable. Make the most of it.
Watch the trailer for the 1 hour special marking 3000 episodes of Doctors
Do your research. Be interested in everything, be curious about everything, find out as much as you can about as much as you can. Sitting and writing is only part of the job of being a writer; a lot of it is "finding out stuff" I watch lots of documentaries - whether they're about hoarders, jihadists or people who make hand-crafted sandals - there's always something there that might be the seed of an idea. I recently told a producer, only half-jokingly, that I got a lot of my best ideas from Radio 4, but then I'm that demographic. An article in a newspaper, a debate on the radio, or a heated conversation on Twitter can all lead to something. I wrote an episode about a modern female Fagin who's taught her 11-year-old daughter, and her daughter's friends, to be pickpockets and is living off the proceeds. It was based on a story I read in a newspaper. Being a writer is wonderful; it gives you a licence to be nosy. (Mind, who needs an excuse?)
I'm proud to be a Doctors writer. It's a continuing drama, and long may it continue. Happy Birthday, Letherbridge!
Watch the 1 hour special to mark 3000 episodes of Doctors, Thursday 10th September 2015 and on BBC iPlayer
Read the script for Doctors 'The Heart of England' and other episodes in our online library
Watch Doctors every weekday at 1.45pm on BBC One, find out more about the programme including meeting the main characters, watching interviews and seeing photos
Listen to Katharine's Drama for BBC Radio 4 'See' (also broadcast on Thursday 10th September)