To Hull and Back: From winning BBC New Comedy Award to Radio 2 sitcom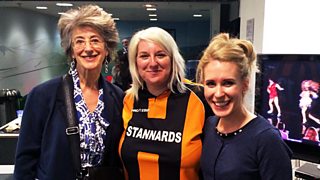 To Hull & Back cast: Maureen Lipman, Kerrie Marsh and Lucy Beaumont
Winning the BBC New Comedy Award really helped me get ahead. I always saw myself as a bit of an oddball comedy act but the night of the final, in Blackpool, made me think I might be able to appeal to a mainstream audience.
I knew I wanted to write sitcom and I knew I wanted to do it on radio. Radio comedy is special, to me. My mum slipped all of her discs in her back apart from one when I was a kid and was in hospital for over a year, we used to listen to all the old radio comedies on tape together when I visited, Steptoe and Son, Hancock's half hour, they were sad and funny, just like life and twenty years on that's the sort of thing I'm attempting to write.
Being a writer/ performer is like voluntary schizophrenia, there's lots of hats you have to try on to see if they fit and you've got to go within yourself yet be able to observe from a far. I didn't know if I just wanted to learn to write sitcom so I could have a platform for myself but really it doesn't work like that, you need to learn to write because there's stories you want to tell, journeys you want to go on, you need to be in the soul of all the character's not just yours. I had times when writing To Hull and Back when I'd be focusing on myself or I'd underwrite my bits and focus on someone else. I had to stop picturing myself in it and remember to be the writer, when I did that I started to understand story structure a bit more.
Luckily I've got a mum who may be weak in the back but by 'eck she's good with words. She's been a playwright most of my life, Gill Adams, and has been an amazing mentor, she mostly tells me off if she thinks it's not good enough. If you aren't lucky enough to have a real clever mam like mine you need a good producer and I had both. I worked with Carl Cooper on To Hull and Back and he's been worth his weight in gold. He's like an oracle of all things comedy, he's passionate about it and respects it, basically he's diamond and a grafter, and he's patient…I could go on. Working with a producer who 'gets you' is a wonderful artistic journey. I hope you get to experience it.
Listen to a clip from To Hull and Back
I was an actor for a lot of years and never had any money, I ended up cleaning at the same university that gave me a degree in drama. A bachelor degree in Drama and NVQ in cleaning from the same university, tut and actually it isn't a full NVQ because I was too small to handle the buffing machine. I knew I had funny bones and had been lucky enough to have the time to experiment with comic timing, in a play on tour, with a group of special women. (Ladies' Day by Amanda Whittington-another gifted writer like me mam). It made sense to have a go at stand up. Stand up, is about clocking up hours and hours of stage time and wishing for magic. But it's the writing of material that's hard, mentally it's hard to write. I think being a stand up helps to write comedy sitcom because you're paranoid that it needs to be funny but in all honesty writing is a different craft, the comedy comes from the characters. You perhaps don't even need a sense of humour to write funny things.
To Hull and back, like everything I've ever written, is biographical, there's bits of everything I've ever known in it, if that makes sense, but maybe that's the same for all writers? Then there's the end result- bringing the show to life, with the actors and in front of an audience was...well it's up there with getting married or having a baby...surely. I haven't actually done these things yet so I think what I mean is I just couldn't believe it was really happening.
But I'm just at the beginning of it all, I've got a long way to go, I've developed a style and by that I mean, people have told me what my style is. I've got more ideas and stuff but I'm keen to tell any would -be -writers or performers to 'take your time, there's no rush, I promise it will happen when you're really ready'. Sounds a bit corny but I tell you what, I'd have loved to have heard that when I was buffing floors.
To Hull and Back is a Radio 2 sitcom about a mother and daughter struggling to make ends meet - listen now on BBC iPlayer.
Read the script in our online script library.
Lucy Beaumont is an actress, writer and stand-up comedian. Lucy was the 2012 winner of The BBC New Comedy Award and she has recently won the Chortle Award for Best Newcomer. 

Applications for The BBC New Comedy Award 2014 are now open. Find out how to apply here.