The BBC TV Drama Writers' Programme 2018 - Writers Announced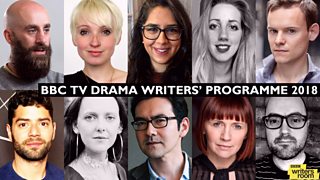 We are delighted to announce the writers for the fourth BBC TV Drama Writers' Programme, a unique initiative that this year gives ten promising screenwriters the opportunity to write the first episode of an original series or serial for the BBC.
The writers for the 2018 BBC TV Drama Writers' Programme and the production companies where they have been placed are as follows:
Throughout 2018 their scripts will be developed with independent production companies and the writers will be invited to attend masterclasses and workshops with established television writers and production teams.
Independent companies taking part for the first time this year are Bad Wolf, Balloon Entertainment, Clerkenwell Films, Kudos North, Mainstreet Pictures, Sid Gentle Films and Sister Pictures. Previous participants joining again are Element Pictures, LA Productions and World Productions Scotland.
Julie Gardner & Xandria Horton from Bad Wolf said, "We are delighted to take part in this year's scheme. We were highly impressed by the talent of all of the writers shortlisted, but the chance to work with Welsh writer Alan Harris was a no-brainer for us. Alan brings a deep sense of empathy to all his writing. We are excited to find with him a distinctive Welsh story for the screen."
Dave Evans, Balloon Entertainment said, "It's been fascinating being involved in this year's TV Drama Writers' Programme and I've loved having the opportunity to read so many amazing new voices. We're working this year with Francis Turnly - a writer of extraordinary precision and flair with ideas bubbling over. I'm thrilled to have the chance to develop a script with such an exciting and focused mind."
Laura Conway, Kudos North said, "Rebecca Manley has a strong, individual voice; exactly what we're looking for at Kudos North. I'm delighted we connected at the BBC pitching session and look forward to exploring her witty, brutally honest characters who open up distinctive worlds."
Justine Potter, LA Productions said, "LA Productions is delighted to be involved with the TV Drama Writers' Programme for the second year running. Whilst choosing a writer was hard, we're delighted to welcome James Pearson into the fold."
Matt Power, Element Pictures said, "We're delighted to be taking part in the BBC TV Drama Writers' Programme this year. Hamish Wright is a very talented writer with such a rich and perceptive voice, and we can't wait to see what this year will bring. We had such a brilliant experience last year with the programme, and expect more great things this year and going forward."
Henrietta Colvin, Sid Gentle Films said, "We are delighted to be involved in this year's programme. It has been a fantastic introduction to some great new talent and we are hugely excited to be working with Phoebe."
Laura Mackie & Sally Haynes, Mainstreet Pictures said: "Mainstreet are always on the lookout for exciting new voices and are delighted to be a part of the BBC TV Drama Writers' Programme which enables us to mentor an emerging writing talent. We're extremely lucky to be working with Mario Theodorou who has incredibly distinctive ideas that we look forward to helping him develop over the coming year."
George Aza-Selinger and Priscilla Parish, World Productions Scotland, said: "We are very pleased to be part of the TV Drama Writers' Programme again, which does such a brilliant job for the sector by matching exciting emerging talent with Independent Production Companies. We are also over the moon to be working with Chandni Lakhani who blew us away in the application stages with the quality of her writing and ideas as well as her infectious enthusiasm for drama."
The aim is that each writer's series or serial will be taken into full development by the BBC. From the 2017 scheme two scripts have so far been formally accepted on the BBC TV Drama commissioning slate whilst others are being considered by commissioners or having further development.
Established writers who have contributed to Masterclasses and related BBC Writersroom events over the last three years include Mike Bartlett, Danny Brocklehurst, Marnie Dickens, Bill Gallagher, Adrian Hodges, Kay Mellor, Jed Mercurio, Peter Moffat, Vinay Patel, Sarah Phelps, Frank Spotnitz, Sally Wainwright and Toby Whithouse.
Find out more about the BBC TV Drama Writers' Programme - including the writers who have been part of the programme, eligibility and application criteria and FAQs
Read Lauren Sequeira's blog post about the 2017 scheme
*Please note* This is a separate scheme from our open submission Drama Script Room (which closed for submissions in January). We are hoping to let everyone know the results of Drama Script Room by the end of April.