I was selected for the very first BBC Writersroom Comedy Room group way back in 2015 AD, and during that time, there was a lot of emphasis on Children's TV as a common route in for new writers. I'd never actively pursued writing for kids ("I don't have kids, or hang out with them. Can I still write for them?!" – me, an idiot), so it was really exciting to see the range of shows and possible opportunities.
The end of the Comedy Room scheme coincided with an approach by The Dumping Ground to BBC Writersroom; they wanted to diversify their writing team and were looking for recommendations. I was one of four names suggested; we were a mix of comedy and drama writers and none of us had a screen credit yet.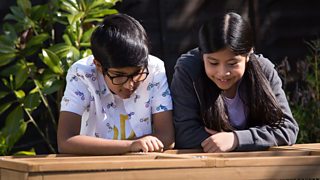 Series 7 Episode 9 of The Dumping Ground 'Three's a Crowd'
The three-month shadow scheme was designed as a truncated (great word) version of writing for the show; we'd be working with a script editor to deliver two drafts of a treatment, and two drafts of a script (in reality, you'll do at least one draft of a Scene by Scene, and at least one more draft of the script as well). This process would allow production to gauge a) how well we'd grasped the tone of the show and characters' voices, and b) how well we could take on notes and rewrites. There was no guarantee of a commission at the end of the process, but it was a genuine opportunity to write for the show, so a real 'new pants, please' moment.
The process began with a one-day story conference where we were expected to come with lots of story ideas to pitch. We'd been sent the series bible (packed with character biogs and episode synopses), and encouraged to watch as much of the series as possible on BBC iPlayer. Binge-watch? Yes please. The four of us then sat with the shadow scheme script editor, and Dumping Ground producer and pitched our ideas.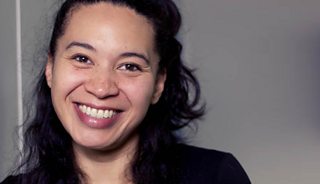 Christine Robertson
Pitching can be mortifying if you hate the sound of your own voice (hi!) but it's part of the job and gets easier over time. Essentially, you share your idea with the room – ideally as succinctly as possible – and see what reaction it prompts. It could spark an animated discussion, it could spark another, better idea, or it could spark a sea of blank faces and a lone cough. The key is to roll with the mood of the room and have other ideas ready to share.
Between us, we agreed on four different A stories and eight B and C stories that would form the basis of our episodes (which were, hypothetically, the first four episodes of a series). We then worked with a script editor – our main point of contact and liaison between us and the producers – to deliver the two treatments and two script drafts of our assigned episode. We had to be prepared to roll with any changes that were thrown at us, based on the kinds of thing that might come up when writing on the show. These could be anything from changes in location or characters to a complete rewrite if a story isn't working.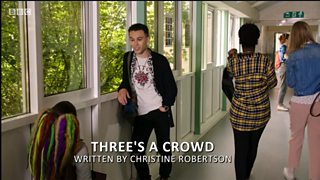 Christine's first writing credit for The Dumping Ground on CBBC
By the end of the scheme, one of us landed a commission (hooray!), though it wasn't me. That was of course, pretty gutting – but rejection accounts for approximately 99% of a writer's life, and the sooner you make peace with that, the easier it is to bounce back.
A year later, however, I was asked if I was still interested in writing for the show. Twist! By this point, I was on the cusp of getting my first TV credit and had a year's more experience under my belt. Obvs I said yes and – after meeting with the exec producer – I got a commission. The ep I wrote is now on iPlayer, here. Enjoy!
Watch Christine's Episode of The Dumping Ground on CBBC, Friday 1st March 2019 & on BBC iPlayer
Find out about our Comedy Room writer development group
Writers gain a place in the Comedy Room by submitting a script to us in our open submission Script Room or through other talent scouting or recommendation.
Find out more about Script Room, which will be open for Comedy Scripts from 1st - 29th April 2019