Adapting Iain Banks' novel 'Stonemouth'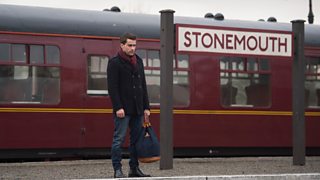 Stonemouth
What was it that made you think 'I want to be a writer'?
I was interested in writing as far back as primary school and started adapting books we read at school into scripts - this came from an obsession with movies which I got from my Dad who was a total movie buff. I'd invite friends home and we'd act out the stories. As I got older I bought a 8mm cine camera and started making little films.
How did you get your first break?
I won a competition. I would submit spec' scripts to the BBC and various TV companies while I was at school and college. I didn't have much life experience so at first I tended to write about sitting exams and stuff like that. Not very exciting. I was influenced by Peter McDougall's tv plays set in Scotland and began to try and write about working class life. I wrote a script about my grandmother's early life as a 'Calley girl', a young woman who travelled to Edinburgh to get work as a maid, and got off the train at Caledonian Station, hence the name. Then I wrote one about my grandfather who had been a conscientious objector during the war. Finally, when I was twenty three I wrote a script called 'Shadow On The Earth' set in 1961 about a young boy who, inspired by Yuri Gagarin going into space, thought his albino neighbour was an alien. I entered it into the National ScreenWriting Competition and was very surprised to get a call telling me I had won. The script was then read by the BBC again, it had already rejected it, along with most other companies, and the decision was made to film it as a Screen Two - so I was off to a flying start. It went on to win the Best Film at the World TV festival in Japan and at Banff in Canada.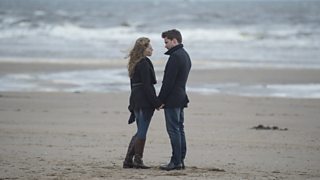 Stonemouth
Did you always want to work in television? What is it about the TV medium that appeals to you?
I have worked in Theatre, Television and Film. I prefer writing for TV and film as I like to write and direct when I can. I studied painting and photography at college and have always enjoyed combining the two interests, writing and photography, so TV and films seemed the ideal medium. I also grew up watching television plays by wonderful writers like Jack Rosenthal, Dennis Potter, Alan Bleasdale, Alan Plater, Jim Allen, John Byrne, Alan Bennett and Peter McDougall, and wanted to be part of what Melvyn Bragg called 'the real national theatre'. It is now very difficult to make the kind of small movies I like, as everything has become driven by special effects, so TV is where some of the best writing is happening.
What are the challenges of adapting another writer's work and being faithful to their voice while also stamping your own mark on the story?
It depends on the novel - but when I adapt a Scottish writer it seems easier as there seems to be a commonality among us, and I found it easy to find Iain's tone and humour. And although I have invented a lot of new material I hope it seems seamless.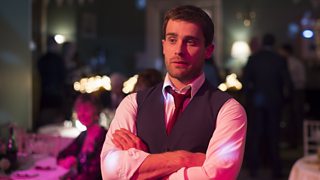 Stonemouth: Christian Cooke plays Stonemouth's flawed hero, Stewart Gilmour
Were you already a reader of Iain Banks? Did you ever meet him or work with him? Did he know the novel was going to be adapted for TV? Have you watched any other Banks adaptations (eg The Crow Road, Complicity)
I met Iain before I went to work on the script and we discussed a few changes I suggested making. Iain was going to be an executive producer on the project which I was excited about - but unfortunately he became ill quite soon after we met. The Wasp Factory was a favourite book of mine and the TV version of The Crow Road I loved. Paul Young's performance sticks in my mind to this day. I haven't seen Complicity but I think Iain preferred The Crow Road.
Were you involved in the shoot or did you have any say in the casting?
I was working on another script so I didn't have much to do with casting and I didn't visit the set but I knew some of the actors involved as I had worked with them before. Both Peter Mullan and Gary Lewis were in a film I made for the BBC called Ruffian Hearts.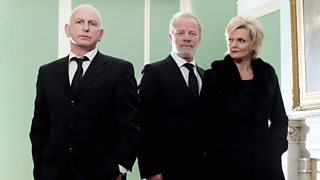 Stonemouth; Gary Lewis plays Mike McAvett, Peter Mullan plays Don Murston and Sharon Small his wife, Connie Murston