New drama Trust on BBC Two tells the story of the Gettys with a focus on the notorious true-life kidnapping of the heir to billionaire John Paul Getty - one of the world's wealthiest businessmen. The cast includes Donald Sutherland, Hilary Swank and Brendan Fraser. Trust was created by Simon Beaufoy with executive producers Danny Boyle, Simon Beaufoy and Christian Colson.
We spoke to one of the co-writers, Alice Nutter, about her change of career from being a member of the band Chambawamba to screenwriter and how Trust was developed and written.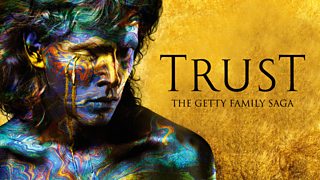 You started out in a band (Chumbawamba), how did you move from that to get into screenwriting? Did you always have the ambition to write and how did you get started?
Chumbawamba was a gang, which is how I ended up in a band despite not being a musician. I loved being in the band and most of what went with it but deep down I knew I was a writer. I always wrote articles and stories – at one point I combined gigging with working full time writing news and features for Leeds Other Paper but I realised I wasn't cut out to be a journalist.
My stories always read like screenplays. The work of writers like James Kelman, John Steinbeck, Jim Allen and Alan Bleasdale had a big effect on me. They made it conceivable that a working class woman from Burnley could be a writer too. After I hit 40 time was running out, when the band became more folk/acoustic I left to write.
The first few months after leaving I surfed the web a lot looking at package holidays and avoiding writing. I was terrified of finding out I had no talent. I was lucky enough to have savings but they weren't going to last forever, so finally I knuckled down and started writing everyday, doing working hours, trying to read as many scripts as I could and everything on structure as I went. What I produced was terrible. I needed a deadline and the sense that somebody somewhere would actually read what I'd written to up the quality of the work. Then I saw West Yorkshire Playhouse were running a So You Want To Be A Writer course – it was partially funded by the BBC Writersroom and was run by Mark Catley. I applied and got on it. It was only one night a week but that course was really important to me, it gave me a reason to strive.
Watch the trailer for Trust
Do you remember getting your first commission and how that felt? Which shows did you write on after that?
The play I wrote, Foxes, as part of So You Want To Be A Writer was picked up by West Yorkshire Playhouse and given a run in the Courtyard Theatre. I was elated; it was validation that they were willing to put on my play and pay me for it. But I wanted to write for TV and radio too, so I set about getting my work noticed by people whose work I admired by going through Arvon Course booklets and enrolling on courses.
I did a screenwriting course with Jimmy McGovern and Valerie Windsor tutoring, and a radio course with Sue Roberts and Simon Armitage at the helm. And on those courses I wrote my socks off, which led to eventually being offered a chance to pitch for and get an episode of The Street with Jimmy and radio play commissions with Sue Roberts directing. On that first Arvon Course Jimmy gave me the best piece of advice I've ever had: "work four times as hard as everybody else."
Writing's an apprenticeship and starting so late I needed to apply myself with absolute rigour, I didn't have time to mess around. I went on to work with Jimmy again on The Accused and Moving On. I also started to write on other shows like The Mill and The White Princess, trying to learn from other writers as I went.
Stars including Donald Sutherland, Hilary Swank and Brendan Fraser discuss the compelling story of the Gettys, the key themes it raises, and why it will resonate with people.
How did you get involved with Trust?
The show's Creator and co-Executive Producer Simon Beaufoy oversaw me on another TV project that ended up not coming to fruition. When Simon moved into TV he asked me to join the writers' room.
Does Trust feel different from shows you've worked on before? Is it on a bigger scale?
What feels different about Trust is the ambition. Simon talked about it as having the range of a great novel: big stories, big themes that could narrow and go off at tangents.
What was the set-up for writing the show, was there a Writers' Room to break the storyline? How was it decided who would write each episode?
The series was commissioned off the back of the pilot that Simon had written, that was followed by an initial writers' room over the summer of 2016 to plot the stories, themes and arcs. Who wrote what was just divvied out as we went.
The cast and crew discuss the process of embodying their roles and doing justice to the real story.
You wrote a couple of the episodes and co-wrote on a couple of others – can you describe the differences in the process?
On a sole credit the episode goes through the hive mind process with people chipping in ideas and storylines, then I'd go away and write a treatment. More discussion, then I'd go off and write subsequent drafts with Simon and the producer, Christian Colson, giving notes. On a co credit, I'd sometimes come on as a writer after a couple of drafts, there'd be more discussion and story changes, which I'd enact. Sometimes it would be the other way round, I started episode 10 and Simon took it over after a couple of drafts.
What was it like working with Simon Beaufoy (Academy Award winner for Slumdog Millionaire, nominee for The Full Monty)? What did you learn from him as the series creator and lead writer?
I really enjoy working with Simon because he has the confidence to be egalitarian which means you're never afraid to put in ideas or disagree. His ethos is that the best idea wins and that encourages some very creative situations. He's a good study in being rigorous about the work and a decent human being. If I ever end up running a writers' room I'd try and follow his lead on being an encourager and moderator.
I learnt a lot from Christian Colson too, who had a very creative role. When a storyline wasn't working Christian would come at it from an obtuse angle or flip a perspective. The pair of them had me reading TS Eliot and listening to Bob Dylan as a feel/tone guide to writing certain scenes. Who gets to listen to Dylan as homework? Trust was a gift.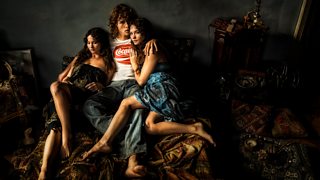 Trust: Jutta (SARAH BELLINI), J. Paul Getty III (HARRIS DICKINSON), Martine (LAURA BELLINI)(Image Credit: TRUST © FX Productions LLC. All Rights reserved. Photographer: Kurt Iswarienko)
Trust is based on true events. What research did you have to do? In this story could you say that truth really is stranger than fiction? How do you make these characters feel relateable?
We had a full time researcher, Grace Boyle who did brilliant work researching and interviewing. One of the things she did was go into Calabria and photograph the details of the region for us – we had pictures of road signs with bullet holes in them. We got the run down on Italian politics in the 1970's and 'Ndrangheta and its customs and we were supplied with an archive, biographies and series 'bible' which we supplemented by reading and watching everything we could get our hands on about the characters and the times. We also had an Italian director on episode 8, Emanuele Crialese, who advised on the details.
When Simon introduced the story in the writers' room the question he asked was: Why wouldn't the richest family in the world pay the ransom? That was the main question to answer and it wasn't just meanness. The corrosive power of wealth was obvious but there were so many rich veins to tap within the Getty family and kidnappers. Relationships with parents, siblings and children are universal. Jealousy, fear and insecurity are things we've all felt, throwing extreme wealth into the mix can only heighten things.
You worked on the series through post-production too, is that unusual for a writer? What was your involvement at that stage?
I've never worked on a series through post-production before and it was a learning curve. Because of cost, episodes were filming simultaneously, sometimes there would be four directors working at once. It would have been too much for the lead writer to respond to all those directors' notes alone so we worked out a system where I addressed some of the notes and my changes went to Simon for checking before being issued to set. I also rewrote the subtitle translations from episode 4 onwards so the dialogue flowed. Again, these went to Simon to check so he always had overall control and final say.
What would your advice be to someone starting out now and trying to get into screenwriting, perhaps as a change of career as you experienced?
Don't let age be a barrier to starting a writing career. All those years of experience are an advantage. And look at writing as an apprenticeship because having talent isn't enough; you've got to learn the craft. It's almost impossible to get a start so you have to make every opportunity count. It's not about networking, having a glass of wine with somebody never got anybody a job ever. It's always about the work. If someone influential is going to read your script, don't put it in front of them until it's as good as it can be. And always be writing; don't wait for a commission because there won't be one without work to show. Write for TV, radio, and stage or street theatre but keep writing. Make good relationships with people so they want to work with you again.
My local theatre, Leeds Playhouse is a brilliant producing house that makes theatre relevant to Leeds. They have been really supportive of my work and that's given me a chance to keep writing plays. I love the gang mentality of the rehearsal room and the gig-like buzz of theatre but it also means I keep producing original work. And work leads to work, so be the person who has put the hours in. Even if it's not your own TV show you are writing for, care about the characters and stories as if it was. Study the lead writer's scripts, match the template but bring your own originality and verve.
Trust continues on BBC Two on Wednesday nights at 9pm. Catch up with the whole series now on BBC iPlayer
Watch an interview with Alice Nutter from our TV Writers' Festival in 2011