Happy Valley: Writer, Sally Wainwright, on her new drama series for BBC One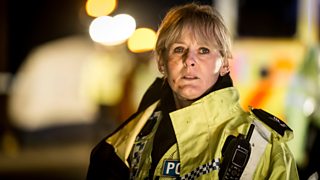 Sarah Lancashire as Sergeant Catherine Cawood
Is this the darkest thing you've ever written? 
It's a bit like Unforgiven and parallels with the tone of Scott & Bailey. But it's dark in that it's about where Catherine goes psychologically, where she ends up. I don't want to give the plot away, but it's very different to Last Tango In Halifax [Sally's last drama for the BBC] and much more in the style of Unforgiven which I wrote a few years ago. 
Did you write the part of Catherine with Sarah in mind? 
I did yes. When we started filming Last Tango and I began to watch the rushes, like so many other people, I was completely blown away by her performance. As a writer you feed off performance, if you see a great performance it makes you want to write more and more. When Ben Stephenson at the BBC asked me what I wanted to do next, one of the factors that made me want to create Happy Valley was that I wanted to write something else for Sarah. 
Is Catherine based on a real police officer? 
No, not specifically. After I had the idea, I went to find a police officer who I could talk to and help me. I got a lot of ideas from the woman that I spoke to. She was on set all of the time, she was fantastic. But no, the character was a creation.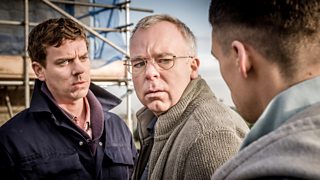 Joe Armstrong (Ashley Cowgill), Steve Pemberton (Kevin) and Adam Long (Lewis)
How important is Catherine's grief to the character? 
It's a story that starts eight years previously. The great thing about Catherine is that she's actually a very well-balanced human being that something tragic has happened to. We first meet her when she is eight years on from the death of her daughter and she's got her life back together. But then this character comes back into her life who she's chosen to forget about and we meet her at that moment when it's all about to go wrong again. The story is about Catherine, her psychological journey as she readdresses what happened to her daughter, and how that pans out. 
Do you think Sarah would make a good police officer? 
Lisa [the police advisor] said she would be a great police officer because of the speed at which she picked up things like how to use the handcuffs. She was also very willing to get stuck in and give it her all.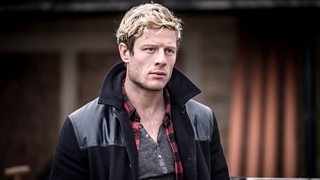 James Norton as Tommy Lee Royce in Happy Valley