Vienna Blood is written by acclaimed screenwriter Steve Thompson (Sherlock, Deep State). Based on the best-selling Liebermann novels by Frank Tallis, the series begins on BBC Two and BBC iPlayer on Monday 18th November 2019. Hear from both writers about the process of adapting the books for the screen.
Watch the trailer for Vienna Blood
What is Vienna Blood about?
Steve Thompson (screenwriter): The show is about a birth of a science. It's about the birth of psychiatry, neurology and the understanding of the human brain and it's essentially a crime thriller but the main relationship in the series is between two men; a policeman who is trying to solve a murder and a young psychiatrist from the hospital who he consults to help him build up an understanding of the killer.
We've seen lots of dramas, lots of police dramas about that relationship where psychological profiling is done in order to understand a killer, but this is the birth of the process, this is 1906 and it had never been done before - so what we're witnessing in this show is the beginning of that process. The police just beginning to understand that psychology and psychiatry can actually help them solve a murder.
Tell us a little about what inspired you to write the Liebermann books?
Frank Tallis (novelist): I have three passions in life: Psychoanalysis, music and cake. So, the idea of writing Viennese thrillers in which a doctor-detective attends musical events and visits coffee houses was always very appealing. Needless to say, I took my research very seriously, visiting the coffee houses of Vienna with great frequency and now I really know my Punschkrapfen from my Kaiserschmarren.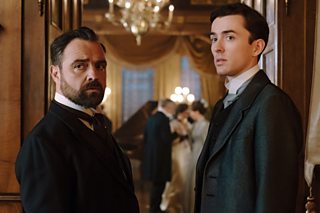 Inspector Oskar Rheinhardt (JUERGEN MAURER), Max Liebermann (MATTHEW BEARD)(Image Credit: BBC/MR Film/Endor)
Vienna Blood is set in Vienna, Austria at the turn of the century - what made you choose Vienna as the setting for the story?
Frank Tallis: Vienna - around 1900 - was an extremely exciting place. Revolutionary ideas were emerging in all areas of human endeavour: Art, literature, philosophy, science, and most notably, psychiatry. One could also argue that Vienna in 1900 was the birthplace of modernism. Psychoanalytic thinking was an essential ingredient of this 'modern' outlook. It has shaped how we understand ourselves and our relationships. You may not consider yourself a Freudian, but you certainly think like one. You probably accept that parts of your mind function unconsciously, acknowledge Freudian 'slips' and use words like 'defensive'. W.H Auden recognized this extraordinary depth of cultural penetration when he wrote, after Freud's death in 1939, that he - Freud - is "no more a person now, but a whole climate of opinion."
The Liebermann novels have been translated into fourteen languages. Why do you think the Liebermann books hold such international appeal to readers?
Frank Tallis: Crime writing has always been popular. But when I've gone on book tours and talked to readers in countries like France or Germany, many of them seem to really like the psychoanalysis. On reflection, this isn't very surprising. Psychoanalysis and crime investigation have much in common. Clues are like symptoms, and the detective is like a psychoanalyst, attempting to make connections in order to find an ultimate cause. A perpetrator is as elusive as a repressed, unconscious memory. Freud was very aware that psychoanalysis and police detection are close cousins. In fact, he pointed this out in one of his lectures. It is also interesting that Freud was a great fan of detective fiction. One of his patients (known as The Wolfman) wrote a memoir and in it he reveals that Freud - who we usually think of as a reader of Sophocles and Dostoevsky - was a great fan of Sherlock Holmes!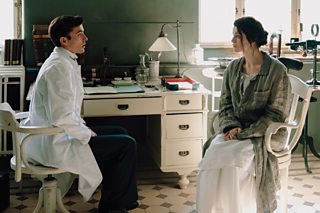 Max Liebermann (MATTHEW BEARD), Amelia Lydgate (JESSICA DE GOUW)(Image Credit: BBC/MR Film/Endor)
Can you describe the screenwriting process?
Steve Thompson: Always when you're developing a screenplay it can be quite a long journey. Of course, this is an adaptation of the books so there's Frank's vision originally and then you go through various drafts of the script before you finally see it being filmed. The key thing is that's a very collaborative process; Frank is one voice then there is my voice when I turn it into a screenplay then there are the voices of the directors; we've had two really great directors Robert Dornhelm and Umut Dag who have directed these three episodes between them. And quite a lot of the development is a conversation between the director and the writer and also the producers. So there's many voices in the room and that's what makes the script more robust and richer one would hope as a result."
How do you feel about having your novel turned into cinematic TV?
Frank Tallis: It's curious seeing your work translated from one medium into another. For me, the experience was a little like hearing a favourite piano piece arranged for full orchestra. It's the same piece - but it sounds very, very different. I once heard the jazz pianist Oscar Peterson talking about his preference for themes that gave him scope to improvise. Naturally, some melodies contain more possibilities than others. I think the same principle applies to characters and stories and I was delighted to discover that Max Liebermann and Oskar Rheinhardt could be reinterpreted and given a new lease of life; that they could still surprise even me.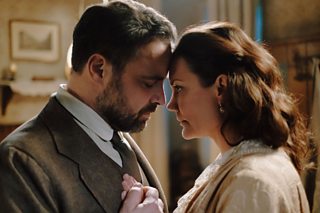 Inspector Oskar Rheinhardt (JUERGEN MAURER), Else Rheinhardt (KRISTINA BANGERT) (Image Credit: BBC/MR Film/Endor)
What is your favourite scene?
Steve Thompson: There have been so many scenes to watch being filmed. I suppose one of the key things about it is that the entire show is filmed on location in Vienna. And Vienna is a key character and consequently every scene we got to a different place, a different ballroom, a different salon, a different part of this incredible city. Part of the fun of filming it has been me gradually having an understanding of Vienna and getting to know Vienna. We've seen some amazing places, so today we're filming in the opera which is where one of the climaxes of one of the episodes takes place. So we've had two days in the opera house with the opera singers performing and that's been quite extraordinary.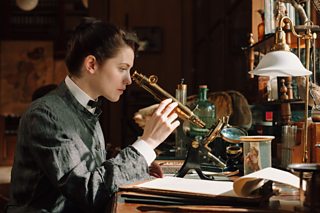 Amelia Lydgate (JESSICA DE GOUW)(Image Credit: BBC/MR Film/Endor)
What do you hope viewers' reactions will be to the show?
Frank Tallis: I'm hoping that viewers will reflect on some of the social and political content and recognize its contemporary relevance. Freud's Vienna shaped much of 20th century history and it continues to exert an influence well into the 21st century. It was where a young Adolf Hitler served his dictator's apprenticeship and learned a great deal by observing Vienna's 'populist' mayor. The outcome was a global catastrophe. It was also in Freud's Vienna that Theodor Herzl developed Zionism - which ultimately led to the foundation of Israel; the ramifications of which still animate debate.
Ideas have profound consequences and Freud's Vienna was a powerhouse of ideas. Yet, we rarely make the connection between Freud's Vienna and what's happening in our lives or on the news. Back in Freud's day, there was a lot being discussed in those coffee houses over Punschkrapfen and Kaiserschmarren. We might not realize it but we're still having the same conversations.
Watch Vienna Blood on BBC Two and BBC iPlayer beginning on Monday 18th November 2019 at 9pm