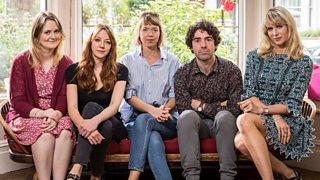 Motherland
Motherland is a six-part series written by Holly Walsh, Sharon Horgan, Graham Linehan and Helen Linehan following a successful pilot episode last year. The show explores the ups and down of modern middle-class parenting mixed in with competitive friendships, school-gate rivalry… and lots of red wine.
The series, which premiered on BBC Two on Tuesday 7th of November (and is also available in full on BBC iPlayer) features a stellar cast of Anna Maxwell Martin, Diane Morgan, Paul Ready, Lucy Punch and Phillipa Dunne.
The plot follows three friends navigating their way through school fundraisers, tense coffee meetings and frantic birthday parties in an attempt to stay up to date with all that is 'trendy' in modern Motherhood.
Rosie Turner caught up with Holly Walsh, one of the writers on the show to find out what makes a successful sitcom and the process of writing in a collaborative environment.
Watch the Motherland trailer
How did you find the creative process for Motherland with 4 writers inputting ideas?
Here's the nerdy answer… We very much learnt as we went along. We spent about three weeks at the beginning of the year – all four of us - just sitting in a cupboard in Holborn thinking up ideas and complaining about the air conditioning. We were very lucky with the pilot – the characters came out fully formed – so we had a good collective idea of who we were dealing with. The first week or so was a brain splurge - we stuck lots of revision cards on the wall with stories and experiences and good lines, and then gradually sorted through them. From this, we blocked out our six main stories.
We then split into pairs (depending on who was married to who) so Sharon and I worked together, and the Linehans (Graham and Helen) did their thing. Sharon and I tend to sit next to one-another in the same room (or over skype) to write. A lot of what we write comes from us just trying to make the other one laugh (hopefully this makes the dialogue sound natural). We began by making quite a detailed outline for each episode - including any jokes or lines that we liked - and then transferred that into a script format and then built out from there. Of course, things changed as we went along, but we knew we had a beginning, middle and an end.
We'd then send our first(ish) drafts to the Linehans and vice versa. From then on it was just swapping back and forth really - notes, rewrites, moving things between episodes – until we got to a point we were all basically happy with the scripts. Then we all got back in the same room again, and combed through each line – fine tuning and punching up. It was really hard work, but I think it helped the show no end.
Throughout the filming process there was always at least one writer on set. Luckily, we had a wonderfully generous and collaborative director – Juliet May – who told us when things weren't working or if something had to be changed last minute. There's always a bit of compromise when you get to the actual filming stage – which is why it helped to be there, to work out alternatives.
Watch a clip from Episode 1 of Motherland: Impressing the Alpha Mums.
Do you think it's important to have the same sense of humour as your co-writers or do you all bring different elements to the table?
Overall yes – I think we all laughed at similar things. But there were some differences in how we approached a joke. After working together on or off for nearly ten years, I'd say Sharon and I have a short hand for how we put together a script – but working with the Linehans was a whole new experience. Graham has a really great eye for a set piece – for big funny moments – whereas we probably tend to start with the characters and try and generate the jokes from them. When these two styles blended, I think that's where our scripts worked the best. It wasn't always easy but it made for a better show.
What was your favourite moment working on Motherland?
There were lots of good bits. Sometimes, I'd be sitting on set – watching say, Diane or Anna just nail a line – and I had to pinch myself that our scripts were actually being made into a TV show. All our cast were brilliant. They added so much more to our writing.
Do you tend to write characters based on people you have met in real life or are you creating fresh characters from scratch?
Yeah, we base a lot of them on either ourselves or people we know. It also helps me to write with an actor in mind.
Watch a clip from Episode 2: School fundraiser or Hollywood Gala?
You've also been working on a Radio 4 series Charlotte and Lilian, are there any major differences that you've noticed writing for different platforms?
I wrote Charlotte and Miriam with my mate Kat Sommers. Radio is such a great place to write, but in some ways it's very exposing – it's just about the lines and their delivery. Also, people don't really give radio their undiluted attention – they tend to listen to it whilst making their dinner, or as a podcast on their commute to work. So you can't get too bogged down in plot. You have to factor that in while you're writing.
What piece of advice would you give to people to have a few scripts ideas but aren't sure which to pick first or what subject to write about?
I usually think – most ideas have already been thought of - so it doesn't really matter which one you pick as long as you write something. I suppose, the old adage 'write about what you know' is a good place to begin, but there are lots of good places to start. It sounds clichéd, but you just have to get to the end of a script. Just finish an idea. It doesn't matter how crap it is – see it through. Then you can print it out and hold it in your hand and say 'I've got a script'. That's a huge achievement in itself. Then you can start the rewriting which is when things get good.
Have you got any grand plans for 2018?
Well, I'm having a baby in the New Year, so that's a pretty grand plan. Then fingers crossed I have a writing job when I get back from maternity leave.
Watch Motherland on Tuesdays at 10pm on BBC Two and watch the whole series now on BBC iPlayer
Read the script for the pilot episode of Motherland in our script library