Before I give you all the juicy top-secret insights of what goes on behind the closed doors of the BBC and how the BBC Writersroom don't unlock those doors until you give them three thousand words of comedy gold and a pint of your blood (I'm kidding, sometimes they only ask for a thousand words)...
... Let me tell you a little bit about myself.
Hi, I'm Omar, and initially I never wanted to be a writer, how nice of you to make my acquaintance.
Wait, what! You never wanted to be a writer?
Nope. See, life started in the amazing city of Birmingham, where I spent most of my childhood dreaming of joining the FBI (yes, I know now, FBI is 'merica exclusive) and solving mysteries. Explains why I used to love watching Scooby Doo Mysteries so much. As I grew older I started to write very short romantic poems and raps. This could have been due to all the girls I was crushing on at the time or the fact that at some stage in their life, every boy in Birmingham thought they could freestyle battle Eminem and win. (Trust me, I know people in their 30s who still think they can). Whatever it was, it didn't last long until I made a trip to my parent's homeland at the tender age of 16 and started to observe life in a different country.
One evening I was sitting with my dad (awesome dude btw) discussing the differences between both cultures and he asked me to write about what I had observed during my holiday. So instead of writing a few sentences like a normal person, I wrote a 1 hour play with 11 talking roles. I delegated those roles out to my cousins and directed a play in front of family, friends and neighbours. It was a success and we got two encores that night.
Fast forward 9 years, I'm studying Law at University and I hadn't 'written' since, until some friends and I started writing and filming short skits and comedy for fun. We uploaded these skits to YouTube and Instagram and received some moderate to great feedback.
Fast forward another 3 years and my brother asked me to submit a script to BBC Writersroom. I accepted his challenge and finished my first 30 pages within 2 nights and submitted it. Fast forward another 6 months and I've got security at the BBC snooping through my belongings as I'm patiently waiting to meet the other writers for a second time, excited to write and discuss comedy with them.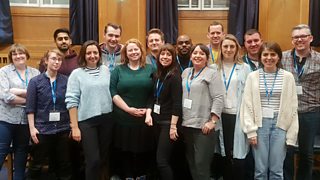 The Comedy Room writers
Comedy Room – Day Two
The day started off with Simon Nelson of BBC Writersroom asking us if we had had any success with our writing since the last meeting. It was refreshing to hear that by taking the information we learnt from day one most of the writers had gotten their writing noticed. (See this scheme works, start working on your script for Comedy Room 2019 now).
We were then introduced to Jon Petrie, Producer of my current favourite new show, People Just Do Nothing. It was great to listen to Jon, he explained how you should still put an idea forward even if you think it may have been done before. Producers love visuals so if you can film a skit or make funny clips that's even better. Try writing for different genres like stand-up comedy, try different platforms like Snapchat or Radio. Just get yourself noticed.
The rest of the day was spent with Paul Kerensa co-writer of BBC's Not Going Out. Now this was fun. Paul helped us to dissect one of his episodes of Not Going Out. We dived into what a sitcom is, how you breakdown an idea into A, B and C stories and how you go from a draft piece to a completed version. We discussed what information you must give the audience earlier on and how you pivot back to it during the episode and series.
It's fascinating to learn how much time and craft goes into one episode. Most people switch on their TV, watch their 22 to 30 minute sitcom and then move on. But most sitcom episodes have a 60+ minute runtime before they even reach the cutting table. And to 'keep the story moving forward' (keywords here) you must cut jokes. Now I know all you comedy writers will be waving your index fingers and choking on your mint tea leaves right about now, but it's true. To keep the story moving forward you must cut jokes, a lot of jokes. So be prepared to let go, it'll be easier if you start teaching yourself that now rather than later.
We finished the day off by having a lengthy Q&A with Paul regarding his creative writing process and his life as a writer, and to paraphrase, 'you won't make a lot of money but it'll be more fun than it'll be sh*t'. I don't know about you but I was sold. Paul also explained how you must write out of your comfort zone. He didn't (and still doesn't) know anything about cars, but he was chosen to write for Top Gear.
I hope you enjoyed this brief account about me and a quick summary of what our Day Two was like at the Comedy Room.
Tips from Day Two:
1. Write, write and keep writing until you get noticed.
2. Don't get hung up over a joke you really like if it doesn't move the story forward, get rid of it, the story is more important than your favourite joke.
3. Write about anything and everything, not just from what you know.
4. Producers like visuals, don't be afraid to pick up a camera and perform.
5. Find out which producers are working on the shows you like and track them down. (Via email or phone. Don't go all crazy stalker on them now).
Also we had cake.
Find out more about our Comedy Room writer development group