Writing In The Flesh with the safety off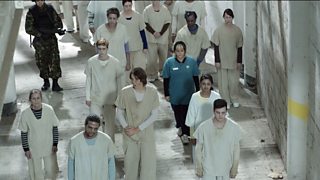 Ugh. That's what I thought. Ugh. Not because of the gore. I like gore. Not because the zombies on screen looked fake and were inconsistent in their behaviour, and not because the plot and dialogue was crass and predictable. My disgust was with the living human characters. The plucky survivors of the zombie apocalypse. The supposed heroes. These pillars of virtue in the bad zombie movie I was watching late one night in 2007 were blowing away the 'evil' undead with such delightful gusto, such macho glee, that I began to sympathise with the shuffling rotting  corpses. As another bully boy survivor executed an undead young man I thought; good god, that poor lad was somebody's son, somebody's brother, somebody's friend and neighbour. How inhumane to shoot him in the head just because of what he's become. He's fresh from the grave; he's in a very primitive state and needs brains to survive; it's not his fault the kinds of brains he needs to live on are organic human ones. Surely he didn't need to be blown away; surely he could have been subdued and eventually treated with some sort of chemical compound? These questions got me thinking about another project I was working on at the time.  

For a while I had been working on a idea about a young lad who had a psychotic episode, does something truly horrific in the rural community where he's from and, after being treated, is sent back to face his parents and the awful thing he did whilst out of his mind. I was hitting a brick wall with the idea honestly. It was coming out too preachy, too on the nose. But it was a central theme that fascinated me. That night watching the bad zombie movie I thought: what if my young lad didn't have a psychotic episode? What if he was actually a zombie who came back from the dead, killed, got caught, got treated with some newly invented medication, got rehabilitated in a treatment centre and then had to go back into a society that hated and mistrusted him? That way I could still address all the issues I wanted to address about feeling other, feeling different and feeling wretched guilt about having done dreadful things when in a frenzied state of mind, but by using my beloved zombie genre, I could address those issues in a more left of centre, entertaining way.

I've been a horror fan since the age of eleven when my friend gave me Pet Cemetery by Stephen King to read. Since then I've been hooked on the genre, and the Zombie genre in particular. I'm not sure why, or why that genre resonates with so many people. Perhaps it's because the idea of the dead coming back to life is somehow ingrained in our collective consciousness because we are a species that realises we're mortal.
In any case the zombie mythology has always fascinated me and the idea of what would realistically happen in Britain after a zombie apocalypse has too. Not the movie version, but the real version. And not what would happen during a Zombie apocalypse, not what would happen immediately afterwards, but what would happen years later, after a good chunk of time has passed and the population and communities  which fought in a zombie war are trying to move on. What happens after the enemy isn't deemed the enemy anymore? What would happen then? And how would the living win that war with the undead? Well, I thought, like all neurological disorders, the scientists would try and come up with a drug that would fix the problem, take away the zombies need for grey matter, discovering a drug that would artificially stimulate the rabid brain that craved brain cells so the zombies would become docile. And then what would happen, I asked myself? And that's what I kept doing, constantly playing the "What Would Happen Then?" game in my head until I had the whole back-story to the show, up to the inciting incident, when my main character, a rehabilitated teenage zombie called Kieren Walker, is about to be released back into a hostile society.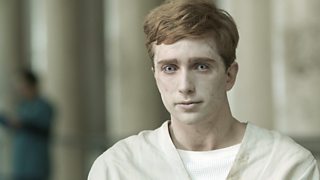 In the Flesh
It's all well and good having a concept in your head but it can't stay there if you want it to have a fighting chance of ever seeing the light of day. So I wrote up a one page outline and then got stuck again. I didn't know who to send it to or what to do with it. My background was in theatre. I suppose I could have written In The Flesh as a stage play. However from the get go I had a very strong feeling that this idea was a television series. But I had no way into the TV industry. I didn't even have a spec script, an example of my work which would show producers that I could write in a visual manner. I had no contacts whatsoever.
I'd been going on the BBC writersroom website ever since the time I got serious about becoming a professional writer. I was obsessive compulsive about checking their Opportunities section and one night I spotted an in-house BBC writersroom scheme: Northern Voices. They were looking for northern writers who wanted to write for television. The attachment seemed tailor-made for someone like me; it was a twelve month scheme where you were mentored by an experienced television writer while you wrote an hour long piece of original drama. I immediately applied sending the one page outline, a previous stage play and crossed all my fingers and toes. The Gods shone down on me and I was invited to an interview, then the Gods shined brighter and I was offered a place on the scheme. John Fay was the North West mentor and I couldn't have asked for a better one. John's a writer's writer and he taught us (I was on the scheme with three other very talented, but as of that time, unproduced writers) to never hold back, to be aware about the rules of television drama and then turn around and break them. He advised me to let a character of mine pull the trigger on another one. I had self-censored myself while writing the scene and John could tell that I had and told me not hold back, flick the safety off (literally and metaphorically) and allow the character to be true to his nature. It made the scene a hundred times more dramatic and shocking and ever since then it's become a bit of a writing mantra of mine: "Flick the safety off and pull the trigger".
Get a first glimpse into the world of the Undead through the eyes of Kieren Walker.
Another important part of our development was that John Fay and Katherine Beacon (the BBC Writersroom Project Coordinator at the time) actually believed in us as professional writers and our ideas as feasible television shows. This is incredibly important for a fledging writer to have; a bit of belief from industry insiders, a bit of faith in you and your writing. I truly don't know if I would have had the stubborn gumption necessary to continue developing In The Flesh if I hadn't have got on the Northern Voices scheme; if John, Katherine, the other writers on the attachment, and the BBC Writersroom in general, hadn't been so encouraging and supportive in those early days.
Of course the scheme couldn't guarantee that the pilot episodes we wrote would go any further than ink on paper. In fact they didn't mince their words and told us straight that it was a very slim chance that any of the scripts would be optioned properly by the BBC. They weren't being mean telling us this, they were being honest about the industry and it was actually very freeing. The scripts we were writing were our calling cards, our fort in the battlefield, our battle cry proclaiming who we were and what we were interested in writing about. Because of this it freed me up to write the show I wanted to write, without ever having to self-censor, not caring about the budget or number of characters, or the fact I was creating a whole parallel world. I wrote the show I honestly wanted to see on TV. Ironically that's the series that's going to be broadcast on television soon. It was scary to write in my own voice; I thought I was shooting myself in the foot really, but I'm glad I was encouraged to do so. I'm glad I wrote In The Flesh with the safety off.

Dominic Mitchell is the writer of In The Flesh – a brand new three-part drama for BBC Three that tells the story of zombie teenager and his reintegration back into both the local community and the heart of his family.
In the Flesh was discovered by Drama North through 'Northern Voices', a BBC writersroom scheme. Dominic was one of four writers who was selected and received training and script development – his intriguing script took a unique angle on the zombie genre and as a result was developed, commissioned and produced by BBC Drama North.
BBC writersroom are hosting a special preview screening of In The Flesh, followed by a Q&A with Dominic Mitchell, and director, Jonny Campbell at 6.30pm on March 7th 2013 at the University of Salford – reserve your free ticket.