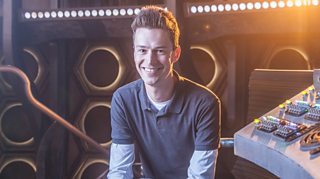 Nick Lambon is the script editor for Doctor Who, having joined the team for Peter Capaldi's second series back in 2015. He previously served as script editor on Wizards vs Aliens and the ITV drama, DCI Banks.
He recently appeared on our Writing Doctor Who panel, but in case you missed the event, we caught up with Nick to discuss working on the show, fave lines, biggest challenges and oh, yes, Spearhead from Space…
BBC Writersroom: What's the biggest challenge of working on a show like Doctor Who?
Nick Lambon: We work with so many fantastic but extremely busy writers – showrunners in their own right – like Toby Whithouse, Peter Harness and Mike Bartlett to name but a few, that juggling their time (and Steven's) around the demands of the production so that everyone gets a script when they need it can be very tough. Our writing and production schedules are constantly shifting and changing and turning.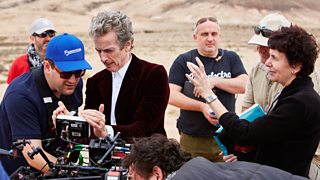 Working on Doctor Who can be Hell (Bent).
BBC WR: What are the top three qualities a good script editor should possess?
NL: Diplomacy – So often you have to tactfully explain why you think a scene doesn't quite work or that what the writer envisions isn't achievable.
Persistence – Script editing, like writing, isn't an exact science. It can take more drafts than you think to get a scene as good as it can be and sometimes you have to shout out a lot of bad ideas in a meeting before you (or someone else) land on the right one.
Flexibility – Writers change their minds. Directors change their minds. Producers change their minds. It's a very collaborative process, but ideas you are absolutely certain about at the beginning of the process almost always change unrecognisably by the end. Being flexible and open to new ideas throughout almost always leads to the best script.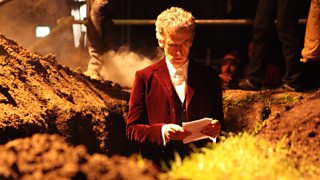 Good scripts aren't just heaven sent.
BBC WR: What advice would you give to anyone who wants to become a script editor?
NL: I guess I'd say try to watch as much British drama as you possibly can. We all have opinions about what we watch – that's what helps us to decide whether to switch over or not – but try to think critically about why you like or dislike something. When you're starting out I always say no job is beneath you - if you're desperate to work on Doctor Who, you might think being a researcher on Holby City is a million miles away from what you want… but you'd be surprised how similar the process of getting all those different shows made really is and everything you learn will help you later!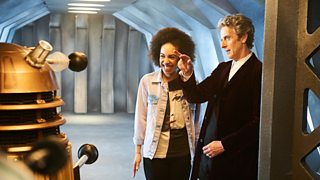 Nick is currently working on series 10 which features Pearl Mackie as new companion, Bill.
BBC WR: When people learn you work on the writing side of Doctor Who, what's the first thing they normally ask?
NL: Most of the time people's faces light up, which is lovely. And then they normally say "I've got a good idea for an episode…"
BBC WR: You're a big fan of Doctor Who… Does that help in your job, or is all that matters the script currently on your desk?
NL: It helps because it means I'm working on a show that I love, which makes the physical act of coming to work a lot easier! But you can't let any of the history of the show or even the success of the last episode you worked on influence you when you get the next script. You have to make the script in front of you the best episode of Doctor Who that you possibly can!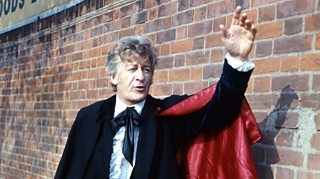 Hands up if you appeared in Spearhead from Space!
BBC WR: If you had to remake one of the pre-2005 Doctor Who adventures (not sure why this would happen - possibly the Trickster at work) which story would you choose to update and remake… and why?
NL: Oh, some of the episodes that I love I would never want to remake! If you go back and watch 'Spearhead from Space', all done on film and on location – it still looks glorious! And so many of the episodes are of their time, playing on the fears and obsessions of the era or whatever.
The reason to remake something would be to update the effects I suppose…the stories themselves have for the most part aged incredibly well. I'd love a script like 'Genesis of the Daleks' today. But I think the wonderful challenge of working on the show for me is in always looking forward, trying to contribute something to the series I haven't seen before. You always want to surprise the audience.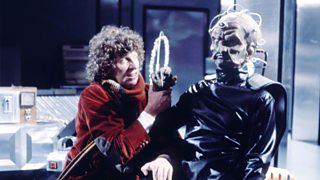 A gripping moment from Genesis of the Daleks.
BBC WR: In decades to come, when you've been away from the TARDIS for years and years, when you look back on your days on Doctor Who, what one word will spring to mind?
NL: Mad. I'm well aware I probably won't work on another show quite like this again, at least for some time. And it's absolutely, relentlessly bonkers for so much of the year, trying to deal with everything that goes into getting this show made. But it is also the most tremendous fun. I hope in the decades to come I've had more time to process just what we've achieved and how good it was.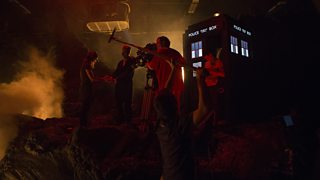 And the award for the episode containing Nick's fave line goes to…
BBC WR: And finally, from the thousands of scripted scenes that have come under your scrutiny whilst working at Roath Lock, which one line of dialogue has been your favourite?
NL: That is really tough. And there are one or two lines from the new series that I probably shouldn't talk about yet. But I think at a push it would perhaps predictably be a Steven line. That amazing sucker punch in 'Dark Water'. "Do you think I care for you so little, betraying me would make a difference?" That was when you knew the Twelfth Doctor was – despite everything he'd said to the contrary - actually just as sentimental and affectionate and brilliant as all his previous incarnations.
Big thanks to Nick Lambon!