Top Tips from the Comedy Room
Hi, I'm Jonny Addy. I'm 32 years old. My favourite food is butter and I'm one of the 'chosen' on this year's BBC Writersroom Comedy Room.
I've been pursuing a writing career for the past 14 years. This involved (in brief) going to film school, then trying to make it as a stand up, then working for years as a copywriter and then getting work as a content producer, which is a fancy way of saying I make stuff for the internet.
This was my second attempt to get through BBC Writersroom's Script Room and I feel incredibly lucky, privileged and nauseous now that I'm on it.
I've learned a lot of interesting things through my attempts to get on, and my attendance of the Comedy Room sessions so far. In this blog I'll share a few of these things and then waffle on about the January 2017 Comedy Room session.
So, choose your reading persona:
I am a hungry hungry hippo (when it comes to information regarding the craft of comedy writing and the UK comedy industry) - GO TO SECTION A.
Seriously? What is this? I just want to know what happened on the January session of Comedy Room - GO TO SECTION B.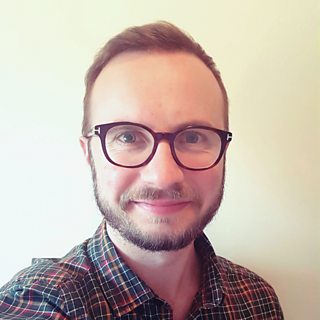 Jonny Addy
SECTION A - Jonny's tips, tricks and things to make you sick...
This is a combo of things I've learnt at BBC Writersroom sessions and things I had to do to get a script good enough to get in the Comedy Room group.
1. Write. All the time. Everyday.
There is a writer funnier than you.
There is a writer smarter than you.
There is a writer who actually knows how to use macros in Word.
BUT even if you're not the funniest or the smartest, you can be the hardest working.
When creating the script that got me into the Comedy Room I made sure to do at least 1 hour of development/writing/editing every day.
If, like me, you have a full-time job, it can be tricky to find the time, but here's some things I did that you can do to:
Get up 30 minutes earlier than usual (your brain is best in the morning).
Swap the car or bike for public transport (there are good scriptwriting phone apps available).
Use your lunch-break (I can eat my sandwiches/salad in 10 minutes and then I disappear to somewhere quiet in the office for writing time.
Use your phone on the toilet (Yes this is gross and yes, I'm pretty sure I've done serious damage to my colon with my extended toilet stays, but ART is sacrifice!)
Now, do all this and more cos there's literally thousands of people competing with you.
2. Make stuff that can be seen.
In BBC Writersroom...
Every single guest speaker who is a writer has said a version of this:
"They liked my Edinburgh show/YouTube channel/Podcast and that led me to getting work on X show."
Every single guest speaker who is a producer or a commissioner has said this:
"I liked their Edinburgh show/YouTube channel/Podcast and so I wanted to get them to work on X show."
Which makes a lot of sense. The more stuff you put out there, the greater the chance of you being noticed.
3. Get people to read your work
It is really uncomfortable showing someone your writing, because you're opening yourself up. You're saying this is what I think is funny/this is what I believe/this is how good I am and then asking them to judge you.
But it's the best thing you can do to improve your work, because:
Things that seem obvious to you may not actually be obvious.
Things that seem hilarious to you may not be hilarious.
Things that might seem normal to you could be super weird and/or offensive.
Most people write comedy 'cos they want to make other people laugh. So, it's a really good idea to check that people do actually laugh at it. Also, the more people you show it to the better.
4. Get a plan
If you're serious about doing this as a career you need to know how each thing that you do helps to achieve that goal.
If you're just writing for fun then you win. That is all. You are a winner.
There are hundreds of things you could be doing to progress your writing career, but what should you be doing?
Here's what I do:
Write down everything you want to do.
Prioritise.
Schedule it in (be realistic).
Keep researching and amending your plan as you go.
This really helped me focus on what would help me get where I wanted to be and I think without a plan I wouldn't be in BBC Writersroom's Comedy Room.
5. Apply for everything
This is another 'awareness' exercise.
Basically the more competitions or schemes you get on the more chance you'll have of getting noticed.
Makes sense, right?
6. Live in London
I do not live in London. Most comedy producers do. This is my excuse for not having my own sitcom.
This is another 'visibility' thing. Technically, you don't have to live in London to be a comedy writer. But BBC comedy and most comedy producers are based there, so it will significantly improve your chances if you are there.
7. Make rejection your fetish
All the writers that we've met on the scheme (so the successful ones) have said that as a working writer you're gonna get rejected A LOT more than you don't.
So get used to rejection... which shouldn't be hard considering your love life.
OHHHHHHHH!
8. Be nice
"It's who you know."
'Networking' is a sleazy way of describing being friendly with people who share your professional interests.
Be nice to everyone you meet and keep in touch. The more people who know you and like you then the better chance you have of getting work.
END OF TIPS
I think that's everything but if you've got any good tips or advice please leave a comment below. I love learning about writing, almost as much as writing itself, so it'd be great to see what you've got.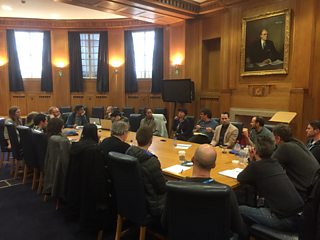 The January 2018 Comedy Room session in the Council Chamber in London's BBC Broadcasting House (with the BBC's first Director General, Lord Reith, gazing down)
SECTION B - Things that happened on the January 2018 BBC Writersroom Comedy Room session:
We were told to meet in the reception of Old Broadcasting House at 9:30am. So, I arrived at 8:45 just to be safe. An hour later, when everyone else had arrived, we were whisked up to the fanciest meeting room I have ever seen.
Most of the BBC Writersroom sessions had been held in small conference rooms. The type with slightly too bright fluorescent lighting, polystyrene ceiling tiles and a broken flipchart in the corner with the word 'Brainstorm?' on it. But this room was huge, about one and a half giraffes high and seven elephants (African) long. It was all wood panelled and looked like the inside of a courthouse or one of those mansions you see on period dramas.
It was the perfect setting for our first session of the day, a talk about the mechanics of radio commissioning with the head honcho herself, Sioned Wiliam (commissioning editor for BBC Radio 4 and BBC Radio 4 Extra). Sioned took us through how commissioning works and also what she looks for when commissioning. My takeaways from this session were that if you want a commission you have to have a producer (so don't just randomly send your script to the BBC, find a producer you like and see if you can get them interested in it). Also there are A LOT of opportunities on BBC Radio 4 and 4 Extra (Sioned needs to commission 300 hours of content each year) and that you can find out what Sioned is looking for in the 'commissioning briefs' that the BBC release.
After Sioned we were treated to the wonderfully 'sociable' Lee Dalloway (Social Media Manager, BBC Comedy) and Nick Mulligan (Social Media Coordinator, BBC Comedy). Lee and Nick took us through how to format sketches for social platforms (have a strong joke in the first 3 seconds + no longer than 90 seconds), who their target audience are (16-34 year olds) as well as their aims to ramp up original comedy content on social. My takeaways from this session were that social is an underserved platform by most writers (most people write scripts for TV and radio) and that it's also a great platform to experiment and sharpen your skills (high production values are not a barrier to entry, so film some sketches on your phone and get them out there).
Then we had lunch. I had a curry. 3/5.
(Watch Jonny Addy's Valentine's Day sketch for BBC social media which has also had over 170k views on Facebook)
After lunch we were treated to some industry heavy-hitters, Gemma Arrowsmith, Max Olesker and Ivan Gonzalez (Max and Ivan). Gemma is a writer/performer on Tracey Ullman's show, Tracey Breaks the News and Class Dismissed. Max and Ivan are the writer/performers behind 'The Casebook of Max and Ivan' on BBC Radio 4. The trio talked about what life is like working as a comedy writer and regaled us with a series of brilliant anecdotes. My takeaway from this session was that you need to be getting stuff out there for people to see. Max and Ivan have been putting on Edinburgh shows for 11 years, whereas Gemma has been creating funny videos on Youtube for ages. So, whether online or IRL, start getting your comedy off of the page and into people's heads.
(Watch Gemma Arrowsmith's sketch 'What Were You Wearing? on Facebook, over 36 million views to date)
After this we had pitching practice (not for tents). This was a chance to run through a pitch for a script that we'd take to a producer and luckily for us we had the wonderful BBC Writersroom producers in the room to pitch to. The thing that stuck out the most for me was the question 'Why do you need to write this?'. For my pitch I focussed strongly on why my idea had great comic potential but I hadn't really though about why I wanted to write it. So, when developing a concept don't just think about how to make it funny but also what makes your script unique and what wider issues it addresses.
For our penultimate session, BBC Comedy commissioners Sarah Asante and Gregor Sharp talked us through the mechanics of TV & Online Comedy Commissioning. What was really interesting about this session was the breadth of places that BBC Comedy is looking for new talent. They're not just looking at what gets sent to them but going to Edinburgh every year, keeping an eye on the stand up circuit, seeing what's popular on YouTube as well as what's trending on social platforms. So once again it doesn't matter where you're doing your comedy, just keep putting it out there and, if it's good, eventually it'll get noticed.