Writing '1977' for BBC Radio 4, and why it's about so much more than "a transgender woman in the 1970s"
Editor's Note: Sarah Wooley's drama '1977' is broadcast on BBC Radio 4 on Thursday 3rd December 2015 at 2.15pm and on BBC iPlayer for 30 days. Her blog below about discovering the story of composer Angela Morley includes a few plot spoilers, so you may want to read it after listening to the drama.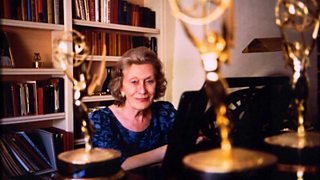 Composer Angela Morley at work on a new score (Image courtesy of angelamorley.com)
I was away (crucially, without a television) when I first came across the story of Angela Morley. My son and I had been watching a DVD of the film Watership Down on an old computer. When the film ended (we were rather lean on DVDs) I decided to watch the 'extras'. There was an interview with the film's editor, Terry Rawlings and the director, Martin Rosen. They were talking about all aspects of the film and eventually got on to the subject of the score. Malcolm Williamson, then Master of the Queen's Music, had been hired as the film's composer. Williamson, a notoriously difficult and complicated man, was under extreme pressure; it was 1977, the Queen's Jubilee year and he was over-commissioned. When the time came for him to hand over the score it was discovered that all that existed were two small sketches of music which amounted to no more than seven minutes of screen time. With an expensive orchestra and recording studio booked for the following week, the film's conductor Marcus Dods turned to his old friend Angela Morley to try and help sort out the mess. Dods asked Morley to orchestrate Williamson's sketches which she duly did with the help of another arranger, Larry Ashmore. In the meantime, Williamson left the country and at this point Terry Rawlings suggested to Rosen that Angela should be the person to take over as the film's composer.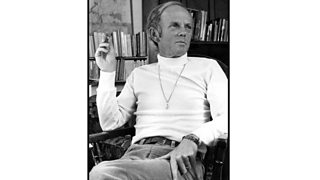 Malcolm Williamson, Master of the Queen's Music and original composer for 'Watership Down'
Now, at this point on the DVD extras I noticed that the conversation between Rosen and Rawlings began to stall a little. Rosen says that Angela, 'hadn't worked in a long time out of choice'. I immediately sat up and took notice. What did he mean? Why hadn't she worked? She was clearly brilliant. So I looked Angela Morley up and I found the answer.
Angela Morley was born in Leeds in 1924 as Wally Stott. Wally was a self-taught musician, joining the Oscar Rabin band in 1941 and then Geraldo's band in 1942 as a saxophone player. Stott studied Geraldo's orchestrations; he then took harmony lessons and composition with Matyas Sieber, and studied conducting with Walter Goehr. By the age of 26 he was able to give up playing to concentrate on composing and arranging. By 1953 he was appointed musical director for the British arm of Philips Records, arranging and conducting recording sessions for their contracted artists. At the same time he was writing and directing music for the long-running radio shows, Hancock's Half Hour (for which he wrote the famous tuba theme tune) and The Goon Show. He also composed scores for the films Peeping Tom (1960), The Looking Glass War (1969) and When Eight Bells Toll (1970).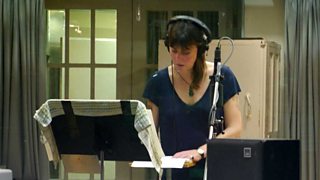 Rebecca Root recording '1977' for BBC Radio 4
But throughout this time Wally, according to his friend, Max Geldray the jazz harmonica player, was plagued with 'a lifelong mental struggle with gender identity'. After the death of his first wife and finding love with his second wife, Christine Parker, Wally make the difficult decision to undergo gender reassignment surgery. Wally said of Christine that 'it was only because of her love and support that I was able to deal with the trauma and begin to think about crossing over that terrifying gender border'.
Wally had his surgery in Switzerland in 1970 and returned to England as Angela Morley. Angela continued her work with the BBC but she had concerns about how she would be treated by those who remembered her prior to her surgery. This led to her turning down the chance to appear in The Last Goon Show of All, a one-off TV special, and although she worked on scores for The Little Prince in 1974 and The Slipper and the Rose in 1976, she was, at least according to her IMDb entry, uncredited. Which leads us to Watership Down in 1977. Before 1970 Morley was well known for being able to write fast. She was so busy she would write the music for The Goon Show on the morning of each recording. So if you needed a composer to write a film score in three weeks because your first composer hadn't delivered and had left the country, she was the perfect choice; according to her recollections, however (you can read them on Angela's website), she was reluctant to take on the Watership Down job. She claimed this was partly because she wasn't prepared enough and hadn't read the book but I felt there was more to it than that. A film involves a premiere, interviews, galas and – if you are lucky – awards ceremonies. Sure she'd done all those before for the Slipper and the Rose, but as the film's composer, this time very much credited, she'd have to face the world as Angela. There would be no hiding and this was 1977 – a whole 38 years before Caitlyn Jenner.
Listen to a clip of Rebecca Root as Angela Morley in '1977'
So it struck me that here was a chance to tell a story where the protagonist was transgender but where the focus of the story wasn't actually on that. There is a helpful guide regarding tips for writing and editing transgender news stories on the All About Trans website. The last piece of advice is: 'There are thousands of trans people in Britain: doctors, lawyers, artists, musicians, teachers, etc. Is this newsworthy? Surely there's more to the story?'. In the case of Angela Morley there was indeed so much more to the story.
1977 is about lots of things. Yes it's about a transgender woman in the 1970s but it's also about the pressures of composing, the pressures of film making; it's a midlife crisis play but above all it's a love story. Christine and Angela moved to the US after the success of Watership Down. Angela went on to write music for Dallas and Dynasty, Cagney & Lacey and Wonder Woman. They lived in Arizona and it was here in 2009 that Angela died at the age of 84. Christine still lives there and we corresponded over email for the writing of 1977 because without her help the play wouldn't exist. There are no biographies on Angela. Her story and her talent went under the radar. Max Geldray summed up Angela and Christine's story as an extraordinary tale 'of two people's love and devotion […]which has gone far beyond the barriers of what most of us have faced in our lives'. The amazing thing is that most people don't know about it. Maybe in a small way 1977 can change that.
Sarah Wooley is a writer for Radio, Television and Theatre. She has written plays for BBC Radio 4 about Andy Warhol, Philip Glass and Steve Reich, Erno Goldfinger and John Osborne.
Listen to '1977' on BBC Radio 4 on Thursday 3rd December and on BBC iPlayer for 30 days
Download and read the script for '1977' from our script library
Read an obituary for Angela Morley on the Telegraph website
Find out more about writer Sarah Wooley on her website
Rebecca Root was the star of BBC Two's 'Boy Meets Girl', discovered through BBC Writersroom