It was an idea I'd had for quite a while. I'm a writer-performer so I'd considered including it in one of my live shows or writing it up for Sketches in My Flat, the YouTube channel I run but when the opportunity came along to submit sketches to Tracey Ullman's Show, I knew that would be the right medium for it: a prime time slot on BBC One and an internationally famous comedy performer to deliver the lines. Perfect.
The opportunity to write for Tracey Ullman didn't happen overnight, however. I've been writing sketches since I was at drama school.
After graduating, my first professional job was in Newsrevue at the Canal Cafe Theatre and I suppose it was there I started writing topical sketches. I met so many fantastic performers at Newsrevue; Cariad Lloyd, Pippa Evans, Thomas Nelstrop, Gemma Whelan, Sara Pascoe. It's a great place to start if you want to work in sketch comedy. It was there I met Steve Mould (now in Festival of the Spoken Nerd) and the two of us teamed up and took three sketch shows to the Edinburgh Fringe. Edinburgh is a great place to cut your teeth as a writer-performer. It can be a tiring and expensive experience but you learn so much from getting your material in front of audiences every day for a month. There are other festivals I would recommend if you want to try out your material with a smaller financial outlay. Brighton Fringe is excellent and VAULT Festival in London is a brilliant breeding ground for new comedy.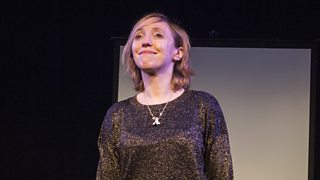 Gemma Arrowsmith on stage
I took my first solo show Defender of Earth to Edinburgh in 2012 and my second Everything That's Wrong with the Universe in 2015. It was then I was spotted by the BBC Newsjack team and they brought me on board as a performer for their next series. I had submitted sketches to Newsjack before and had been successful a few times - and after performing on the show, I was asked to join their in-house writers' room for a few shows. Subsequently I performed on Radio 4's The Now Show and was then asked to try out in their writers' room.
BBC Writersroom has been a great resource, as well. I entered the Laugh Track competition a few years ago, the aim of which was to write a studio sitcom. I was one of the finalists. As part of the process, I got to spend a week with noted BBC comedy writers and producers - and learn how to pitch a show. It was a really useful experience. I'm still in touch with some of the producers and they've given me great advice and guidance.
I've found that, throughout my career, my performing has benefited my writing and vice versa. I don't really consider them separate jobs, to be quite honest. Acting work seems to lead to writing work and writing work to acting work.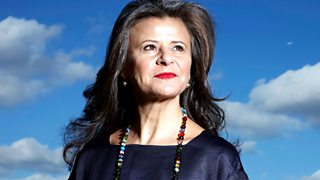 Tracey Ullman's Show on BBC One
So, we come to Tracey Ullman's Show. When I heard the news that she was making a return to the BBC, I was instantly excited. I love sketch comedy. It's my number one passion. I love sitcom and I love character comedy but my first love will always be sketch comedy. Particularly sketch comedy that packs a real punch.
I submitted a bunch of sketches for series one via email. Some that followed the writers' brief to the letter - and some that were a bit more satirical and more like my regular writing "voice". And it was these more satirical sketches they seemed to like! For series two, I was invited into the writers' room. The way it worked was this: you emailed sketches in, those the production team felt had potential were printed off and read out in the writers' room. You were then given notes and sent away to do rewrites. Jeremy Dyson was script editor and gave me very clear instructions about what was needed for draft two and three of my sketches.
I was very pleased with the mugging sketch. It had something to say (I can't seem to get going with a sketch unless I have something I want to say) and was pretty lean and economical with the dialogue. (It comes in at 1 min 51 seconds.) It's been an interesting experience watching it go viral. I've had sketches on my YouTube and Facebook channels do well before - this one about paying your bills with exposure has reached 350,000 views - but never millions like this. It's deeply gratifying after writing and performing for so many years.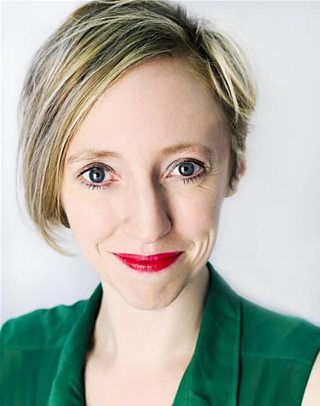 Gemma Arrowsmith