Sally Wainwright is a 3 time BAFTA-winning writer and director of shows including Last Tango in Halifax and Happy Valley.
Her new drama, Gentleman Jack, began on BBC One on Sunday 19th May and on BBC iPlayer.
Sally explains the background to the story which is based on the life of Anne Lister as documented in her diaries, part of which were written in a secret code.
The content of the diaries was considered so controversial when the code was cracked in the 1890s by a later inhabitant of Shibden Hall that they were concealed behind a panel in the hall until the 1930s when the hall passed into the ownership of the Halifax Corporation. The diaries were moved to the local archives where historian Helena Whitbread discovered them in the 1980s. In 2011, Lister's diaries were added to the register of the UNESCO Memory of the World Programme.
Watch the trailer for Gentleman Jack
Who was Anne Lister?
There's so much to say about Anne Lister - it's difficult to know where to start.
She inherited Shibden Hall when she was 35, in 1826, and took on a very hands-on management of the estate.
She's primarily famous for being a prolific diarist but she was also an openly gay woman in a world where gay women were invisible. Back then, male homosexuality was illegal but female homosexuality wasn't because it just didn't exist as far as most people were concerned.
Anne Lister refused to be invisible in so many aspects of her life. She's known to us primarily as a lesbian diarist, but there's so much more to her. What I personally love about her is that she was phenomenally intelligent, super bright and had an extraordinary mind but she also had this amazing positivity and had this real passion for life. Her life was for living and she really engaged with the world. She lived a packed life and wrote about it all so comprehensively. The diaries are an extraordinary document and she lived an extraordinary life.
Who is Gentleman Jack? Suranne Jones and the cast of Gentleman Jack introduce us to 'brilliant', 'pioneering' Anne Lister.
Tell us about Anne Lister's diaries
We know that she bought really good quality books to write in and had a very healthy sense of her self-worth, which I love about her and is why I think she's so inspiring. I like to think that she knew how important she was going to be, but you also worry that she might be upset if we read these intimate things that she didn't want other people to see.
She wrote in code because what she was doing could be regarded as criminal. I suppose the interesting question is why do you write it down if it was regarded as criminal, why do you provide evidence of what you've done? For me it comes back to the idea that she was an extraordinary human being and she must have had some idea that her life was important and worthy of that documentation. I think it's fascinating that anyone creates a code to write in and sticks to it over such a long period of time, over so many years.
Writer and Director Sally Wainwright on the set with Sophie Rundle, who plays Ann Walker.
What is Suranne Jones like as Anne Lister?
For a long time I couldn't imagine who would be Anne Lister because in my mind she's just this epic, epic woman and I couldn't imagine who could ever bring enough to it. Suranne came in to read and she just blew me away right from the start. It was clear she'd thought about it a lot and there was something special about her energy. So by the time we had started filming it felt very well formed because Suranne had put a huge amount of work in. I think she has captured something really extraordinary; all of Anne Lister's passion for life, the humour, her physical energy.
As well as having this phenomenal intelligence, Anne Lister was also extraordinarily physically fit and must have walked ten miles a day easily. She was very hands-on on her own estate and walked around much of it. She'd walk back and forth to see Ann Walker several times a day at Lightcliffe, which was about four miles away. She was a real force of nature and I think that is something which Suranne has really got her head around and captures. I've never seen Anne Lister, I've never been able to see Anne Lister in my mind's eye so I really needed someone to come along and say 'this is it' and Suranne kind of did that. I was so delighted with what she brought to the role.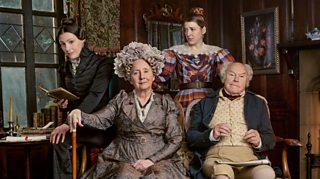 Anne Lister (SURANNE JONES), Aunt Anne Lister (GEMMA JONES), Marian Lister (GEMMA WHELAN), Jeremy Lister (TIMOTHY WEST) (Image Credit: BBC/Lookout Point/Jay Brooks)