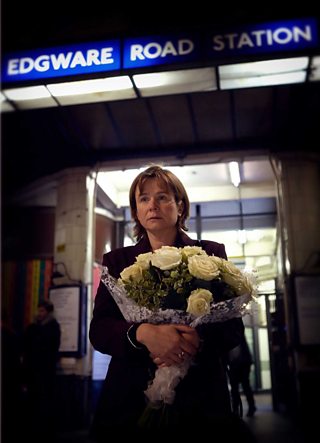 A Song for Jenny: Julie Nicholson (Emily Watson) (Image: BBC/Robert Viglasky)
What was the first thing that struck you about Julie's book?
I was really struck by how well written it was. She's a magnificent writer, but what I thought was extremely impressive was the detail that she could recall of every part of every day, in the search for Jenny's body and then the discovery of Jenny's body. But even more crucial was the way that it was not in the slightest overwritten; there was a spare-ness to it and an accuracy, which I think bore tremendous testimony to her pain and to the articulation of that pain and to the reality of it. So I felt it was an extremely brutal book, but very beautiful in its refusal to sentimentalise or to excuse the violence that had destroyed her beloved daughter. I'm enormously impressed by the strength of character in the composition itself and that's what I went for.
How did you approach turning Julie's book into a screenplay?
I went through it enormously slowly after the initial first great read of it. It's a great read but it is immensely harrowing to go on the journey - but she has such courage herself that you can go with her. Initially I knew that before I could get to translate that memoir into dramatic action, I would have to take my time and it was a very patient reading and rereading of what Julie was saying, so that I could get to what I truly felt was at the heart of what was already a very spare book.
What was extremely helpful was that Julie observed linear time very closely, and you go through it day by day, week by week, and you are extremely aware of time passing. The time passing doesn't lessen the ordeal that she's going through, but its setting articulates very very clearly and you do get a sense that this is a history; this whole reaction to the death of her beloved daughter has a development, and in very crude terms it was possible to dramatise that development, and she helps you enormously, by the accuracy of her book and the clarity of her book, to do that.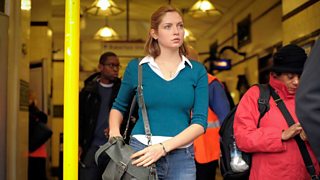 A Song for Jenny: Jenny (Nicola Wren)(Image: BBC/Nicola Dove)
How closely did you work with Julie on the project? What was she like to work with?
Julie Nicholson is a real writer. Her book, that enormous testimony to her love of and grief for her daughter, Jenny, is magnificent testimony to her prowess as an artist. She possesses a sensibility that is tough and critical, showing in the strength of her prose. That made her a natural ally in my attempts to do justice to her complex, shattering book, which I respected highly. Julie knew the transfer from memoir – not the right word, but the closest I can stumble over – would not be easy, and she respected my difficulty, appreciating how I would attempt the transfer. She is the most honest of people, and her notes to me never faltered in their accuracy and their kindness that I do the best job possible. Hard decisions had, as always, to be made on both sides, but we made them together.
Did you do any of your own research?
I had a terrific script editor, Janet Tyler, whom I have worked with before. She was, as ever, the most helpful and insightful and thorough pair of eyes and ears any writer could ask for. What I needed Janet got for me, but the greatest source was Julie's book, which both Janet and I knew off by heart by the time the script was ready for filming. It told us all the secrets and sorrows we could possibly need – apart from everything else, Julie is a most generous author.
A Song for Jenny: James (Gwilym Lee) (Photo: BBC/Robert Viglasky)
How did you feel seeing the finished drama?
I had spent the best part of four years writing and caring for the script. I met Julie and many members of her family, including James, Jenny's magnificent partner - shy, quiet and powerful. As I said, I knew the book chapter and verse. I saw the film and could not speak. I was not prepared for its power, the sheer tragedy of Jenny's loss, the overwhelming courage of her parents, the power of her brother and sister, and above all the shock of Emily Watson's performance.
What will audiences take away from watching it?
This is a story about a mother and child. The bond between them is astounding. Its beauty beats the worst the world can throw at them. And a great woman, Jenny Nicholson, has been lost to the world. Remember her with love, and with pride.
A Song for Jenny is on BBC One on Sunday 5 July 2015 at 9pm and on BBC iPlayer
This interview was first published on the BBC Media Centre