What I learnt at the Salford Comedy Festival
Nooooooo!  A blogpost about comedy that's not funny?  I just wanted to share as much of what I learnt with you as succinctly and quickly as I could.
The three main opportunities for writers at the Salford Comedy Festival are:  to listen to and learn from the top people;  to watch previews of the latest sitcom pilots to be developed both in-house and by indies;  and to network.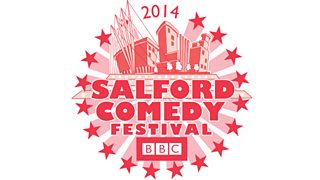 Salford Comedy Festival
First up was 'In conversation' with a man with a gold-plated CV as long as your arm: Greg Daniels.  I could have listened to him all day.  Judging by how generous he was with his time afterwards, he'd have been happy to talk all day, too.
Things I learnt from Greg:  Overnight success takes about twenty years.  Greg began writing comedy in high school. 
Americans like their comedy protagonists to be competent people working in a world gone mad.  We Brits like our protagonists to be incompetent idiots in a sane world.  And because American sitcoms are often vehicles for actors who have won their stripes on SNL, writers will write to the actors' strengths and the characters they want to play. 
Also this helps the audience get to know the main characters in a sitcom quickly.  In Greg's opinion, the humour comes from knowing who the characters are, and how they will react in a given situation.
Pitch your stories using the 'Goldilocks principle' – you should be able to tell your story with the same level of simplicity and causality.  And a 'walnut joke' is a joke it takes you so long to get, that when you do get it, you find it wasn't worth the bother.  Avoid.  If you have to explain why it's funny, it isn't.
And for sitcom, think Shakespeare, where the secondary characters are there to comment on the main characters.  In 'King of the Hill', Hank was initially quite right-wing.  So to make him more empathetic, Greg created a friend for him who was a complete conspiracy-theory nut-job.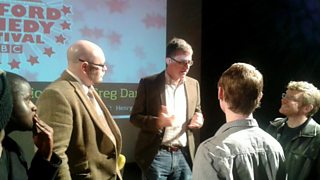 Greg Daniels talks to the audience after the session.
I didn't go to the 'Youtube' session.  I've written, directed and produced a few short films in the past.  I know how hard it is and how long it takes to get something of real quality, so that route isn't for me.
Gregor Sharp has been a writer and producer and is now Commissioning Editor for BBC Comedy.  He works both in development and in production overseeing the 'green-lit' shows. 
Gregor is not interested in the premise, the setting or the idea.  Indeed, he said we could easily have come up with a hundred ideas for sitcoms there and then.  What matters to him when he hears a pitch or reads your script is whether or not you have created a character with depth and definition.
Other nuggets: Don't limit yourself by starting with a slot or a channel in mind, write what you believe in.
The ways in are through the BBC in-house comedy departments or by working with an Indie. 
And for Gregor, three essentials in a pitch document are:  a sense of fun;  make sure the voice of the script can be heard;  include thumbnails of the characters – who they are, and who they're up against. 
In the 'Top Tips' talk, Rebecca Papworth, Executive Producer BBC Comedy and creator of the 'Johnny and Inel Show' on CBBC, Carl Cooper, Producer of BBC radio comedy North and Producer of 'The Show What You Wrote', and Eddie Robson, writer on 'Newsjack', all advocated the sketch show as one great way in for comedy writers.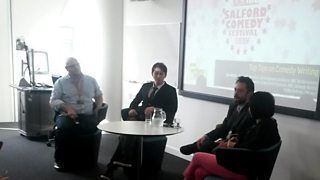 The panel for the Top Tips talk
You create engaging characters, clearly define the story world, structure a great little story, and ideally make every other line funny. In fewer than three pages.
Don't bother with wry humour, or comedy which elicits a small smile of recognition.  Not on radio anyway. Listeners can't hear you grin.  It has to be laugh-out-loud funny.  And right from the outset, too.  Not just the punch-line. 
And no-one uses 'canned' laughter.  If anything, laughter from the live studio audience has to be cut, or faded down abruptly, or the show would over-run.  So that's why the laughter sometimes sounds a bit odd.
The panel said that whereas they probably would click on a 'Youtube' type link in an email quicker than they'd read a script, they agreed that poor quality could quite easily put them off both content and writer.  So practice, polish, perfect.
Talking about which, when you watch the sitcom pilots, performed every evening during the Festival, you realise, by how honed and polished the shows are, just how deadly serious the business of comedy is.  It's both inspiring and daunting to watch the pilots which made it to this level, and to work out why.
They were all laugh-out-loud funny.  But for me, the freshest-feeling of them all, which was both sweet and comic, was the one which had come through a BBC Writersroom initiative (and I'm not getting paid by them to say this either) called 'Boy Meets Girl' by Elliot Kerrigan.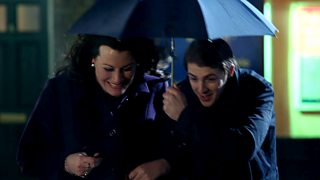 Boy Meets Girl
You couldn't get a less exceptional premise, or a more ordinary setting (two family homes and a restaurant).  But the main characters were compelling, it had a great hook at the start, and it kept on pulling the rug from under our feet as it continued.  And it gave us an ending which left us imagining all the twists and turns and love and heartbreak future episodes could explore.
So if you think all your sitcom needs is a green light and eight million viewers, think again, and work on it some more.
Finally – networking.  You might want to meet your heroes, to get inspiration and encouragement.  You might want to put faces to names of industry people you've been emailing, and let them see you in the flesh (not too much of that – you're a networker, not a stalker).  Or you might want to introduce yourself to people with whom you'd like to work, or to invite them to see your show. 
Three dos: Prepare:  Find out who they are and what they do, and prepare what to say, so you don't ramble on or dry up.  Listen to what they have to say, too.  And when you're done, don't hog them.  Move on, and give someone else a chance. 
Three don'ts:  Don't be disrespectful:  Don't big up the work of their competitors to them.  Don't scan the room while they're talking to check out who else is worth speaking to.  Don't check your phone while in conversation with them. 
Oh yes, you might think all that's common sense, but I've seen all three in action and it's not a pretty sight.  And then people wonder why a particular producer doesn't respond to their emails…
Final piece of advice: do whatever it takes to come along next time and be part of it all.  You won't regret it.  Then you can write the blogpost.  And make it funny.
Carole Solazzo is a writer, producer and translator, with over 400 episodes of 'The Archers', a series of 'Ambridge Extra', a sitcom pilot for BBC3, and four episodes of BBC 1's 'Doctors' under her belt. 
She has worked as Producer on 'The Archers', is a former writer on attachment at Bolton Octagon, has written thirteen stage plays, and written, directed and produced several short films. 
Carole is currently writing the second draft of her full-length rom-com, commissioned by Oldham Coliseum, and has some very exciting projects in development with the Coliseum, BBC comedy, and BBC radio drama.  
Follow Carole on Twitter: @CaroleSolazzo