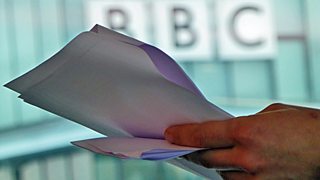 They say write about what you know. I have Tourette's Syndrome and OCD. So I wrote about that.
When John Davidson appeared in the 1989 QED episode "John's Not Mad", he probably became the first person to be famed simply for having Tourette's Syndrome. He was a likeable but troubled teenager spitting, barking and shouting at inopportune moments. We sat down as family to watch it. My Dad (who also had Tourette's) and I, whilst having great empathy with John, laughed out loud at some of the situations that arose. I looked across at my Mum. She was crying, empathising more I think with the helplessness his mum must have felt. In a subsequent documentary, John showed that he was a proper funny lad and talked of how he coped with the condition as an adult. Tourette's and OCD were now in the public consciousness and soon began to appear in drama and comedy.
I'd always wanted to write something that felt like an honest take on the subject but that steered away from the more sensationalist aspects of the condition.
For example, only about 10% of Tourettics have the coprolalia (the inappropriate vocalisation of certain words and sounds) but inevitably almost every televisual and cinematic Tourettic seems to have this trait. Obviously there have been some brilliant representations of Tourette's and OCD in film/ television etc  (ITV's "Dirty, Filthy, Love" for example. And for a mainstream Hollywood outing "As Good As It Gets" found a great balance between the frustration of the condition and the natural comedy that is born out of it).
I'd originally conceived "Neurotics Anonymous" as 5 x 15mins to go out in the 10.45am slot on Radio 4. Each episode would focus on a different member of the support group, with a different condition (OCD, paranoia, anxiety etc), culminating in a group session in the final installment. However I'd only had one previous commission, the likelihood of sealing such a slot was extremely slim. So when I was notified of the Turn Up the Talent night, it seemed like a perfect opportunity to test run the piece. This is an evening that showcases about six samples of new writing to an audience made up of producers, actors, other writers and members of the public at Media City in Salford. At this stage the script needed to have a maximum of three characters and be no longer than ten minutes. As ever, imposed restrictions often force you to be more creative. So out went any group scenes and the focus became Iain and his relationship with his mother and his new found love interest, Anna. I'd always intended to play Iain and I wrote the part of Iain's mother Elsie with Joan Kempson in mind. Joan is a brilliant actress with a distinctive voice- and having such a voice in your head allows you to write dialogue accordingly.  With the help of Amber Molyneux and Charlotte Riches at BBC Radio Drama the piece seemed to go down well.
      Having worked together on my first commission "Dog Dazed Afternoon",  (Afternoon Play, 2009), producer/ director Nadia Molinari and I were keen to work together again, so we began preparing a treatment for "Neurotics Anonymous" soon after. The jump between ten minutes and forty three minutes however is huge. Writing this has also confirmed another suspicion of mine. I work better with deadlines. Sometimes the hardest part I find is kick-starting the engine. I'm an expert at procrastinating (one of the characteristics I share with Iain). My friend Shaun Dooley once sent me a card with a picture of Batman's face glaring out at me. In it are two words "Just Write".
The draft I sent Nadia and Amber had most of the final elements in, but was clumsily put together in places. The two of them were great in coming back and offering a new structure. Dropping a couple of scenes and reworking the order of events.   
 
Whenever I'm working on anything, my Mum always jokes and asks if there's anything in it for her: "Even just a line, a waitress or something". Well I couldn't exactly cast my Mum in a play I'd written. But as she was taking an interest, I sent her the script anyway. However, after she read it, she was concerned that I'd based the part of Elsie on her. The part is not based on her explicitly. But naturally you take elements of your own relationships and bits of dialogue that you've heard and sew them into a piece because then it sets it in a reality, as those words and dynamics have come from your own experience. Similarly Iain isn't based directly on me, yet all the characters have facets of myself that I understand. In a way, the three main group members (Iain, Beany and Preston) are all elements of perhaps the same neurological condition but heightened to an extreme to differentiate between them. Whereas Iain's OCD represents the need for order and control, Beany's Tourette's is indicative of the more frenetic energy such a condition can evoke, and Preston symbolises the more fearful, tentative, sensitive side of certain neurological states.
Some of the tics and rituals that feature in the play are part of my own repertoire. Others are from friends or people I've met, heard about. Some are imagined. Well into the writing process I decided to look to see if any actual support groups existed. I thought it only fair that I attend one, as there are often little details in a reality that may add colour to the imagined world. I was upfront about why I wanted to come along and the group kindly let me take part. They explained that people's confidentiality had to be respected which I fully understood. It was interesting to see the dynamics of such a group and just the shape that the evening takes.  It was obviously beneficial to some of those in attendance. We all have our own way of dealing with our OCD and Tourette's. I've learnt to personalise mine. I'll often refer to "my Tourettes" and previously used to visualise it as a battle between two sets of knights in armour, one black, one white, fighting for control over my tics and physical togetherness. I've been lucky, in that I've always had supportive friends and family and that I've tried to turn the Tourettes into a strength where possible (I believe, for example, that the scatter gun erraticness of it can benefit my ability to ad lib during Stand Up).
When it came to casting, Verity May Henry had played Anna at Turn Up The Talent and been great so I heard her voice when I wrote that rest of that part. And John Henshaw's part was also written for him. But strangely I didn't have specific actors in mind when I wrote Preston and Beany. I When Nadia suggested Graeme Hawley, I immediately went "Brilliant. Of course". But casting Beany was much harder. He had to have the most distinctive energy and voice in the play. Frenetic, charming, annoying but ultimately likeable. In a way he had to drive things along. Your brain then reaches out, hoping it'll hit on the right person. Then I suddenly thought- Michael Smiley! A great actor and brilliant comedian. And he said yes. Sometimes you just get lucky.
In radio, you have one readthrough (for timing) and then you're straight into recording. By the afternoon of the first day, we were behind and so we began recording the first run at a scene, without even rehearsing beforehand. This actually gave the scenes an immediacy and everyone was so switched on by then, that we'd often capture it on that first take.
One of my favourite bits is sourcing the music. Music can often inform a scene, and even provide inspiration for it.  I was on the BBC comedy "IDEAL" for 7 series, and Graham Duff would write all the music (and there was a lot of it) into all the scenes that required it.  I do this where I can but sometimes there are gaps. Sometimes there are copyright issues (we couldn't have Rodriguez). Sometimes these copyright issues force you to come up with something better. (Preston bringing over a Geoff Love album is funnier than my original choice of Miss Saigon). But particularly on radio, the music and sound can really help shape what you have and the story you want to tell. It's like creating an aural aesthetic for the piece.
I wasn't there for the edit days but Nadia kindly kept me up to date, particularly with reference to the music. When they'd finished, Nadia sent the finished play over. Now, as an actor I find it hard to watch anything I'm in first time around, because it's so distracting. On a second viewing, you can watch it with more objectivity and you know there aren't going to be any surprises (I'm often looking for any rogue twitches that may have escaped onto the screen). So when listening to something you've written, it's worse in a way, because there's no let up- you're constantly having to readjust to how things have actually ended up, as opposed to how you heard them in your head.  But very often, these are happy adjustments. And when you have a great cast, the odd ad lib gets in and that keeps things fresh for you too. I could appreciate it a lot more on a second listen. And Nadia and Steve (the editor) have done such a great job at keeping it tight and pacey.
   
Overall, I'm happy with the result. I'm really grateful to the cast and the brilliant production team- Denise, Steve, Amber and most importantly Nadia for being constantly supportive and full of good ideas and direction. Oh and listen out for the Waitress in the Restaurant scene. She only has one line in it. Well, one word actually. But she's good in it. Nice one, Mum.
Ben Crompton is a Manchester born Actor (Games of Thrones, Ideal, Pramface) and is the writer of and lead in his new Radio 4 Afternoon Drama Neurotics Anonymous - available to listen on BBC iPlayer.
Neurotics Anonymous was developed and commissioned  as a result of being performed at Turn up the Talent - a new writing showcase run in partnership with BBC Audio Drama North and writersroom.  It takes place at MediaCity, Salford, and provides a platform for local writing and acting talent to profile their work.  It is a targeted scheme only open to a select group of invited writers to apply, who have either come through a writersroom scheme/talent search or are being developed / have a relationship with Audio drama North or writersroom.