The Edinburgh Fringe - a special place for writers
Editor's note: Luke Barnes is the writer of two plays at this year's Edinburgh Fringe: Beats North (a double-bill with Ishy Din) and Bottleneck, returning to the festival following an acclaimed premiere in 2012. He explains why the Fringe has meant so much to his career and why it is a uniquely exciting destination for new writing.
I'm writing this as I'm packing my bag to return to Edinburgh for the first time since 2012. Back then I was really lucky and won sponsorship from IdeasTap and Old Vic New Voices to take Chapel Street up to the Fringe and, even more luckily, Bottleneck was produced by HighTide. This all happened in a bit of whirlwind, in the space of two weeks in July 2012. At first we were told we hadn't won sponsorship from IdeasTap and then weeks later I got a phone call saying we'd got it and, about a week later, HighTide got in touch to say they had a last minute slot and did I have anything. At this point my only credit was a few weeks in a pub theatre so I was over the moon to be produced twice. But that is an anomaly, it doesn't normally happen. Normally you approach a venue months in advance with an idea and go through that way. It's a nightmare but, if you can afford it, I think it's a journey every artist should go on. You go from being on top of the world, to being underneath it, to being hungover, to being a shell of a man, to being a playwright.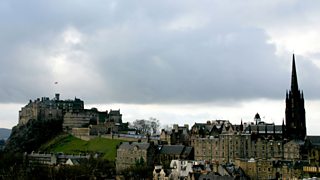 Edinburgh castle and skyline
My experience of the Fringe before that was going with my mum, seeing some comedy and maybe a few plays we knew the titles of.  Before I went up I didn't know how amazing, unique and stimulating it is as an environment. I thought it was going to be a holiday camp for middle class people (which, I suppose it still is) but what I found was a smelting pot of individuality, from the holy, to the awful and everything in between. And everything earns its place because of its concept. There are very few half measures. Everything has a reason to exist and for that reason it's the one of the most exciting artistic ventures in the world. 
In terms of importance it's, for me, a place where you can do whatever you like, be the artist you want be, there are no limitations from theatres, you're not thinking about a target audience. The festival-goers are large in number and eclectic in taste, You don't have to worry about anything, you can just tell the story you want to tell in the way you want to tell it. In terms of beginning as a writer this is invaluable, this is your opportunity to be you and it probably won't come in this form again. You can be as big, as crude, as innovative as you like.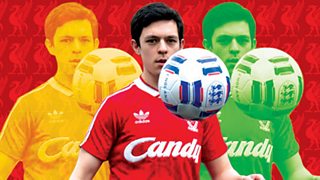 Bottleneck by Luke Barnes
In terms of cutting through the content I think, most importantly, it's through word of mouth. Bottleneck was a play about (spoiler) a little boy going to a football game. It's got no USP. It had no notable playwright or actor and for some reason it sold out every day after the first couple of days, purely because the right people came at the start of the run and tweeted about it, then other people came. Peers who work in the industry, who appreciate your work are as important as press. I'm more likely to go to a play if say, Rob Drummer or Rosie Wyatt, tweets it's amazing than if a blogger like whatsonstage gives it 5*. If you can get friends whose work is respected talking about your project in a genuine fashion that's also useful. Edinburgh operates on word of mouth. Someone tells someone something is great and they go. The critics help people make plans before they get there, word of mouth makes people change them. Also I think the venue has a lot to do with it, if you're in a recognisable venue it's easier to attract press and once you attract good press it's easier to attract audiences. Also be adventurous in the work you're putting on. Early Doors this year had massive hype before the festival began because of what it was.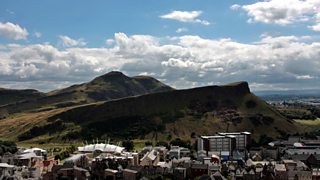 Arthur's Seat in Edinburgh
The work that always stands out for me is the work that always stands out for me - honest stories close to the heart told in the purest, most theatrical way they can be told. That's what we aim for in all our story telling and we should always be aiming for that. Intellectuals should write essays, story tellers should write stories the way they want to, through theatre, television, film and radio. 
The Fringe opened a lot of doors for me. In many ways it allowed me to do this for a living. I've been lucky enough to have five or six plays produced since Bottleneck, and I'm not saying that to say "look how well i'm doing" I'm still eating beans for dinner. But I am saying it because I think it's a direct result of being allowed to tell the stories I want to tell and engage with an audience looking for something more than the Chekhovs, Shakespeares and Bennetts of this world (however great they are).
You can't ask for anything more than to speak and for someone to listen. That's what the Fringe gives you more than anything else, the right to speak.