Original Drama Shorts on BBC iPlayer: Flea
Cat Jones is the writer of the original drama short for BBC iPlayer, 'Flea'.
As soon as I heard that the BBC intended to make short films exclusively for BBC iPlayer, I desperately wanted to be involved. I watch loads of television drama but most of it not at the time of initial broadcast. Like a lot of people, I spend a fair bit of time browsing iPlayer and unlike the times when I sit down to specifically watch something on TV, I often don't know what I'm looking for — I end up watching stuff that I never would otherwise have watched. It felt exciting that the BBC were starting to make things specifically for that medium, so when I was lucky enough to be involved, I was completely thrilled.
A group of writers were invited in for a day to hear about the project. We talked a lot about what makes a good short but also about what short form online TV drama could and should be. iPlayer only content isn't restricted by the length of a particular slot, or the expectations of a particular audience or channel, which made for a very liberating writing experience. I wanted to make the most of that experience, which is why I wrote the piece in verse. It felt like a chance to write something that might not ordinarily get made for television.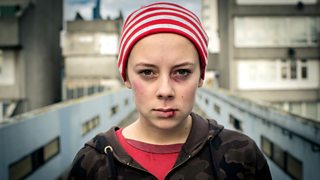 Flea (Alice Sykes)
It was an inspiring day. There was a sense that there was the opportunity to define a new type of drama. We talked about the possibility of reaching a young audience, perhaps people who spend time browsing Youtube, who share music videos with their mates, who don't necessarily think TV drama is for them.
We also talked a bit about not underestimating young audiences, not being frightened to take them to uncomfortable places as well as celebrating what is exciting and wonderful about life. From all of that emerged the idea that I'd like to write in verse — there's lots of spoken word poetry videos online and it occurred to me that you don't see much of that on TV. I also came away with a strong sense that the story needed to have a bittersweet optimism to it.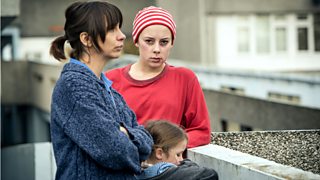 Flea (Mighty - Kate Hardie, Flea - Alice Sykes, Lil Sis - Harriet Mears)
Flea is the first piece of original TV I've had made, and I have a feeling that I might have been spoiled by having such a brilliant first experience and working with such a great (predominantly female) team. Once the idea had been green lit, it was a case of re-drafting until we had the best possible version of the script. It never felt like the notes coming back didn't make sense. They were questions and prompts that encouraged me to really interrogate what the piece is about. It felt like a really open and honest exchange.
It wasn't that everybody agreed on everything, far from it. Ness (the director) and I would give you entirely different answers I'm sure, if you were to ask us what the most important moments in the story are and I've no doubt that Esther (script editor) and Claire (producer) had to use all their powers of patience to keep smiling every time I got caught up in the language and rhyming structure of the piece at the expense of the (far more important) story. But for me, it's the collaboration that feels really exciting about writing for TV and ultimately I felt really supported in something that was very new for me and as such a bit scary.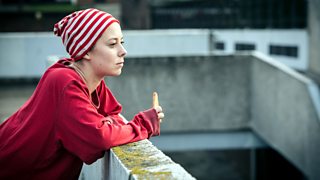 Flea (Alice Sykes)