The view from inside BBC Writersroom's Comedy Room
As a participant on the current BBC Writersroom Comedy Room, I've been asked to share with you a little bit about my experience so far. However, before you read on, it is worth mentioning that if you are clean eating or are involved in a 'New Year New Me' health kick, I do mention biscuits quite a bit. Just a heads up.
Originally from Nottingham, I moved to London to train as an actress and started writing because, to be blunt, it kept me sane. The only way of getting through my God-awful-part-time-jobbing-actor-jobs was to write about them and create humour from them. The worse the job, the funnier the script. Well, that was the plan anyway.
Applying for Writersroom
This was my second time applying for BBC Writersroom. Both times, I'd entered as a writing duo with my right hand man, James Farmer. We started writing together a few years ago when we met through a friend and decided to collaborate on an online mini sitcom, 2 Girls 1 Flat. By that point, I'd started entering scratch nights and had had a few short plays produced by Theatre 503, The Lost Theatre and The National Youth Theatre, whereas James was a gag writer for mostly TV panel shows, so between us, decided to put our heads together and continue the collaboration. We then wrote a TV pilot that went on to win The Comedy Project at Soho Theatre last year, which gave us the push to enter something into BBC Writersroom again, and thank the comedy Gods we did.
We're half way through the scheme and we've already met more than 40 Producers, learnt how to pitch ideas, been offered commission opportunities and consumed each others body weight in biscuits. So yeah, so far, so good.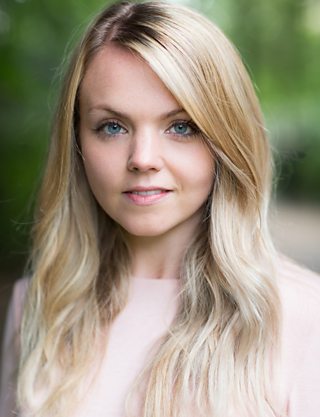 Katie Redford (Photo: Jo Mclintock)
The Workshops
The workshops we've had have been incredibly insightful. This might sound a bit daft but it's so nice to actually just learn again. (Even if I do leave every workshop, feeling rather wired.) We've been fortunate enough to have already been introduced to various industry professionals. Script Editor Guru, Andrew Ellard, spent a day with with us, advising us about the do's and don'ts in comedy writing, sharing his own experiences and passing on some really beneficial writing exercises. One of which that I've already gone on to use is when developing your characters, rather than writing about them yourself, get your characters to interview one another instead. You'll discover things about them that you'd never have found out if you'd have written about them as yourself. Especially when it comes to noticing their flaws, which in comedy, appears to be the golden rule in any character. The more flawed they are, the longer the comedy can survive.
We also had a entire workshop dedicated to pitching. When you do manage to secure that coffee and chat with a Producer, how many ideas should you pitch? How can you pitch an entire idea in just one sentence? James Kettle, co-writer of one of my favourite BBC Radio Comedy series, Tom Wrigglesworth's Hang-Ups came in and chatted to us about his experiences of 'those' meetings and what works for him. He believed solid preparation was the key to a successful meeting and he actually draws up a grid beforehand, dividing up his projects & ideas (never any more than five). That way, he's not overwhelmed with a ton of ideas yet has enough to discuss if his initial idea isn't met with the enthusiasm he'd hoped for. I recently had my own experience of this and had one of 'those' meetings. BBC Writersroom's Justine Potter, who is running the Comedy Room, also happens to be a fount of knowledge, experience and contacts and was a solid support leading up to the meeting. With the advice from various guest speakers along with Justine's help, I managed to whittle down my nine flaky ideas to three solid ones, and now have a project in place with a Producer.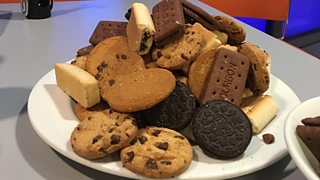 Death by biscuit
Key things I've learnt so far...
• Every freelance writer I've met in BBC Writersroom feels guilty for watching comedy clips on a random weekday afternoon. Even though it's been set as our homework. Embrace it; consume yourself with the stuff.
• Don't enter a writers room if you're on a health kick. SO MANY BISCUITS.
• Copy people. (To an extent, obviously). Throughout my time at Writersroom so far, we've been encouraged to ask ourselves, what is comedy? What makes us tick? Observe the comedy you personally enjoy and, well, yeah, copy it. (That's actually John Cleese's advice. Not mine. But I've copied it and seeing the content of his comment, I think he'll be OK about it.
• Have an open mind. You may not have thought about writing for, say, Children's TV but soak up the information in every workshop and apply for every opportunity that arises because you never know where it may lead to.
• Keep a note of every producer you've met and where you've met them. It'll come in handy.
• And most importantly, realise you do not have to justify to everyone on South West trains why you're watching Mr Tumble on your laptop. Research is research.
I'll wrap it up now as I'm off to submit my first sketch to CBBC, something I'd never even have considered before being in BBC Writersroom. I've always worked with children, I've just never considered writing for them. In my spare time, I'm a Nanny for one particular family and the children I look after have provided me with some absolute gems over the last few years. I'll leave you with a favourite of mine.
*The following conversation took part on a school run, whilst we were stuck in non-moving traffic. We were running very late. And it was pouring it down with rain. (Of course it was.)
6 year old: Mummy said your Grandma has died.
Me: Yep. Yes. She has. *Trying not to cry.*
6 year old: I think she's in the clouds, still looking after you.
Me: *Desperately trying not to cry.*
6 year old: *stays silent, deep in thought.*
6 year old: When you die, you turn into a pig."
And that my friends, I believe, is comedy.
Happy writing!
Find out more about Katie Redford
Katie's recently joined the cast of The Archers as Lily Pargetter