The deadline for script submissions for the inaugural Wales Writer in Residence is edging ever closer (11am on 3rd June – set an alarm now!) In partnership with BBC Cymru Wales and National Theatre of Wales we're looking for writers who have the ability to create outstanding drama – be it for stage, screen or in sound. We're looking to invest in, develop and shout about the talent we uncover. That's why the winning script will be commissioned, developed and broadcast on BBC Radio 4 and / or BBC Sounds. (That's in addition to the two consecutive development residencies on offer and £12,000 awarded to the winning writer).
There's no specific brief to write to but what we want is ambitious, resonant drama that reflects a contemporary or future Wales. We want drama that will be bold. Will make the listener sit up and take notice. That will connect with a mass audience. And we're asking for scripts that can be made as audio drama because it's arguably the most creatively freeing medium for writers. Anything your imagination can create – we can build in sound. But more than that an audio drama script lives or dies by the strength of the writing. No fancy stunts or visual trickery can save a poor script. It's exposing but also liberating.
Should you have missed our roadshow presentations around Wales you can find our top script tips below. You can also browse our extensive library of Radio Drama scripts, explore previous BBC Writersroom blog posts (Radio & Audio) and listen every weekday on Radio 4 and any time on BBC Sounds.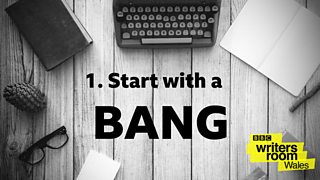 1. Start with a Bang!
Most listeners of radio drama switch off in the first 3 minutes.
Don't bother with exposition or set up. Kick off in action. Hook your listener in with intrigue...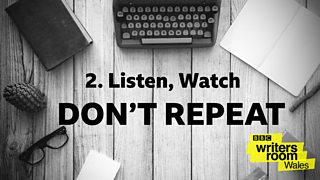 2. Listen, Watch - Don't Repeat!
Consume everything but don't imitate anything.
We don't want copycat versions of what's gone before.
We want your Unique Voice. The script only you could write.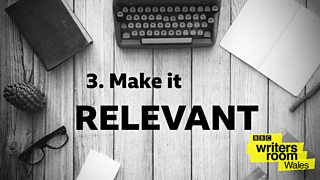 3. Make it Relevant
Audio drama can be turned around quickly so it can be contemporary and resonant.
We're interested in the world we live in now and what you have to say about it.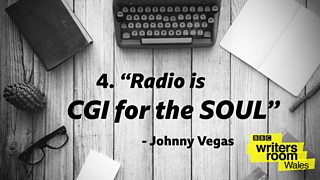 4. "Radio is CGI for the Soul"
Special effects are expensive but in audio you're not constrained by sets or costumes – so let your imagination go wild.
You create the world, we can make it in sound.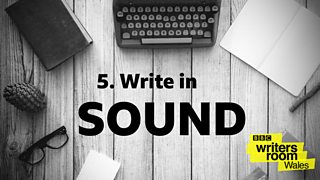 5. Write in Sound
Think about the possibility of the medium – use of voiceover, or using sound effects and music as costume and props.
Try to limit voices to no more than 6 and make them distinct (various ages, accents etc)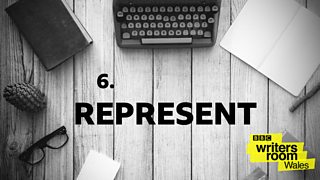 6. Represent
Show us a slice of diverse, progressive Wales we never get to see. Please avoid well-worn story tropes.
Celebrate contemporary or a future Wales authentically and interestingly.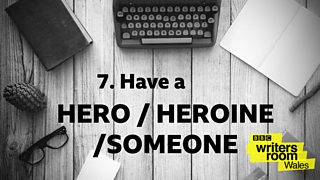 7. Have a Hero / Heroine / Someone
We need a 'hero' to relate to, that should be the person who changes the most.
If no one changes then there's probably no story.
Give them obstacles and challenges. Make sure they're real, flawed individuals.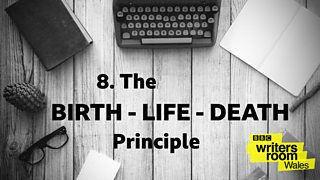 8. The Birth-Life-Death Principle
It's the human life cycle. We crave a beginning, middle and end (even if not told linearly).
Is the pacing right? Are you starting late and finishing early? Does the middle build and progress and intensify?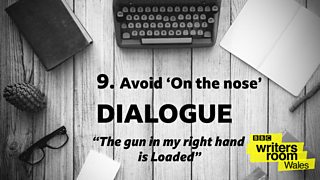 9. Avoid 'On the Nose' Dialogue
Try and avoid this kind of expositional dialogue or telling the audience what to think or feel.
Use natural dialogue. Pause. Silence. Subtext.
The listeners are smart, they don't need to be spoonfed!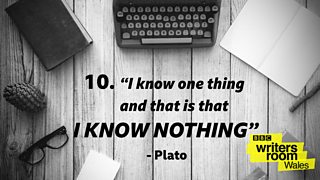 10. Having said all that... Rules are made to be broken!
There is no winning formula. Be inventive. Surprise us.
Take all of these tips or throw them all away.
You're the creators.