"Are you quite sure you want to write for television? Well, of course you do. You are stuck in the endless tedium of an office, factory or behind the kitchen sink."
This is how Eric Paice's 1981 book 'The Way to Write for Television' begins. He goes on: "The sad fact is that most writers for the box are virtually anonymous. Their names appear momentarily [in] a long and rapidly moving credits list amongst producers, directors [and] make-up girls." 
If the idea of having your name listed alongside a "make-up girl" hasn't made you snap your fountain pen in disgust, you might be wondering how to make the leap from your supposed life as a hapless prole to getting your first broadcast commission.  This may seem an impossible task, however many books you've read by people like Eric. I spoke to eight professional writers and asked them how they did it.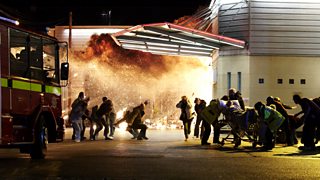 A dramatic moment from Casualty
When I catch up with Sally Abbott she is in the middle of writing a mammoth episode for Casualty and "knackered" after writing day and night to hit her deadline. Previously a theatre producer at the Contact Theatre in Manchester, she wrote her first Doctors episode when her son was only 6-months old.   Sally admits having contacts in the industry is useful, but says knowing people isn't any help "if you're actually not ready."
Her real break came from taking a play, Martha Loves Michael (co-written with her husband, the actor Michael Begley), to the Edinburgh Festival. "We didn't get massive audience figures," Sally says, "But what we did get out of it is everything we've had since," including the chance to develop a BBC TV show and an introduction to the BBC Writersroom.
Three years later she made the plunge into full time writing after juggling it with producing theatre part-time. "It was coming up to the year I was going to be 40 and I just went 'I've either got to go for the writing now or forget it,'" she says. "So I gave my notice in at work." She took two weeks away from her husband and children to write a spec script, which got her onto the BBC Writers Academy.  For the first time she had an original solo-written script and that changed everything. It may sound simple, but it wasn't.
"We were absolutely financially broke and surviving on tax credits," Sally points out. "If you want to create that space for writing, then you don't go out, you shop really carefully, you make really big sacrifices. We didn't go out for years because we couldn't afford a babysitter." While Sally now gets paid more than she once did, she is keen to point out the process doesn't get any easier. "The bottom line is that writing is really, really difficult," she says. "Virtually every writer I've met thinks they might not work again. It doesn't matter how many awards they've won."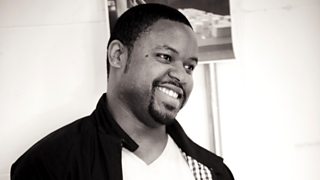 Levi David Addai
By 2006, Levi David Addai's first play, 93.2FM, had sold out at the Royal Court Theatre and was about to start a UK tour. Meanwhile, he was applying for jobs stacking shelves in Sainsburys. "After the first run of my play, in 2005, I pretty much lived off my bank graduate loan, until mid-2006 when I eventually got an office job" he says. However, he found that working full-time took away all of his time to think. "I'd come home and my brain was exhausted. There was no fuel to write," he says. He decided to go full-time as a writer and supplement his income with a few shifts in one of his local supermarkets. "However, I was rejected by all three."
Sainsburys' loss was television's gain. Following his play's tour, Levi was championed by script editor Esther Springer and went on to write for the BBC and Channel 4 and is now lead writer, co-creator and associate producer of the E4 drama series Youngers. He believes he couldn't have done any of this without his theatre work. "I would have had no chance submitting an idea to a TV company cold. It was much easier to send an invitation saying 'my play is on at this venue'…No slaving over a treatment, doing several drafts over several months/years. It was simply a case of the commissioner seeing my play, liking what I had to say and giving me a script commission. I was extremely fortunate."
Lucy Moore is a writer and script consultant who, like Levi, started her career as part of the Royal Court Young Writers Programme. "I wrote some short plays that got put on, then I wrote a couple of short films that got made, then I wrote a half hour drama for Channel 4 that got made," she explains, "And then I wrote my first feature film which got picked up by Miramax and didn't get made."
When she was starting out, she negotiated a three-day week in the admin job she was doing and then worked as a waitress evenings and weekends. "It was tiring, but it really helped to keep [two] days sacred for writing/staring out of the window/drinking tea," she says. Alongside admin and waitress work, she also supplemented her income with script reading, puppeteering and teaching. "I still do bits of these, except the waitressing, which is too bloody exhausting," she says.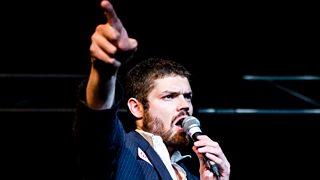 Gabriel Bisset-Smith
"Since I've started writing I have never taken a regular job," says Gabriel Bisset-Smith, whose new show, Addicted to Everything, co-written and performed with Rob Cawsey, is at Soho Theatre from 30th January-1st February. "Now this is not because I make a lot of money. I really don't and have gone hungry many a night. But…when I have a busy day out and about, I can't come home and turn it on. A lot of people can, but not me." So how does he survive? "As I don't have any kids or a wife or anything I can kinda get away with it," he says. "Although I do have some very generous drink buying friends who may be (are) sick of me."
The first piece Gabriel wrote was a spec script which he sent anywhere that took unsolicited work, including the Hampstead Theatre. "They liked it, but didn't think it was right for them," Gabriel explains. "However, they put me in touch with Paul Ashton in the BBC Writersroom. He read it and invited me to a weeklong workshop to develop drama for BBC3." The channel liked another idea that he pitched, with fellow writer Claire Wilson, and put it in development.
"After that I rang up every other theatre that I'd sent the play to (and had still not had a response from) and told them I was working with the BBC," Gabriel says, "They read my play a bit quicker and I was put on attachment at the Royal Court. It may sound like it was all quite quick but there were months and months of waiting involved, and a fair amount of sulking."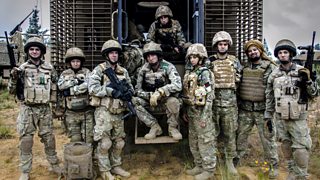 Bluestone 42
"My background was directing theatre, which I'd done since school," says Richard Hurst, co-writer of the BBC3 comedy Bluestone 42, the second series of which is about to come out. "I wrote a bit but was never much good, except at silly little sketches. Then I fell into writing and directing comedy, and got given the chance to have a go at a sitcom with the rest of a sketch group (The Four Horsemen)."
In order to make a living when he was starting out, Richard balanced his writing with directing and script reading. "I've always had other things going on," he says, "And tax credits were a fantastic innovation of the last government – they gave you a little safety net while you were trying to build a career."
Samina Baig started her career helping out on the sets of short films. "I ended up doing the cooking," she laughs. She trained as a journalist and then worked in factual broadcasting, while doing her own writing in the evenings. "I started going to workshops on craft and structure," she says. "Then in 2000, I just decided to go for it.  I thought it's now or never, so I rather optimistically ditched everything."
Although she had saved up some money, she now thinks this approach was naïve. "I would advise [people] to keep the day job," she says. "I was just super-optimistic." It took her a year or two to get her first commission, which came after she sent a script to the BBC Writersroom. "They put me on a development programme at Radio 4 called Sparks," she says, "I got my first commission through that." She has now had a number of radio plays produced (including a new one for Radio 4, Karma, being broadcast today at 14.15 and on BBC iPlayer for 7 days) and also written for BBC Continuing Drama. However, "one commission doesn't automatically lead to another," she points out, "You have to prove yourself time and time again."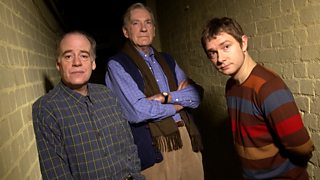 The Club of Queer Trades, by G K Chesterton, dramatised by Simon Littlefield for Radio 4
"I'd heard about a meeting at BBC Radio 4 where non-commissioned writers could go and pitch ideas for satirical sketches," says Simon Littlefield who writes for shows including Radio 4's The News Quiz. "I was unemployed at the time and thought, 'What the hell?'" At the meeting, he met another writer, Felix Riley, and they started working together. "We got commissioned…And then worked six or seven days a week trying to break into other shows and trying to write sitcoms."
By the time Simon got his first radio commission he was working full-time writing TV listings for national newspapers. "After a while this became a part-time job," he says, "and then eventually I threw myself off a financial cliff." Prior to this, he was lucky enough to have a very understanding boss: TV pundit Boyd Hilton. "[He] was incredibly relaxed about me taking four-hour lunches to go to the BBC (handily just around the corner) to write radio sketches," Simon reveals, "And I used to write before going to work. And in the evenings. And at weekends."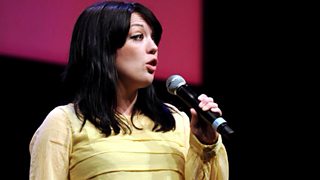 Danielle Ward
"I always wanted to be a writer, but I imagined it would be journalism or maybe think tank stuff or policy work," says Danielle Ward, "Something with a bit of importance to it. But no, that never happened." Instead, feeling "bored and lonely" she started doing stand-up at the Albany Theatre, a place where "loads of people from BBC radio used to go." Producer Colin Anderson was in the audience and asked her to write for The Milk Run, a late night Radio 1 comedy show.
While working at the fire brigade in an admin job, she began writing short plays based upon Chat Magazine for Robin Ince's Book Club, also at the Albany. Siobhan Bachman saw the plays and decided to produce an Edinburgh Festival show based upon them, Take a Break Tales. It helped Danielle to win The BBC Writers Bursary, which funded her – along with her stand-up gigs – for a year. "I could give up my job," she says, "It was the big safety net I needed."
Since then she has worked on a variety of TV and radio shows and is currently developing a sitcom. "Once people start to know who you are, work comes your way," she says, "But I think you still have to be proactive. Unless you have a really big hit you can't really rest on your laurels."
The one thing everyone I spoke to has in common, despite being talented and successful at what they do, is that they have at some point found it (and, in some cases, continue to find it) challenging to balance making a living with doing their writing. "You may be enticed by the money," Eric Paice tells the would-be writers of the 1980s reading his book, "Though there is less of it than you might think."
"You're not a writer to make money necessarily, but you do need to make money," says Samina. "Live cheap," suggests Lucy. "Alternatively you could train for a 'back-up career' that allows you to work flexible hours for a decent amount of cash i.e. plumbing, IT support, lapdancing…"

"The obvious one is find a job that can help you write," says Gabriel. "Become a night security guard and write on your shift."  For Levi, the initial struggle was worth it in the end.  "There's no feeling like getting something made and seeing what you've written produced – and that it worked," he says. "Always appreciate that you are doing what you chose to do. No one forced you to be a writer."
Editor's note: Sally is one of the Writersroom script readers. Sally blogs more about theatre, film, TV and writing. Follow her on Twitter @sallystott