The Events - Q&A with writer, David Greig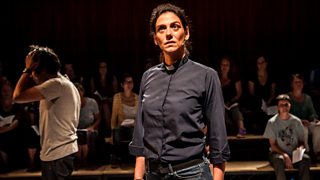 The Events - Neve McIntosh (photo credit: Stephen Cummiskey)
What made you want to write The Events?
I was on a walking trip with my son who was then around 12.  We had been walking through the Highlands away from people and phone reception.  When we arrived in Fort William we saw the headlines of the Breivik attacks and I just couldn't believe what I was reading because it was so horrible, surprising and bewildering.  My son saw I was very affected and because he was wondering why I began to try and tell him what the news was and its implications.  He just kept repeating the question why? why? why? and I found the discussion quickly became very profound, about the nature of evil and whether it is ever possible to understand someone who shoots children for a political reason.  I found trying to answer these questions became  a compulsion I had to try and understand. 
The play didn't begin to crystalise until I met the producer Ramin Gray at the Edinburgh Festival and he said he'd been thinking of something similar, and that we had to do something about it.  That meeting made me know it had to be a play.
How does the play relate to the real life events surrounding the Anders Breivik shootings in Norway?
It's a fictional story which is entirely made up, my story is of a much more 'minor' event than the Breivik shootings.  It was very important to me that I had a fictional story – 'Fiction is the lie that tells the truth' as the saying goes.  It seems to me that if I had tried to tell the story of Breivik, I would have got too caught up in it.  I needed a fictional story to explore the truth of the questions it raised.  My story is set in Scotland and concerns an attack on a Community Choir.  The survivor, Claire, tries to understand what has happened to her.  That said I did carry out an awful lot of research about Breivik, his psychological and political impulses and also other events including 7/7 and the murder of Drummer Lee Rigby.  And these events keep happening, for example while the play was receiving its New York debut the California shootings by Elliott Rodger took place  – there's no shortage of these tragic events to draw on.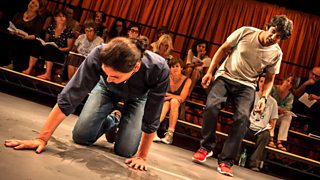 The Events - Rudi Dharmalingam & Neve McIntosh (photo credit: Stephen Cummiskey)
What research did you carry out in Norway and what challenges and responsibilities did this present?
I did a fair amount of research in Norway and with Norwegian friends.  I have connections there and knew the country fairly well.  I spent a week there initially with the director Ramin Gray and some Norwegian colleagues.  I interviewed people who were involved, for example psychologists, sociologists, members of the police and journalists.  I didn't however interview survivors at that point as it was only three or four months after the shootings and it felt too raw and close.  I was tremendously worried about it being seen as exploitative or voyeuristic and shyed away from interviewing survivors as that was what everyone else was doing.  I needed to get beyond that. 
Much later I did speak to the survivor Bjorn Ihler, which informed the piece very deeply.  His experience brought two surprising things.  Bjorn and another boy had protected two ten-year olds at great risk of their own lives.  His personal story was one of heroism and altruism and he said that was true of everyone involved.  They were running towards danger to help each other and protect each other.  This was both surprising and counter- intuitive, that a story about evil actually showed the opposite: that people under pressure are altruistic and good.  Also he said something that I later used in the play.  At one moment Breivik's gun was pointed at him and he thought he was about to die.  At this moment he felt a strange 'tearing sensation' . I asked him, 'What was that?' and he replied 'It was my soul leaving my body'.   That was such a vivid and surprising thing.  'When did it come back?' I asked him,  'It hasn't yet', he replied.  Subsequently Bjorn emailed to say that it would be a work of months or year to get his soul back.
Around this time I also went to an exhibition at the British Museum of Stone Age art by anonymous artists forty-thousand years ago, and it struck me that the men or women who had carved these little stones would understand what Bjorn had said, he had faced terrible danger and now felt he was on a quest to retrieve his soul.  In the 21st century we are stuck reading accounts of horrific events in the newspapers and can't really understand what has happened.  I tried to reflect this search for a primal understanding of traumatic events.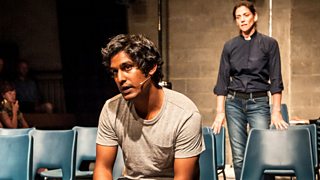 The Events - Rudi Dharmalingam & Neve McIntosh (photo credit: Stephen Cummiskey)
What is it about drama that goes beyond documentary or news in relating tragic and emotive real-life events?
I think that drama forces you to inhabit both sides of the story almost physically – literally walking in someone else's shoes.  News allows you to look at events but with drama you are inside them.
How do you use humour in the play?
I tried to let humour exist in the play, including the dark, sardonic humour of Claire the victim or that I was familiar with from friends who have had bad experiences.  I felt it was important not to be artificially unctuous, but to let the story be the story.  Sometimes you might want to laugh with the boy at the ridiculousness of our of society, or sometimes with Claire at the ridiculousness of her situation.  Humour doesn't go away because of tragedy.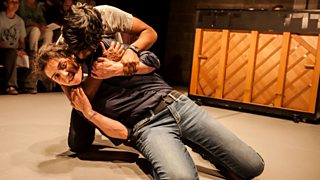 The Events - Rudi Dharmalingam & Neve McIntosh (photos credit: Stephen Cummiskey)
What were the challenges of adapting The Events for radio?
Mainly these challenges lay with Ramin Gray and Allegra McIlroy(the Radio Directors and Producer).  I made a few alterations to acknowledge the lack of visuals, but The Events is almost written as a piece of prose or poetry so didn't require big changes.  The main challenges were with practical things like the Community Choir.  Also in the stage version the boy plays all the other roles, but on the radio that would be too confusing, so they have manipulated the sound and used other actors in a way that makes the boy still feel as if he is constantly present.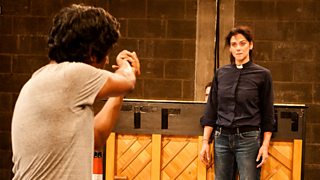 The Events - Rudi Dharmalingam & Neve McIntosh (photo credit: Stephen Cummiskey)
Which other dramas or writers have inspired you?
Many and they change all the time! I've always been drawn to Brecht as he understands drama is drama and is not TV or film.  It's a medium which knows the actor is on the stage and the audience are present in the audience.  Cinema is more of a dream medium.  Also I'll always tend to think, 'which Shakespeare play am I rewriting?'.  The Events shows the influence of the theatre of Ancient Greece with the choir acting as a kind of Greek Chorus.  Most Greek theatre will have only two people on stage at one time – Clare and the boy are like the Greek protagonist and antagonist with the Greek chorus behind.
What advice would you give to new writers?
To be most truthful I'd follow PG Wodehouse's advice to 'first apply the seat of the trousers to the surface of the chair'.  The main thing is to get to the end.  Simply don't worry about the quality of the writing moment by moment, that your first line is perfect etc etc but regard what you are writing as placeholders until you find out what you are doing and then improve it later.  If you write until you get to the end you are already in the top 0.2% of people who want to be writers.  The creative stuff happens then with the improving, honing, cutting, observing and chipping away.  The simple act of getting through it is a huge, huge thing. 
The second thing is to always remember that your subconscious mind knows better than your conscious mind.  Trust a bit of writing because it came to you by surprise and follow the byways of your subconcious rather than sticking rigidly to the dictates of your boring, conscious mind.  We pay to hear things that surprise us.
Listen to The Events on BBC Radio 4
Find out more about The Actors Touring Company