Writersroom Wales - Inside the 'It's My Shout' Workshop
I like to think that good things come in pairs, like hot chocolate and whipped cream, books and comfy sofas, sunny days and beaches. This is why, when I heard that BBC Writersroom Wales were supporting It's My Shout with a two days writers workshop for the first time, I had no doubt it was going to be a successful match: shared ethos, passion and projectuality are key elements in the development of writing and writers themselves.
It's My Shout is a training scheme focused on bridging the gap between the film industry and new talent. They run a yearly competition and produce short films each year in both welsh and English language which go out on S4C and the BBC. The newly launched BBC Writersroom in Wales is supporting them for the first time this year with a two day intensive script development workshop for fifteen shortlisted writers with seven English scripts and two Welsh scripts to be selected to be produced. Development Producer Rachel Williams set up the workshop – inviting film and TV Producer and script specialist Henry Swindell to do a days intensive workshop followed by a following day where each writer got one to one feedback and notes on their script from Henry and Rachel. The Welsh language writers were mentored and given notes by the new Writersroom Welsh language consultant producer Welsh Nest Gwenllian Roberts and supported by Assistant Producer Usman Mullan.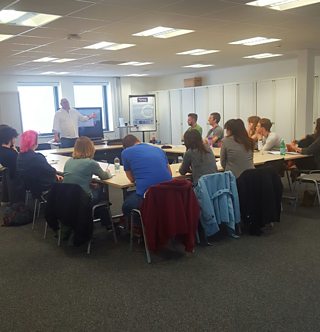 Story workshop led by Henry R Swindell
I was lucky enough to be among the sixteen writers invited to the workshop. I have attended my fair share of screenwriting classes, but let me tell you that none of the lecturers had ever managed to pack so much useful information with such an engaging delivery as Henry R Swindell. Not only he has seen and can discuss in minute detail almost every film or TV show ever produced, but he's a treasure trove of quote-worthy gems. Artfully illustrating the nuts and bolts of filmmaking, Henry managed to be at the same time insightful, inspiring and fun. In other words, a wonderful teacher.
The first day of the workshop was dedicated to screenwriting theory. It was long hours but didn't feel like it: relevant video clips supported abstract notions, and there was space for discussion and analysis of famous movies. On the second day, we received individual feedback on our scripts, and we discussed our journey as writers and the following steps of It's My Shout. We also had time to apply the previous day's teachings to our pieces and bond with the other writers.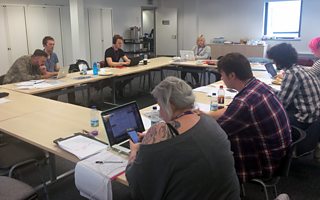 Writers hard at work on their scripts
One of the things I love about the writing world is that, once you've made it to the writers room, all sense of competition disappears. What matters is the story, or, as in this case, stories. The workshop was no exception: we talked to each other about our writing, our characters, and the next version of our scripts. I was particularly interested in the Welsh writers' experience, as it mirrors my own: I come from a bilingual Italian region where the second language, Friulan, dates back to the 11th century and is an integral part of the local culture. Furthermore, I was delighted to see Henry and Rachel's interest in a quirky sci-fi piece like mine, and their input has been fundamental not only to refine the script but most importantly to crack its conclusion. I couldn't have done it properly without the support of It's My Shout and BBC Wales.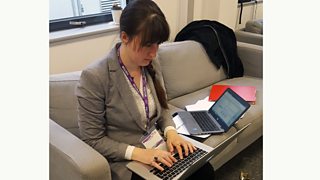 Eleonora working on her script notes
Will the new version of my script be selected for production?
At the time of writing, I still don't know, and, in a sense, that's not the main point. The question here is, am I a better writer today than I was a week ago? I dare to say yes, and not only because attending the BBC Writersoom residential has boosted my confidence, strengthened my authorial voice and provided me with new, inspiring connections, but mostly because my understanding of storytelling has moved forward. Again, it is through associations, relations and sharing that writing is possible and that is what the BBC Writersoom residential consisted of: a joyful platform for people to grow and improve their writing.
Read a blog written in Welsh by Anna Symmonds on her experience of attending the It's my shout residential
Watch clips of the 2016 It's My Shout short films
Find out more about Writersroom Wales