The internet, the world of forums/message boards, AIM chats, fandom and friends from all over the world were my teenage years. I grew up through the friendships I made online and took my first foray into creating characters and writing through message boards. So to find myself in Cove Park with 9 other writers taking part in a three day Children's Digital Residential was a little bit like coming home.
Having been an early subscriber to the online world, it still feels like a second language when it comes to apps and the new in-thing, (even if I do refuse to get sucked into the world of Snapchat streaks or unboxing videos). However, at 31 and as a writer/director in film, I'd never written with a focus on young people, so when the BBC Writersroom Scotland team got in touch with me and asked if I would be up for spending a few days away with a group of writers and a number of CBBC and Digital experts to learn, brainstorm and pitch then the only answer I could give was YES! My excitement at being able to delve into the world of CBBC was clear, but the fear I felt at working with an audience I hadn't had the opportunity to tap into for a number of years was also very real.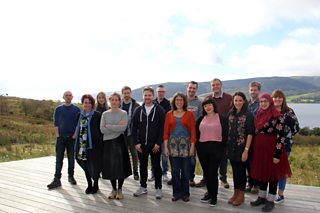 The writers with BBC staff in the glorious surroundings of Cove Park
To take you back to my own roots, I've been an avid reader since I can remember but coming from an immigrant family I didn't get the opportunity to attend drama club or do any extracurricular activities. The library was my favourite place. Then free AOL dial-up trials got me onto the internet and the online world was a place of safety, where I could create my own characters and stories and grow as a creative.
I studied Literature with the masterplan of becoming a young adult novelist, but then an apprenticeship at GMAC Film led me into the film industry. For the past seven years I have been developing as a screenwriter with a focus on film, being shortlisted for the Sundance Writers Lab twice and having my short films play at both Glasgow Film Festival and the Edinburgh International Film Festival. Despite the slowly building film success, television has seemed more out of reach, that is until the launch of the BBC Writersroom in Scotland. Which nicely brings us back to Cove Park and the Children's Digital Residential.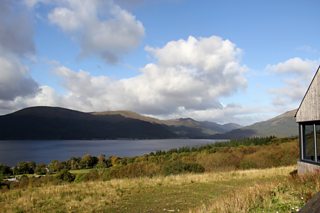 The view from Cove Park
On arriving at Cove Park we had initial introductions, which never get less awkward for me! Fortunately some familiar faces reduced the levels of nervousness. After some intros from BBC Producer Dave Howard and Angela Galvin from BBC Writersroom, we had the opportunity to hear from Catherine McAllister, Head of Safeguarding & Child Protection for the BBC. The immense amount of knowledge Catherine had about the issues that young people face today was eye opening. Having been one of those kids at one point, it was almost scary how much more dangerous the online world is now, or perhaps we just understand it better and I got lucky?
Day two was less frightening and more enlightening in different ways. Jack Kibble-White, took us through some of the work the BBC have been doing and some examples of other interesting approaches to using new technology in storytelling. Branching narratives were definitely my favourite, a new approach to the 'choose your own story' books I remember reading when I was younger. We also had the opportunity to hear from Richard Bond, Exec Producer of Cyberbully, about the way in which he's used his documentary background to tell narrative fictional stories in interesting ways. Just like my fellow Cove Park attendee and blogger, Will McLean, I also found the talk with three thirteen year olds from a local school insightful and fascinating. Much of what was said by the girls echoed Catherine's findings from the day before. The addictive nature of snapchat streaks, hashtags, anonymous messages and the need for followers and likes as self validation. The day culminated with a chat with writer Joe Lidster, whose excitement and energy about writing for children's TV was addictive. The little fear I still had in me around writing for children's television began to disappear the more that Joe spoke about how he got into it and the things he loves about writing for that particular audience.
We were then set the task of coming up with some ideas for the BBC online space 'Stay Safe' to help rebrand it and focus it on a new generation of young people that see online as just as real as everyday life. The second day ended with some brainstorming, bonding, magic tricks and walking down the hill to our pods while the moon shone brightly in the sky.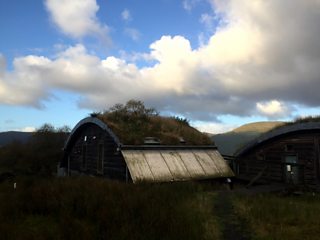 The accomodation at Cove Park (previously used on Taransay in the BBC series Castaway)
On day three, everyone was feeling a little nervous about pitching our ideas, but the team from CBBC made it really easy. For me, this was an opportunity to go back to my love of fairytale revisionism and use everything that I knew about the online experience and combine it with everything I'd absorbed from all the amazing guests who had spoken to us.
For me, coming from the world of film, the residential has left me really excited about what I can do with the digital space. It has allowed me to remember all of the reasons why the online space is so important, and that it should be a place of empowerment and not danger, especially for young people, who can use the space to be more open to the diversity of the world as a whole.
Find out more about Raisah Ahmed