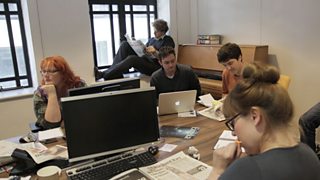 The Newsjack writing team
Series seven of Newsjack, Radio 4 Extra's topical sketch show, is over. The great thing about Newsjack is its open door policy. Anyone can send stuff in. Anyone. We get sent good stuff, we get sent bad stuff, we get some really odd stuff too. One week someone sent in a bag of hair. That didn't make it into the show.
One of the measures of success for Newsjack is how many new writers it finds. So after six weeks of looking for those writers and turning their work into a show, what is left to do? To put them all in a spreadsheet and count the buggers, that's what.
Right, so this series we averaged 454 emails per week. Attached to these emails were sketches and one-liners. Some people send one sketch, some two, some three, some a page of one-liners, some, hair in a bag, so it's hard to quantify exactly how that breaks down but I'm going to do it anyway because I bloody love numbers.
Approximately 850 documents a week were received and read by producers, script editors and staff writers. From this material we aimed to put together a recording script of around 30 items – typically 25 sketches and 5 sections of one-liners (the opening monologue, three lots of "JackAps" and a corrections section at the end). We received so much good material that we got a bit carried away with ourselves, and ran to 28 sketches, plus the one liner segments – a total of 170 sketches in the recording scripts, over the series.
Those 170 recorded sketches were written by 85 different writers. We also recorded 250 one-liners by 126 different writers.
We recorded more than we needed because that's what you do. Material is dropped for several reasons but if it made it into the recording script, we thought it was good.
Here's what made it into the finished show:
99 sketches were broadcast over 6 x 28 minute shows.
41 were by commissioned writers and 58 were by non-commissioned (non-com) writers
136 one-liners were broadcast; 8 by commissioned writers and 128 by non-com.
We averaged 34 writing credits per week, of which an average of 27 were non-com.
In total, we broadcast the work of 123 different writers.
The 99 sketches were by 60 different writers.
The 126 gags were by 87 different writers.
I know 60+87 doesn't = 123: put your hand down, cheeky, some people wrote both. And here are some other caveats:
Sometimes we had similar sketches by different writers so we took the best bits from each to make 1 sketch.  If 2 non-com writers shared a credit for the 1 sketch we credited that as 2 writers, but writing partnerships count as 1. 
Some people who were commissioned for 1 show got stuff on other episodes as non-com - although we've not counted them twice in the list of 123 writers, their material counted variously towards the com and non-com totals.
So that's the raw data for series seven. What can we learn though by comparing it to series six? Well, I'm very glad you asked me that...
Series six received around 80 emails more every week, on average. From this, it featured 101 sketches, by 53 different writers, and 95 gags by 69 different writers – using a total of 100 different writers (Lyndsay Fenner, Newjack Producer's, previous numbers blog says 102 – this is wrong, due to two people being credited under two variations of their name -  she is currently being investigated for this misdemeanour). How can the submissions and sketches go down and the writing credits go up? You and your questions. Well, this due to the script editors (James Kettle, Jon Hunter, Andy Wolton, Benjamin Partridge and Tom Neenan) spending more time splicing people's sketches together – two good versions of "The Diary of Felix Baumgartner" can be turned into one very good one, in less time than it takes to rewrite it from scratch.
The other useful thing to look at is the number of new writers: obviously with Newsjack there's a developmental brief, where writers can be spotted as a non-com and invited to attend the writers' meeting; and if they do well there, they might be offered a commission, and so on. James Kettle worked up from non-com to script editor over the course of seven series – and is now a key writer for the BBC Radio Comedy, working on Tom Wrigglesworth's Open Letters, It's Not What You Know, Can't Tell Nathan Caton Nothing, Wordaholics and countless others – and he was also made one of our staff writers for a year. The point is, we should expect some names to keep cropping up – Newsjack encourages new writers, but developing them and their ideas takes more than six weeks-so no-one is probably ready to move on to more high-profile shows after just one or two series.
That said – this series has done exceptionally well in discovering new writers. Of the 123 writers, 86 writers did not receive a credit in the previous series. That works out as 38 people new to the show got a sketch on, and 68 people new to the show got a joke on.

Newsjack isn't the only way to get started as a comedy writer. But it is a way to get started – we promise to read your stuff, and if we like it and use it we'll pay you. From there, well – who knows. All we ask in return is that you read the submission guidelines, and get your sketches in on time. And if you title your documents "Sketch.doc", we'll kill you. Oh, and don't send your hair. Or anyone else's.
Series eight of Newsjack starts on the 14th February 2013 on BBC Radio 4 Extra. A special show, featuring the best of series seven, will go out on Radio 4 the week before.