Original British Dramatists 2015 is a BBC Radio 4 showcase of five new plays by writers who are new (or newish – at Radio 4 we say a writer is new until they have written two plays for us) to radio - five out of about thirty newbie writers we commission every year into the 14.15 drama slot. We are looking for fresh new vibrant talent, strong, individual voices; we are scouting for the writing talent of tomorrow.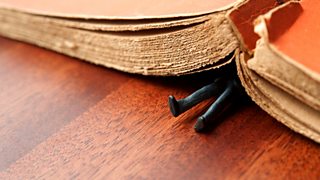 Original British Dramatists - Five new plays for BBC Radio 4
We kick off with doyouwishtocontinue by Christine Entwisle (June 8th, 14.15). It is a bittersweet (and laugh out loud) comedy about mental health. It was the clear winner of last year's BBC Writer's Prize. Speechless (9th June, 14.15) is a second comedy by Andrew Viner whose first play, When I Lived in Peru, really stood out in last year's Original British Dramatists. It was a superb comic debut, and if we like a writer's work we want them to continue writing for us; I am hoping that at least half of the writers from the last run of Original British Dramatists will have a second commission by the end of the summer.
Vashti MacLachlan's The Sod (June 10th, 14.15) is a beautiful semi autobiographical play about gardening and multiple sclerosis, and A Thing Inside a Thing Inside a Thing by Iain AJ Ross (June 11th, 14.15) is a space ship drama featuring the maddest octogenarian female astronaut ever to appear on Radio 4 (played by Julia McKenzie). It was one of the runner-ups in the previous year's Writer's Prize competition. The run ends with Triple Word Score by Ben Tagoe (June 10th, 14.15), a sharp piece about the current obsession with competitive Scrabble in Nigeria. The plays are a mix of funny, sad, and intriguing glimpses into unknown and unfamiliar worlds. They are, I think, really good pieces of storytelling that will make you laugh, make you cry, and – I hope - surprise you.
Radio has had some success in finding new writers - you may have heard of Tom Stoppard and Harold Pinter – both of whom started writing for radio. Sally Wainwright's first writing gig was on The Archers. Other more recent alumni of the radio school of writing are James Graham and Mike Bartlett, both of whom had written a portfolio of plays for us before they became well known theatre and screen writers.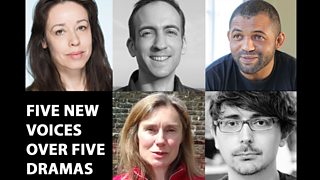 From left to right: Christine Entwisle, Andrew Viner, Ben Tagoe, Vashti MacLachlan, Iain Ross
Why are new writers important to us on radio? Well, on radio if the script isn't good I'll put money on the play that you hear won't be any good either. Nobody can tell me that Mad Max: Fury Road has a brilliant script, even though it is (in my view) the best movie of the year so far – it is all about the visuals and the production. That is what movies do best. In radio, a production may enhance a good script, but it won't trump it. On the radio there is precious little between what the writer writes and what the audience hears. Good writing stands out, bad writing has nowhere to hide. It truly is a writer's medium - which is why we are always on the lookout for new writers to refresh the well. They are our life blood. Go to the theatre, watch telly, go to the movies and the chances are that if they are British you probably will have encountered the writer's work first on radio.
You heard them first on Original British Dramatists 2015, new writers to radio, on Radio 4 at 14.15 from June 8th to June 12th and on BBC iPlayer for 30 days following each broadcast. Enjoy!
Oh, and if you are a wannabe writer and you live in the North, we are going to launch the Alfred Bradley Award in the next few months – a competition for new writers in celebration of the legendary radio producer Alfred Bradley, who launched more new talent onto radio than I have had hot dinners. Previous winners include Peter Straughan (he adapted Wolf Hall for BBC TV) and Lee Hall.
The Alfred Bradley Award for Northern writers who are new to radio will open for submissions in September 2015. Details will be announced on the BBC Writersroom website and via our social media and newsletter.
Read Christine Entwisle's blog on winning the Writers' Prize for Radio Drama