I met up with Frog Stone to chat about her comedy Bucket, which came to BBC Four in April. A hilarious yet at times turbulent show, it explores the challenges of mother and daughter relationships.
It appears that Frog's inspiration for Bucket ultimately comes from the desire to explore motherly figures, mentors and tensions between women of different decades. Bucket takes us on a beautiful journey and features a refreshing take on women in two complicated and funny characters. Miriam Margolyes plays the irrepressible mother Mim, who celebrates turning 70 by writing a bucket list. As well as writing the show, Frog Stone plays her more reserved daughter Fran.
One of my favourite moments in the show is when Fran, upon hearing some infuriating news, reacts by mashing some French Fancies into her mother's coffee table. These are real women and I like that.
I wanted to ask Frog how she came to write such a quirky, joyful and poignant comedy and what tips she can pass on to other budding writers who are starting out. As someone who is just beginning their own journey into performing and writing comedy, I found Frog's story refreshingly charming and honest as we spoke about the struggles and joys of creating a funny script for television.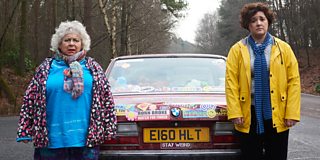 Bucket (Miriam Margolyes as Mim and Frog Stone as Fran)
Who are your comedy inspirations?
Ultimately - Victoria Wood, I used to watch her video tapes endlessly as a child, she was a complete and utter hero and I feel happy when I think of her. French and Saunders influenced me too, along with more recent shows such as Unbreakable Kimmy Schmidt and 30 Rock. Anything that combines emotional conflict with some really funny mucking-around is great. When I was six I went to see Great Expectations at the Royal Exchange, which blew my mind and changed my life. I was so taken with theatre and drama that I started working on ideas and writing lots of little shows with friends. We didn't have drama teachers at school but we always wanted to do plays.
Do you come from a funny family?
No. Absolutely not. I grew up in Preston and went to a local primary and secondary school. I liked to tell jokes to make people laugh. My dad did have a sense of humour in the sense that he liked to watch comedy. We used to have the scripts of Fawlty Towers in our house and growing up I would read them aloud. I'd never seen the show but I wanted to do the acting, which usually resulted in the mispronunciation of various Spanish words. My family are actually famous for teaching and selling yoghurt. What a legacy.
What is the inspiration for Bucket?
The story of Bucket came about in two elements. I wrote a 'jokey' Facebook status about how I'd like to do a Miriam Margolyes Bio Pic. A TV Producer saw it and asked me to develop the idea further. I wrote a treatment for the story around the tensions of women at either ends of life and exploring the nature of mother and daughter relationships. Then things changed slightly when my dad sadly and suddenly passed away. I started to think about how the possibility of being able to do a bucket list and to make any amends with loved ones would work, and that's where the idea for Fran and Mim's relationship started. Mim's generation reject the idea of being quiet old people and Fran's generation are apprehensive about the future. As the show progresses we see Fran begin to understand her mother as a human and ultimately understand herself too.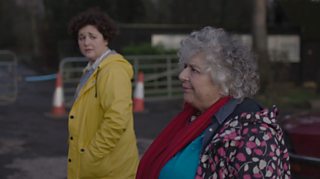 Frog Stone and Miriam Margolyes in Bucket
Was there anything particularly difficult to write or film in Bucket?
I didn't dare write professionally for ages, I thought "who am I, I don't know how to do it, it seemed like an impossible thing". Then I experimented in theatre work, live comedy and radio and I began to write ideas down. I've worked on a thriller script and I have taken some transferable skills from that. I think a shock is the same as a good joke.
The writing process is the same for a lot of genres. It's agonising and painful and then ecstatically wonderful and nothing in-between. There are moments when I'm frustrated because the brilliant idea in my head isn't coming out, and then there are moments when you are just doing it. The first draft of episode 4 was difficult because I was letting out some emotional things and tapping into grief.
In terms of filming, it was physically challenging as it was subzero temperatures for most of the shoot. We were filming in January and February and there was a lot of dialogue. There were times when I was feeling very tense like my character Fran! The mini golf scene where we had to shout was tough as well as the hospital scene. As a writer, I think you can't help but want to re-write even when you're watching back. As an actor, you think 'ugh why did anyone let me pull that face'.
What are your tips for developing a comedy script idea?
I know the characters from Bucket inside out but that took a long time. Use the time before submitting a script to get to know the characters. A lot of things you write will never be perfect but first instincts are often on the money, they might just need moving to a different place or even a different script! Do some live stuff and let people see how you work. People will always find two minutes to watch your video. Find people who are prepared to work with you and have fun. I wrote some of my best jokes as a teenager because I wasn't tied down to what the process of writing should be. it was just pure instinct.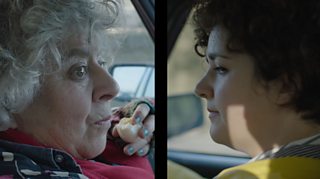 Do you have any scriptwriting tips for staying focused?
Do not go on any form of social media during your writing process in the day, even if you feel you have to google something, because it really breaks your concentration! I would definitely go for a walk and talk it out loud too. Improvise the scenes, act it out and do the voices. Do not punish yourself if you don't get much more done one day than another.
What are your plans next?
I think we are still missing complicated, funny and flawed women on TV. I think there have been brilliant ones recently, such as Fleabag, but there is room for more because I don't think representation is near enough. You never see people like Mim and I on screen together because there are flaws in both of our characters! Lots of women in a comedy should never be a hard sell, there is room for pushing more boundaries with genre crossing and I'd like to be part of that.
Read the script for episode 3 of Bucket in our script library