Writersroom 10: Winners Announced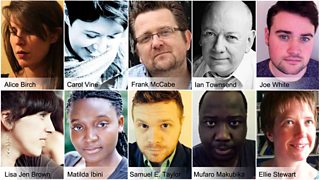 We launched the Writersroom 10 at the 'Theatre-Broadcast Conversation'  last year – our bi-annual partnership programme for writers and theatres, marking the importance of theatre as the first home for many brilliant writers in the UK, and investing in writers and new theatre writing at an early stage.
We are really pleased to announce that the 10 winning writers and their partner theatres are:
Alice Birch - West Yorkshire Playhouse
Carol Vine - Brockley Jack
Ellie Stewart - Traverse Theatre
Frank McCabe – Greyscale
Matilda Ibini - Soho Theatre
Ian Townsend - Bolton Octagon
Joe White - Birmingham Rep
Lisa Jen Brown - National Theatre Wales
Mufaro Makubika - Nottingham Playhouse
Samuel E Taylor - Bristol Old Vic
The 10 writers will be part of a year-long development scheme and will each receive a seed-commission of £1000, a BBC mentor to broaden their scriptwriting horizons and bring a fresh perspective to their work, the opportunity to develop new work for The Space and a programme of partnership events with theatres.
Writersroom 10 judges were acclaimed writers Tim Price (The Radicalisation of Bradley Manning), Lucy Kirkwood (Chimerica, The Smoke), and Kate Rowland (BBC Creative Director, New Writing)
Here's what they had to say:
Kate Rowland: "Writersroom 10 was created to celebrate the unique relationship between the theatre and the BBC. The final ten leapt out through their originality and boldness and are as diverse in writing style as they are in the locations of the theatres that nominated them."
Tim Price: "It was a real privilege to read the shortlisted plays for Writersroom 10. New writing is under attack via cuts handed down from local government forcing theatres to adopt an increasingly risk averse approach to programming. Writersroom 10 offers an innovative solution to this, and the winning plays are some of the finest new plays I have read.
The winning writers display a talent for writing plays that ask questions of Government, society, family and the individual and remind us how liberating it is, to celebrate diversity and champion the under-represented."
Lucy Kirkwood: "It has been a great pleasure and an inspiring experience to read the short listed scripts, and to be introduced to writers thinking in such bold, fine, surprising ways. I am excited to think of the stories they will tell in the future."
The winning writers will be updating us on their progress throughout the scheme on the writersroom blog. 
You can read the full press release on the BBC Media Centre website.