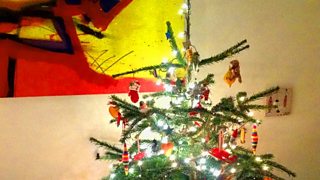 Merry Christmas from BBC writersroom
Thank you to everyone who submitted to the latest Script Room window. We received an amazing 2865 scripts online and we're still logging a few posted submissions.  When you think about that in terms of the individual effort, blood, sweat, tears, imagination (and the odd bit of exposition) and the sheer determination that you've all put in, it's pretty mind-blowing.
So I salute the work you've done and look forward to challenge of the big read. Script Room has been an ongoing conversation within the Writersroom team. Like you we question if we doing this the right way; will we find the best? What is the best? Why one script and not the other? To those who think this is a cynical, worthy exercise, let me reassure you it is not, but we do constantly discuss how to best invest BBC money, your money and mine, to make each submission process a really productive talent search.
So… drum roll, big announcement - here are our new plans for 2014:
Rather than the open Script Room of the past, where we considered every medium & genre of script in each round, this year we are going to try something new and be more strategic about the process, with specific windows for each genre.
This way you can plan ahead and work in a way that allows you to concentrate your talents on those areas that most interest you, while we focus our time and energy on giving you the most inspiring, informative content on the website to stimulate your thinking. We'll also be able to work more closely with the relevant BBC departments for each submission window.
So here's how it goes:
Script room 1       March 2014                   Drama - TV & Film
Scriptroom 2        April/May 2014              Comedy - Radio/TV/Film
Scriptroom 3        June 2014                    Children's – TV (comedy & drama)
Scriptroom 4        Sept/Oct 2014               Stage and Radio Drama
Lots more will follow in the New Year but this is a heads up about the new system. Dates, details of what we will and will not read will all be online before we open the next window.
And finally we are saying goodbye to our wonderful Web producer Fiona who is going off to more musical parts. A big thank you to her and Season's Best Wishes to everyone.
Happy Christmas and get writing!
Kate
- Kate Rowland is the Creative Director of New Writing at the BBC, and Head of BBC writersroom.
Related links:
- Find out more about submitting your script to BBC writersroom.
- Get top tips on script writing in our Write a Script section.
- Explore opportunities and events for new writers.