FAST AND FUNNY 2016 - Participants Announced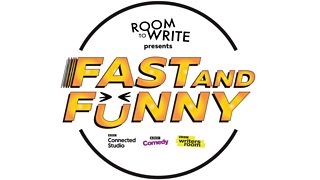 We are delighted to announce the participants of our brand new comedy initiative.
Fast and Funny is an exciting collaboration between BBC Writersroom, Connected Studios and BBC Comedy focusing on creating the next wave of comic internet sensations. We'll be working directly with 12 individuals to develop their skills and publish their funny work online throughout 2016.
These fantastic writer/performers will have the opportunity to work with a variety of comedy professionals across the year and we already have a host of dynamic sessions in the pipeline.
First up, the Fast and Funny team will attend a masterclass led by Robert Florence, star of hugely popular sketch show Burnistoun and creator of multiple online hits including BBC Scotland digital series Rab's First Footer, we're really looking forward to this!
So without much further ado, here are the names of our Fast and Funny digital short form makers:
Ally Houston
Annabel Logan
Derek Smith
Gavin Grant
Graham Hughes
John Speirs
Nathan Byrne
Patrick Kondracki
Rachel Jackson
Sandy Bouttell
Stephen Buchanan
Susan Riddell
We received over 100 applications with a small number picked for the shortlist and a final 12 selected for the scheme.
Huge thanks to everyone who submitted an entry and congratulations to all of our successful participants.
Steven Canny, BBC Comedy Executive Producer and lead on Fast and Funny said of this year's scheme: "Fast and Funny is a chance for us all to develop our skills in making short, inventive, content that has the ability to attract attention and make people really laugh. I'm delighted by the variety and range of comic voices this initiative has encouraged and look forward to working with them through 2016."
Our Fast and Funny twelve have already been hard at work on their first challenge – producing digital content based on the theme of Valentine's Day.
Take a sneak peek at some of these video challenges below:
Graham Hughes' 'Valentine Vine' (above) John Speirs 'Half Hearted Valentine' (below)