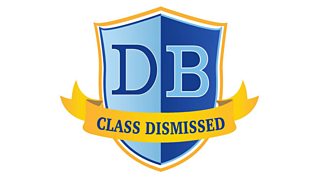 The 'Dockbridge High' school badge from CBBC's upcoming sketch show, Class Dismissed
Claire McCarthy (Producer, Class Dismissed)
Class Dismissed is a brand new mockumentary-style comedy series for CBBC, set in the fictional school of Dockbridge High. We've taken to describing it as Educating Essex meets Little Britain, and I think that's a fairly accurate description! Shot to look like a fixed rig documentary, the staffroom is full of larger-than-life comedy characters ranging from a science teacher with a sinus problem; to an art teacher who can't resist the opportunity to get 'creative'; to a school nurse who thinks he's an ER surgeon. The series follows four Year 8 pupils - Billy, Tahj, Emily and Jasmine – as they grapple with everyday life at this extraordinary school; with the voiceover from our narrator, BBC Breakfast's Bill Turnbull, adding some wonderfully unnecessary gravitas to the proceedings! Memorable characters, repeatable catchphrases and laugh-out-loud comedy combine to create a unique, funny new series for 6-12 year olds.
When the writers' room first suggested working together on an initiative for new writers as part of the Salford Sitcom Showcase I thought it was a fantastic opportunity, not only for the writers but also for us. It's great to be introduced to new, fresh and funny voices, especially in a way that is so specific to a current project. We already had a strong core writing team that contained a breadth of experience, as from the outset we wanted a range of voices and a mix of new and more experienced writers. The writing process was well under way – but there is always room for more funny ideas!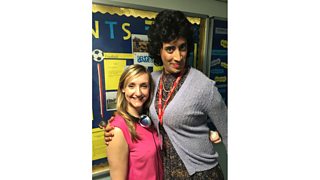 Producer Claire McCarthy and Mrs Mark (Richard David-Caine) on set
The brief was to write up to 3 sketches, each 1-3 minutes long for one of our existing characters. Writers were reminded to focus on comedy that would be accessible to a 6-12 year old audience: jam-packed with laugh-out-loud, larger-than-life sketch characters of the Little Britain mould and a clip was provided from our pilot episode to reinforce the tone of the show. So, a clear brief - but great practice given that the majority of professional writers will find themselves writing to order in this way rather than having the luxury of a blank page.
We had an unbelievable response! The writer's room whittled down the 462 submissions, containing well in excess of 1000 sketches to just 19 submissions (containing 24 sketches) which were submitted to the production team. Each one was read by the Assistant Producer and I, and we were spoiled for choice. All of the shortlisted sketches had strong comic conceits at their core. Selection came down to the sketches that best captured the tone of the show, contained a unique idea (and one that had not already been written by our writing team) and of course, above all, that made us laugh the most! I was really pleased at the quality of the work and was delighted to be able to include the best 4 sketches in the final scripts.
We shot the series in a real school in Stockport over six weeks in the summer with a fantastic cast and crew who really made the writing come to life. I hope our writers room finalists will enjoy seeing their work on screen and that this experience will open the door to more opportunities for them. Being part of the BBC Writersroom initiative has been a really valuable experience for us too and a great way to expand our writing pool. I can't wait for people to see the finished series starting on Monday (7.45am, tune in!). So, until then, Class Dismissed!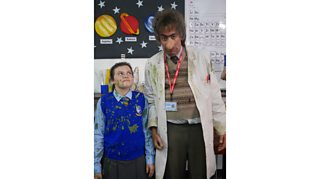 Emily (Charleigh Adams) has a nose encounter with Mr Nasal (Richard David-Caine)
THE WRITERS
Scott Limbrick
I've done a little bit of writing before, but mostly for university-based sketch shows and plays or for online publications rather than radio or television. I entered the Class Dismissed initiative as it seemed like a great opportunity to test my skills and see if I could write something within certain parameters and for given characters, which was a nice challenge, and the possibility of it being used for a show was also exciting.
The sketch I wrote immediately came to mind when I read the character description for Mr Hart as I tried to amp him up as much as possible, with the dialogue taking a little longer but coming more easily once I decided to give him a "man of action" feel. I hadn't written for children before so watched a few sketches from older CBBC sketch programs to get a feel for what was suitable for the age group, something that really helped write this sketch in particular as it was quite different from how I might usually write.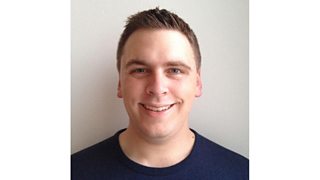 Scott Limbrick (Writer)
Opportunities like this are fantastic and I think it's great that the BBC has openings like this one relatively regularly. I'm originally from Australia and there are far less entry level points in this area, so the fact that the BBC commits resources to reading submissions for shows like this and its multiple radio shows provides something tangible to work on with the possibility of it going to air. It would be very exciting to see this sketch go to air and I have a couple of younger cousins who would hopefully enjoy it!
Kate Hinksman
I'd previously written a sketch that made it to the recording stage (but not the final edit) of BBC Radio 4's The Show What You Wrote, about a headless horseman whose victims kept having to give him directions. I was also shortlisted in the comedy section of the 2014 Funny Women Awards with a sitcom about librarians.
I entered Class Dismissed mainly for the challenge of working to a tight deadline and to have a go at writing for an audience I hadn't before.
Bizarrely, when I found out about the initiative I'd just had a very long, very silly conversation with one of my friends about our own school days, so that definitely helped in terms of coming up with ideas. It also helped that Mr Christopher was a character that I recognised instantly, so I had a lot of fun brainstorming ideas for ways he could wind up his pupils.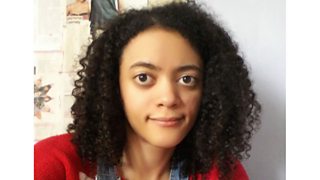 Kate Hinksman (Writer)
I've never written for children before, but what really convinced me it was worth attempting was watching the clip on the BBC Writersroom site and finding that it was a show that I would watch myself (both as a kid and now, as a so-called 'adult').
I'm extremely excited to potentially see my sketch on screen! The whole process has really encouraged me to keep at both writing comedy and being silly in general.
Allan Miller
As I'm sure most writers will have found it's not easy to get your material in front of producers, but the Class Dismissed competition was a great way to get my sketches under some noses.. and eyes. I'm incredibly chuffed that being under those noses and eyes has led to something I sent in to the BBC Writersroom being filmed for CBBC.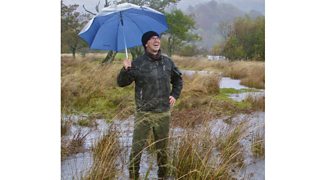 Allan Miller (Writer)
Jack Hall
There's something a little bit forbidden about setting a comedy script in a school. You finally get to pipe up with those cheeky comebacks you never had the courage to say in the classroom; you can smile in the knowledge that one of your former teachers has no idea their traits and eccentricities are captured forever in words, and you can turn experiences which seemed like hell on earth at 12 years old into funny and relatable exchanges. That was what drew me to submit a script for new CBBC show Class Dismissed.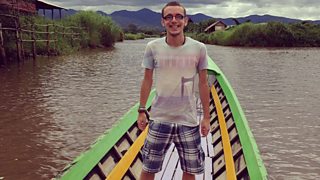 Jack Hall (Writer)
I'd never written for kids before but I'd written for myself and that's kind of the same thing. Never would I have envisaged that my first ever script commission would be a CBBC sketch, but it makes perfect sense given my unrelenting reluctance to grow up. And what better setting than a school? Little over five years ago, it was me in the school uniform sitting in lessons which had the intensity of the New York stock exchange. It was me participating in 'team-building days' whereby pupils were expected to think outside so many boxes that I'm surprised the stockroom didn't run out. It's this identification which makes Class Dismissed such a brilliant concept and that's why I'm so ecstatic to have had this sketch commissioned. Whether this is the first of many commissions or simply a one-off, a little piece of my childhood is being filmed for the small screen… with a healthy sprinkling of CBBC madness on top.