A Q&A with Jeremy Brock (Diana and I, Casualty, Mrs Brown, The Last King of Scotland...)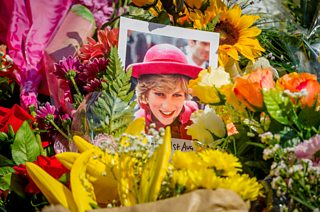 Diana and I (Image Credit: BBC / Big Talk Photographer: Ben Blackall)
What was the development process for Diana and I?
I had a brilliant researcher, Victoria Bavister, from Big Talk. She and I spent hours going over extant newsprint from 1997, then we'd meet every week in my office to discuss our findings. Victoria helped me think about the best news-stories and then she set me up with face to face and telephone interviews. I also spent time talking to people in general about their memories of that week. What struck me early on was how often people recalled those seven days as a moment in which something changed for them, like an alteration in perspective that often accompanies intense grief or sickness.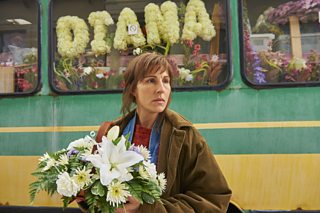 Mary McDonald (TAMSIN GREIG) in Diana and I. (Image Credit: BBC / Big Talk Photographer: Ben Blackall)
How did you decide on your specific approach to the story?
I was looking for stories that reflected that feeling of transformation, of shift… good or bad. As I continued researching, potential storylines emerged. When they did, I started to focus down on four imagined stories, each of which, in some way, reflected the different ways we internalised Diana's memory. My interviews and research became more specific. I began talking to journalists in Paris at the time of Diana's crash, to florists who recalled that week and how it impacted them etc. I took a trip to Glasgow and spent one memorable night at the Glasgow Flower Market. Interestingly, I never found anyone who wasn't prepared to talk about that week, even if their attitude was critical.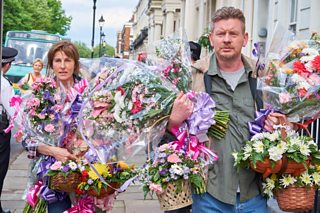 Mary McDonald (TAMSIN GREIG), Gordon (JOHN GORDON SINCLAIR) L-R (Image Credit: BBC / Big Talk Photographer: Ben Blackall)
What do you think it is about Diana's death that makes it such a catalyst for dramatic storytelling?
It was as if some aspect of Diana's personality, her otherworldly glamour, her intimate woundedness or the soap-opera of her over-reported life, was internalised by the public, at the point of her death, so that its sudden loss touched us in ways we never expected. Of course, there were people who were completely unmoved, who saw the public's response as a kind of mass-hysteria whipped up by the media and amplified by the advent of 24 hour news. But whatever your views, the death of a young mother, leaving two sons behind, was something to which everyone could relate.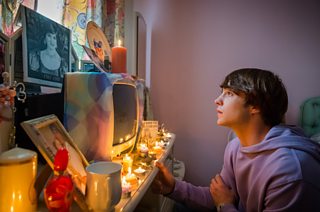 Jack Taylor (NICO MIRALLEGRO) in Diana and I (Image Credit: BBC / Big Talk Photographer: Ben Blackall)
How did you come up with your characters?
They sort of came up with themselves. I talked about potential storylines with Simon Curtis who'd had the initial idea to make a film about this week from the point of view of the public. He and I chatted with Luke Alkin, Victoria Bavister and Sophie Williams from Big Talk. Out of those conversations, some general story ideas emerged, like wouldn't it be interesting to explore that week from the point of a young gay man who loses his beloved mother the same night Diana dies, or what if we take the point of view of a florist struggling for money or a cub journalist full of over-ambition. I knew I wanted two female and two male characters but other than that, it was just about letting their voices and stories emerge.
Diana and I (Jack Taylor (NICO MIRALLEGRO), Russell (KINGSLEY BEN-ADIR) L-R (Image Credit: BBC / Big Talk Photographer: Ben Blackall)
What's your writing process? Do you plot out the storyline first or just launch straight in on page 1?
I always plot the storyline first, but I try to keep that structure as loose as possible… maybe a page to a page and a half. In the case of Diana and I the challenge was slightly different from a conventional screenplay in that I was writing four separate but inter-related films, each 20 minutes in length. I found that both exhilarating and sometimes very challenging. When you have so little time, the choices you make about how to manifest each moment feel even more important. Once I've written the treatments, I'll hand those in, they'll be discussed and revised, then I'll launch into a full draft screenplay. After that, the process is simply about re-writing and refining for as long as it takes. I would say resilience and drive are two key features of a screenwriter's talent.
Aunty Rachel (PRUE CLARKE), Uncle Zaheer (ROSHAN SETH), Aalia (AABAY-NOOR ALI), Yasmin (KIRAN SONIA SAWAR) L-R (Image Credit: BBC / Big Talk Photographer: Ben Blackall)
Are you particularly interested in telling stories based on true events?
I've never really thought of myself in that way, but I suppose it must be true up to a point. I think the power of fiction framed by fact (as opposed to drama doc) is that it allows the audience into a piece of public domain material, Queen Victoria and John Brown's relationship for example, and the fact that it's fiction means I can take them right into the heart of the story. I never feel I have to stay locked onto the so-called facts. I'll keep them in mind, but I like writing that feels true to the spirit of something rather than writing that slavishly follows history. Historical fact is, anyway, a contradiction in terms. All history is memorialised and, by default, written from someone's point of view. There's what happened, but the why and how of it is always open to interpretation.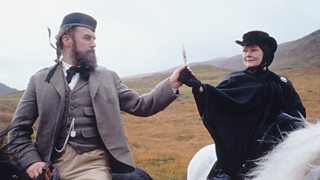 Mrs Brown, written by Jeremy Brock and starring Judi Dench and Billy Connolly (image credit: BBC Films)
Looking back what was your first break into writing professionally? What do you know now that you wish you had known then?
My first big break was co-creating Casualty with my friend Paul Unwin. When we started, we knew nothing. Neither of us had ever written for television and neither of us had any experience. We had enormous drive and a very strong sense of what we wanted to write, but we needed a huge amount of support which we got from our head of drama, Jonathan Powell, from our script editor Caroline Oulton and from our hugely experienced producer Geraint Morris. If there's one thing I wish I'd known then that I know now it would be…don't panic, it's only entertainment.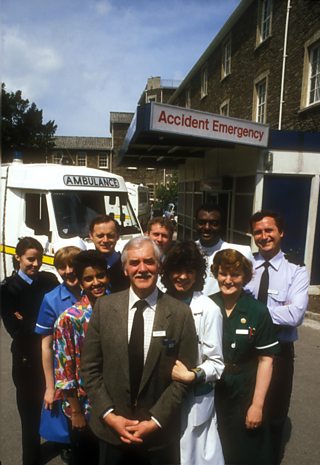 The cast of series 1 of Casualty in 1986. Casualty was created by Jeremy Brock and Paul Unwin
You co-created Casualty with Paul Unwin, why do you think the show has endured? What is its secret? Are you still actively involved?
I'm not really involved anymore, though Paul still writes and directs for Casualty occasionally. He recently wrote the brilliant one-shot episode that went out in July this year [available in the BBC Writersroom script library here]. I think the reason the show endured is that it hit on a very simple but powerful structure. The Casualty department is the frontline. Unless we're very lucky, all of us, at some point in our lives, will experience it. The people who work there are part of an idea…the NHS…that represents the very best of our social conscience. When Paul and I started Casualty, it was 1985 and the Tories were cutting NHS services with a brutality that now seems moderate compared to the savage cuts being imposed now.
I think, in some way or other, Casualty spoke to what our audience share with us…a belief in the NHS, a belief in human generosity and in the ability of people to rise above their fears and be their best selves. The best characters in Casualty are flawed, fallible but striving. I believe, perhaps unfashionably, that this is what most people are actually like.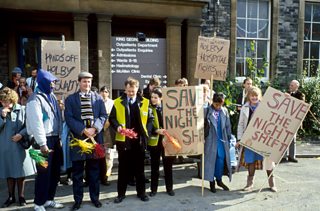 A fictional demonstration from series one of Casualty (1986) created by Jeremy Brock and Paul Unwin
You've written for theatre, for TV and film, what do you think are the key distinction between them and do you have a preference?
Television and film remain quite similar disciplines. Long-form television requires certain skills that aren't required of a single film…building long-term story arcs for example…but the tools are roughly speaking the same. When I wrote Diana and I I thought of it as an independent film. Perhaps 20 years ago, that's what it would have been. The distinctions between independent film and a single-drama for television, in terms of available technology, are now almost indistinguishable. Theatre is very different. In film and television, the director can have a huge influence on the overall shape and feel of the piece. With Diana and I, our director Peter Cattaneo, brought a vision that impacted every element of the finished film…from the performances, the look, the sound, the shape and the overall structure of the piece.
In theatre, the writing has to do much more work and to that extent it feels like writing in 360 degrees. Everywhere you look, the writing is responsible. You're aware of every element of storytelling all the time…theme, dialogue, character development, structure, tone and pace. This isn't to say that a theatre director doesn't have a huge influence, but they cannot influence the minutiae in the way a film director can. Neither can they massively influence the overall tone and impact of your play; that's largely set in the writing of the piece. I guess this is one reason why people still print playscripts and rarely print screenplays. Having said that, I am weary of the snobbery that still prevails regarding the cultural heft of plays over television. There's a self-perpetuating self-congratulation that persists around "theatre" that seems to be in inverse proportion to its reach. I've never understood this. The cultural impact of any piece of work…film, television or theatre…cannot be truly measured. Frankly, none of us should judge, we should just shut up and do our work.
Watch a clip from Diana and I
Have you had projects go wrong or get cancelled and do you have any advice on dealing with setbacks?
Oh god yes. All the time. Ask any screenwriter how much of their developed work is actually made and they'll either start gibbering, get immediately very drunk or bore you to death with stories about how they wrote this AMAZING play/film/TV series and…etc etc. It's just part of the job description. As I said earlier, if you want to write screenplays you must have resilience and drive and you must brace yourself for constant disappointment. But when it works, when a piece comes together, it's a truly wonderful feeling. And, despite some occasional paranoia, it is an incredibly privileged way to earn a living. Remember the rule of thirds: a third of the people will like it, a third will be indifferent and a third will hate it.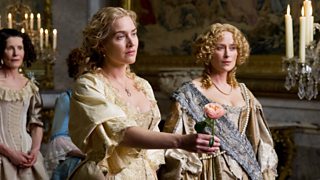 A Little Chaos, written by Jeremy Brock and starring Kate Winslet (image credit: BBC Films)
Your work has been performed by some incredible actors – Emma Thompson, Kate Winslet, Cate Blanchett, Judi Dench, Forest Whitaker etc etc – do you write with people in mind or are you involved in casting?
Whenever you write a screenplay it's usually in advance of casting. In the case of Judi Dench and Billy Connolly, I knew quite early on that they'd be playing Queen Victoria and John Brown, so I could write with their voices in my head. Sometimes, I'll pick an actor and use their voice as a template. Other times, a character will involve no specific voice/type but be a combination of people and voices. I am involved in casting, particularly in television where I'm an executive producer of my work. If your director is generous, they will include you on every step of the way. When Peter Cattaneo was casting Diana and I with the amazing casting director Jill Trevellick, I saw all the tapes and was involved in all the casting discussions. Obviously, with established actors you don't audition, you offer. Casting Kiran Sonia Sawar, Nico Mirallegro, Tamsin Greig and John Gordon Sinclair in Diana and I was an example of how joyful this process can be: great actors, delivering nuanced performances which invest what you've written with meaning you didn't see coming.
What's the most useful piece of advice about writing you've been given or do you have any useful advice you can pass on?
The great Alan Plater once told me that when you go into a script meeting, always take a fresh notebook and lots of pens. Open the notebook and prepare to write down every word your producer/executive/editor is about say regarding whatever screenplay you've just delivered. This can have a remarkably sobering effect on the length of the meeting.
The first draft is yours alone. The other twenty five belong to you and the rest of the creative team.
With any luck, nobody will die and you'll get to work again.
Diana and I is on BBC Two at 9pm on Monday 4th September 2017 and on BBC iPlayer
Find out more about BBC Films including Mrs Brown, A Little Chaos, Brideshead Revisited