Boy Meets Girl: The Story So Far
Editor's note: Boy Meets Girl is the UK's first transgender sitcom and has been commissioned as a full series on BBC Two among the channel's raft of new commissions. Created and written by Elliott Kerrigan and Simon Carlyle, the Manchester-based comedy was discovered through the Trans Comedy Award – a BBC Writersroom talent search in partnership with Trans Comedy, which offered aspiring writers up to £5,000 for the best script that promoted a positive portrayal of transgender characters.
First things first, thank you for taking the time to read this. Second, I'll try not to keep repeating the phrase "and then we did this..." Thirdly, how did this happen? One moment I'm out of work, not doing much with my life, avoiding parties in case someone says, "So what do you do?" And then here I am, sitting at a laptop, writing a blog for the BBC Writersroom. And, just for the record, if I was at a party now and someone said, "So what do you do?" I'm not sure I could say "Writer." Chances are they wouldn't believe me, but to think I'm working on a TV show for BBC2… well this is crazy to me. Anyway, enough of my rambling. Here's a little bit of my journey so far.
Before 'Boy Meets Girl' I'd worked on a script called 'Northburn,' which I entered into a BBC Writersroom competition called 'Laughing Stock.' 'Northburn' was one of the winning scripts. As part of the prize, I got to go to a Writers Workshop in Kent for a few days. I got to meet some incredibly talented new writers, such as David Byrne, Mathilda Gregory and Jo Williams. We also had a Q+A session with Graham Linehan, which was the biggest thrill as I'm obsessed with 'The IT Crowd.' I can still remember the church-like hush as Graham Linehan came walking into the room. (My memory is lousy but I do recall one of Graham's suggestions to us: he recommended the book, 'Simpsons Confidential' by John Ortved, as a great insight into writing for TV.)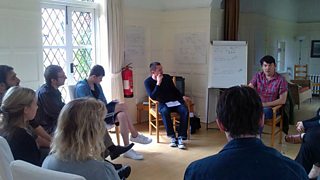 Graham Linehan delivering a comedy masterclass at the Laughing Stock Writers Residential
Fast forward to the following year. I'm on the Internet. Before I log off I check the Writersroom website. There's a new competition: The Trans Comedy Award. I read all the info and thought, "God, what a great opportunity for someone." (I must just take a second here to say a big thank you to everyone who helped organize The Trans Comedy Award. Everyone at the Writersroom, and also everyone at All About Trans – especially Alana Avery and her team – because The Trans Comedy Award came out of an All About Trans initiative, and if it wasn't for them…well I wouldn't be writing this.)
So I've seen The Trans Comedy Award on the Writersroom website. I went to bed that night, and I actually said – out loud, to any muse who might be listening – "I'd love to enter that competition, if you have any ideas, send 'em my way." I woke up: nothing. Fair enough, I thought. The muses have bigger fish to fry. Later that day, I went for a walk and, bit by bit, the ideas and characters started coming. I got home, thanked the muse, turned on the laptop and started typing.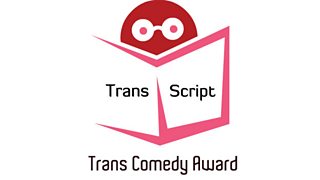 I'd like to say a little bit more about why I entered the competition. It wasn't just that I could see it was a wonderful opportunity. I was thinking about who and where I might be if I hadn't seen the shows that I watched growing up. Shows like 'Will and Grace', 'My So Called Life' are incredibly important to me. They showed me, at a young age, that it was all going to be okay. And I thought that, if I were transgender, what shows would I be watching? And I couldn't think of any. So that thought kept me typing into the wee small hours of the morning.
I enter the competition. 'Boy Meets Girl' is one of the two winning scripts. I'm invited to London where I meet the other winner, Tom Glover, who wrote a brilliantly funny script called 'Nobody's Perfect.' I also meet: Kate Rowland from the Writersroom, Jon Plowman (the producer of countless classic sitcoms) and Sophie Clarke-Jervoise (MD at Tiger Aspect and The Loveliest Woman In Showbiz). The meeting goes well. Me and Tom get notes. We go away and work on new drafts. We then get some great news: there'll be a table read in front of an audience, which will include Shane Allen from the BBC, as well as two judges from The Trans Comedy Award: the lovely Claire Parker and Milanka Brooks. (Quick aside here: one of the nicest surprises about this journey has been the new friends I've made. Milanka Brooks has to be one of the loveliest people I've ever met. And not just that: what an actress! I've been lucky enough to watch Milanka in a few TV shows now and I think she's as good as it gets.)
I forgot to mention something. I was going to work on my script with Sophie, while Tom would work with Jon Plowman. We work on the script. And then, thanks to the casting director, Jo Buckingham, a great cast is assembled for the read through. The actors are all Mega Talents: Harry Hepple (the first audition I've ever watched and I'm so pleased it was with HH), Jonny Dixon (I think he's the male Judy Holliday – anything he does is funny), Denise Welch (for me, born to play the role of Pam), Richard Ridings (who was hilarious), and Janine Duvitski (how strange meeting Janine. It felt like there should've been a TV screen between us. She's in two of my favourite shows: 'Benidorm' and 'One Foot in the Grave'). And, last but not least, Jo Buckingham found us Rebecca Root…
I remember watching Rebecca's audition tape for the part of Judy. I thought one thing, "There's Judy." A moment I'll never forget: the day of the read through. It's the cast with Sophie, me and Simon Carlyle, who, as script editor, had waved his wand over the script and completely transformed it. We'd been rehearsing all day. I found myself laughing, enjoying it all. The audience came in for The Big Performance. Somehow, someway, the planets all align for this read through. The actors are getting big laughs. But here's the amazing thing: the emotion of the piece, the love story, came to the fore…Well by the end I was ready to start blubbing. I managed to hold it all in until I started hugging the actors to say 'thank you and goodbye.' I hugged Janine, and then I hugged Rebecca (I almost wrote Judy then) and the waterworks started. It was just one of those moments. I still thank the fates that brought this lovely human being into my life.      
After the read through we get the green light to shoot the pilot (for the Salford Comedy Showcase). The team gets some new members: Margot Gavan-Duffy comes on board as producer. Just like working with Sophie and Simon on the script, Margot's input transforms the script in immeasurable ways. But here's one major improvement that Margot made to the script: the early drafts had really long scenes and characters spent a lot of time sitting down, talking. Margot got us to have shorter scenes, more edits, and got the characters up and moving around. As well as Margot, the wonderful Nigel Betts joined the cast; Paul Norton Walker came on board to direct the pilot – what a pleasure it was to watch him work, no messing around, knew what he wanted, got on with it, and never got stressed – ever. Special mention for the crew here: all brilliant, but I have to single out John Osborne, who was in charge of Sound. Sitting next to him for a lot of the shoot – what can I say but thank you, John! Loads of great showbiz stories and his enthusiasm stayed at a 'Ten' all day long. A class act if ever there was one.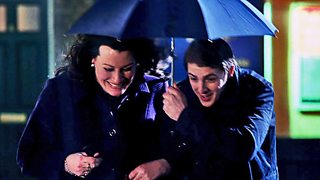 Boy Meets Girl Pilot: Rebecca Root & Harry Hepple
So we make the pilot. It's edited by a remarkable editor called Adam Windmill. Adam pretty much rewrote the story in the edit room, and got so much more out of the story. And then it's soon time for the screening in Salford. This is an incredible night. I went into the screening thinking that this was my last night with 'Boy Meets Girl' – there would be no more BMG after this point. But the audience's response was incredible. The first line got a huge laugh – it hadn't before then – and then laughter began to roll. We even got a gasp from the audience, and then at the end, someone in the audience went 'Ahhhh…' What a response! Best moment, though: I was sitting next to Rebecca and one of her lines got the biggest laugh. So deserved. Rebecca, if you're reading this, know this: I am your number one fan. (But not in a Misery-Kathy Bates kind of way.)
And now here we are making 'Boy Meets Girl' the series. It's a pleasure to be co-writing the scripts with Simon Carlyle – his experience and Midas touch is going to turn the scripts into something special. Other people's input has been just as important. Before we made the pilot, we had a read-through with the cast and Shane Allen and Kris Smith from the BBC. Their notes made a huge difference. So much so that, without those notes, I don't think we'd be making the series. More recently, Kris gave some really helpful suggestions after he read the story outlines. In fact, one of Kris's notes really helped bring a new character to life. So it's all been a lovely collaboration. I feel like I've joined Fleetwood Mac and we're just about to go into the studio and record an album.
As for what happens next… well nobody knows. I'll work hard, listen to what the muse says, and hope we make a TV show which will delight the audience. A few years ago I turned on my laptop and wrote the word 'LOVE'. That was the original title. I've felt a lot of love from a lot of people on this project. If a fraction of that love reaches the audience I'll feel like it was all worth while.
All About Trans is managed by On Road, a not-for-profit that supports marginalised or misrepresented groups to solve the social problems they face by changing the way they are understood and portrayed by the media. In 2012, All About Trans held 'Trans Camp' - an innovative event for transgender people of different backgrounds and media professionals, to come together and look at ways to change the representation and portrayal of trans people in the media. The idea for the Trans Comedy Award was born. It went on to develop and be led by known trans comedians and the BBC Head of Creative Resources.  In November 2012 BBC Writersroom in partnership with Trans Comedy launched the Trans Comedy Award at the Creative Diversity Network Awards - the Trans Comedy Award was looking for original television comedy shows featuring transgender characters and/or themes.  Elliott Kerrigan was one of the winning writers and received further development by the BBC in association with Jon Plowman and Sophie Clarke-Jervoise (Tiger Aspect), towards a staged reading held by BBC Writersroom.  As a result of this Boy Meets Girl was filmed as a studio pilot for the 2014 BBC Salford Comedy Festival's sitcom showcase and has now been commissioned to a full BBC Two series.