His Dark Materials begins on BBC One and BBC iPlayer on Sunday 3rd November at 8pm. We caught up with the screenwriter Jack Thorne to ask him why he wanted to take on the challenge of adapting these multi-layered books, about working with the author Philip Pullman to tell the story as faithfully as possible and for it to still be 'a proper sofa show'.
It's Time…His Dark Materials - watch the trailer
When did you first start taking your writing seriously and think of it as a possible career?
At college I wrote a play mainly so I could direct it. But I loved the writing of it. I don't know that I immediately thought of it as a career, and I don't know if I remember the exact moment when I said 'yup, let's do this'. I think it just sort of happened gradually. I don't think I ever thought it would sustain as an idea until it did.
You began your screenwriting career on Skins under showrunner Bryan Elsley. What did you learn from that experience and do you ever fancy taking on the showrunner role yourself?
I learnt so much from Bryan, who is an amazing, proper showrunner. His patience with all of us was astonishing. Lucy Kirkwood and I saw him in a theatre about three years ago and both apologised for how much we expected from him as he was dealing with everything. He's remarkable. But I don't want to be a showrunner. I like sharing out the duties of making. I like writing but not much else involved in making TV, in fact I'm not much good at anything else, I don't trust my judgement on such things. I don't think it needs to be an ambition for all writers - the idea of total control - I think there are many, like me, who'd be better trusting the brilliance of others.
On His Dark Materials that means Jane Tranter, Dan McCulloch, the executive producers I work closest with, Joel Collins our production designer, and Russell Dodgson our visual effects guru. We all give each other notes, we all learn from each other, and we we all share the storytelling responsibilities, we've made this show together.
You have an incredible output – with for example your original show The Accident going out on Channel 4 simultaneously with your adaptation of His Dark Materials on the BBC. How do you keep that up? What is your typical working day?
That's just everything happening at once. I've had a lucky few years and tried to ride the wave of it. I don't intend to keep it up. My day used to be a mad sort of rollercoaster of constant writing. Now I have a son and it's all changed. I don't have a typical day, I just try and work as hard as I can and not let people down.
Why is it important for you to write both for TV and theatre? Do they satisfy you in different ways?
Yes, the making of theatre is the greatest of experiences. Sitting in a room with incredible actors seeing the results directly in front of you. TV is more piecemeal, but it's where I'm most comfortable I think. I love both really.
What are the challenges of adapting His Dark Materials? Hear from the cast, the author Philip Pullman, the screenwriter Jack Thorne and the producers.
What is it about His Dark Materials that made you want to be involved?
The books are pure genius. The idea of having the responsibility of translating that genius was daunting but incredible.
You've worked with both JK Rowling on The Cursed Child and Philip Pullman on His Dark Materials. Is it easier adapting or developing work from living authors, compared for example with adapting A Christmas Carol for the stage or can it ever feel intimidating? You've mentioned practically carrying out a PhD in Philip Pullman!
A Christmas Carol (which returns to the Old Vic this year) is very different. And I don't think it's about the author being alive or dead. I think it's about the fact that A Christmas Carol has been done a huge number of times and you don't have the same responsibility to the author.
I think adaptations roughly fall into two camps. One, where the piece is a treasure that you must preserve because this is the one chance the author has of seeing their work replicated on another medium. That doesn't mean religiously obeying every full stop and comma, but being aware that you're the holder of the flame. The second is when the piece has been done, the author has been celebrated, in fact, been celebrated more than once, and your job is to place yourself within the work. If you are commissioned to adapt an Agatha Christie for television say - you know that Agatha Christie has been done a number of times, she doesn't need religious observance, rather she needs 'a take'. She needs something of yourself inside the telling. The same is true of Jane Austen, she did not have any men swimming through ponds in see-through shirts, the same is true for Charles Dickens.
Working with Philip Pullman was about discovering the story he wanted to tell, in order so I could find a way to translate it to TV. And yes, we definitely - myself and Xandria Horton, my script editor, Jane Tranter and Dan McCulloch did a PhD in his work, in order to tell it as faithfully as we could.
An interview with author Philip Pullman Creator of His Dark Materials, Philip Pullman discusses the theme of the book, adapting his story for the small screen and which scenes he's most looking forward to seeing come to life.
Do you think His Dark Material has found its natural home as a long-form TV series? Did you still have to make lots of difficult judgement calls about what to leave in or take out?
Jane Tranter's pitch for the show, before even I was involved, was to 'sound every note'. Now there are times when we can't exactly replicate everything, mainly because it would cost too much, but we've tried to keep sounding those notes.
The His Dark Materials trilogy has so many layers and works on so many different levels for adults and children. Is it difficult to reward all those different audiences and reflect the novels' complex themes?
We want this to be a proper sofa show - one where no-one is left behind and you can talk about it afterwards. So yes, we've tried to take everyone with us.
The show goes out at 8 o'clock on Sunday on BBC One. Was there any pressure to 'tone down' any themes in the books – for example around organised religion, faith, dogma and free will?
No. No pressure at all. There's been some interesting compliance stuff about how much or how little we can show of such things, but that hasn't changed the storytelling, just the angle we tell it at.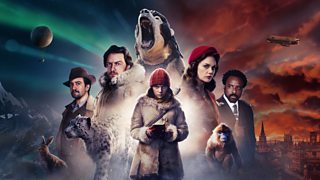 His Dark Materials