Chris Cantrill is part of our Comedy Room writer development group for 2018/19. He recently attended our introduction to writing for Children's day which is run at Media City in Salford in conjunction with the Drama Room writer development group.
Hello! I'm Chris, one of the 2018 Comedy Room intake*. My background is in live performance and I write and perform as one half of Yorkshire's finest, meat-themed double act, The Delightful Sausage. We've been described as a 'Cannon & Ball' meets 'Hellraiser' - it's safe to say, we're niche**.
At the time of writing, we've had three Comedy Room sessions***. The first was about writing topical comedy, the second looked at the world of sitcom and today's session focused on writing for younger audiences.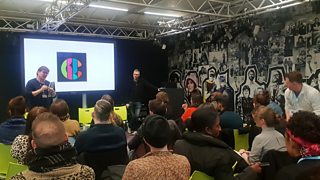 Kicking off Children's Day with the combined Comedy and Drama Room groups
As the really tired dad of a two-year-old, I know their minds are terrifying, snack-fuelled chaos machines. A typical conversation with my son will go like this:
"Good morning!"
"Dinosaur! Does Mummy have a bottom? Snack!"
So, writing for children was a definitely a daunting prospect but after today it's one I'm very excited about.
The schedule for the day was packed with speakers working in the different departments involved in producing BBC content for children. The Scripted Development team took us through the shows they make and how they develop the concepts. We heard about the exciting new ways in which Digital Content is changing how we tell and consume stories. We also learnt about the extra precautions you'll need to consider when writing for a pre-school audience.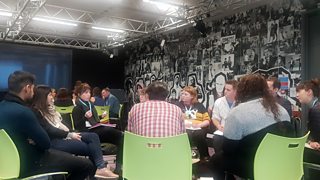 Workshopping ideas
Pitching 101
After lunch we split into groups and had to pitch an idea for a scripted show to John Knowles and Hannah Smith from the BBC Animation Department.
I'm sure to most rational folk, this is a truly chilling prospect****. However, it's a skill you'll need in the wheelhouse. Being able to clearly articulate your vision for a project is the difference between it getting made or being quietly added to the dreaded C-drive mausoleum of unseen scripts.
Here are my tips:
Do
Be creative! A pitch sits in a weird space between performance and business presentation. On one hand, you're trying to sell a creative idea which should be exciting. The flipside being, it's still a commercial proposal, so avoid making it a cringe comedy routine.
Define your audience. 6 - 12 years old is a huge developmental chasm and finding something that pleases both ends of the spectrum is unlikely.
Be concise and read the commissioning requirements. You should be able to define your idea in a couple of sentences.
Listen to feedback. Being able to collaborate is essential and it's the production team's job to make sure your idea is as polished as possible before they sink a stack of cash. It doesn't mean that you have to agree on everything but if a note is being made it's most likely highlighting an issue which needs fixing.
Don't
Download an air horn app to signal your presentation has ended.
Respond to feedback by screaming, "this interview is over!"
Interrupt the pitch with a fake call from the head of ITV in a futile attempt to initiate a bidding war.
The mantra for the day (or for writers in general!) presented by Connal Orton, Exec Producer
Overall, it was a really fun and interesting day. Being part of the Comedy Room has been a fantastic experience. I've had amazing opportunities, learnt from masters of the craft and been introduced to a peer group of hard-working, very funny oddballs.
That said, the BBC is a public body and there are many opportunities for everyone to submit work or learn more. It was either Pablo Picasso or Syd Little who said, "Inspiration exists, but it has to find you working" and that's probably the most valuable lesson I'm taking from the Comedy Room. You have to be working on stuff all the time and sometimes it really is as simple as sending an email and saying, 'hello'.
Now, I've got to get back to some top-notch dadding as it's just dawned on me I haven't seen the lad in over an hour.
* The other Comedy Roomers call me 'The Cool Beatboxing One'. Yeah? Guys?!
**Or in the words of an audience member in Cardiff, "cease and desist."
***You can read all about day two from Omar
****Scared of speaking aloud and failure? I'd recommend the immersive therapy of stand up comedy!