We're delighted to announce our Scottish Voices for 2020. These 31 writers have been selected to take part in our annual year-long development programme consisting of masterclasses, script editing support, bespoke writing opportunities and networking.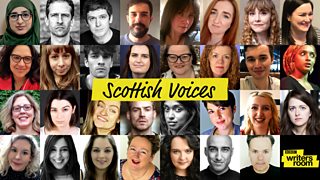 The Scottish Voices writers for 2020/21 are:
RAISAH AHMED
Agent: Jessica Cooper, Curtis Brown
Raisah is a Scottish Asian Muslim Writer/Director, based in Glasgow, currently working across television and film. She has been shortlisted for the Sundance Screenwriters Lab twice - in 2015 with Meet Me By The Water and in 2018 with Safar which is currently in development with Producer Zorana Piggott. She is in development with Zorana Piggott on a WW1 feature, Half-Moon Camp, for Film 4. Her writing credits include CBeebies shows Feeling Better, Molly & Mack and Control a BBC The Social phone drama and Aden's Journey a short drama about a refugee unaccompanied minor for the Celcis course 'Caring for Children on the Move'. Alumni of the EIFF Talent Lab 2014, Raisah had her first commissioned short as writer/director Meet Me By The Water premiere at EIFF 2016, it went on to be programmed by BBC Scotland's 'Next Big Thing' programme. She directed one of BBC 3's The Break III, 2018, was a shadowing director on CBeebies Molly & Mack S2 and most recently directed on CBBC's 'Sparks'.
TIM BARROW
Agent: Rachel Daniels, Berlin Associates
Born in Edinburgh, Tim is an actor, writer, director & producer who trained at Drama Centre London. Tim founded Lyre Productions to make contemporary Scottish feature films. He wrote and produced award-winning Scottish road movie The Inheritance and Edinburgh love story The Space Between. His new feature Riptide – a schizophrenia love story road movie – is currently playing film festivals worldwide.

Tim's play Guy was produced at London's Pleasance Theatre, and directed by Michael Fentiman. Union premiered at Edinburgh's Lyceum Theatre, directed by Mark Thomson, and is published by Playdead Press. Neither God Nor Angel played at Oran Mor / Traverse, directed by Ryan Alexander Dewar. A War Of Two Halves (co-written with Paul Beeson) played at Tynecastle Park stadium, directed by Bruce Strachan. Sweet F.A. (co-written with Paul Beeson) plays at the Edinburgh Fringe 2021. He received a New Writers Award from Playwrights Studio, was selected for the Wellcome Trust Ideas Lab at Edinburgh International Film Festival, and has worked as a Starter Artist at National Theatre of Scotland. Tim is currently a participant on BBC Writersroom's Drama Room 2021-22.
PAUL BEESON
Paul is an Edinburgh born actor, writer, and co-founder of This Is My Story Productions. He has many theatre credits and has previously toured the U.K. and internationally with acclaimed company Nonsense Room Productions, performing in children's shows including You Choose, which he also devised and wrote. Paul's first venture into writing was sketch show A Beginner's Guide to the Fringe in 2005, and then he co-wrote and performed in the critically successful Edinburgh Fringe sellout production of A War of Two Halves in 2018 and 2019. The play received many 5 star reviews and was one of BritishTheatre.com's Critics Choices of 2019. The play will be returning in 2021. He has also written two short films, The Hardest Hobbit to Break and Route de Sort.
Paul is currently developing and writing two comedy drama series, The VHS Diaries and Theatre in Education, along with a companion piece for A War of Two Halves, called Sweet F.A., which will premiere in 2021. He has also recently filmed a pilot for Scottish sitcom Game of Cones and recorded an audio drama called From An Island.
MICHAEL BURNETT
Mikey is an Edinburgh playwright and screenwriter who writes predominantly in the east coast vernacular. His past work comprises both drama and comedy. Focusing mainly on working class stories and characters. His most recent stage play, The Bookies, is a co-written piece which will be produced by The Dundee Rep in May, 2022. His short film, In Her Corner, adapted from his Fringe 2019 hit play of the same name is currently in post production. The stage play version was shortlisted for The Papatango new writing prize as well as being longlisted for Theatre 503's new writing award. Mikey is currently developing his Scots language adaptation of George Bernard Shaw's classic, Pygmalion. As a playwright he has previously won an attachment to The Traverse Theatre, as part of the prestigious 'Traverse fifty' and throughout the years he has had many different plays staged all over Scotland. He has also written on commission for the London theatre company, Paines Plough.
LOUISE GRANGER
Louise graduated from The National Film and Television School with an MA (Distinction) in Screenwriting in May 2021. Throughout her two years there, she wrote three television drama pilots, one sit-com, two feature length films, four video games and had a short play, 'Boy & Man', performed at The Soho Theatre in October 2019. Her first IMDB credit as Screenwriter was for 'What The Eye Don't See', a short film made in collaboration with NFTS student producing and directing students. Graduation Showcase piece, 'A Thousand Words' was performed live at The Unicorn Theatre in London in June 2021.
Louise completed NFTS Scotland's Producing Your First Feature short course led by Carolynne Sinclair Kidd in October 2021, and has a completed finance package for her feature film, 'The Other Half', with Scottish BAFTA award winning Director Garry Anthony Fraser attached to direct. She is currently in development with an original TV Series with MediaPro UK, and has recently been selected to take part in Series Mania Institute's Eureka Program in Lille, France.
TARA HEPBURN
Originally from Aberdeen, Tara is a Glasgow-based writer. Tara was shortlisted for the BBC Comedy Room in 2019. In the same year was awarded a scholarship to attend the NFTS Scotland screenwriting course "Writing the TV Pilot" where she developed her comedy/drama thriller "All Killer, No Filler" which was longlisted for the 2020 BBC Drama Room. During her time on Scottish Voices, Tara has broadened her writing experience: writing jokes for BBC Scotland's Breaking The News, Drama for Radio 3 and sketches for BBC Short Stuff. More recently, she has been focusing her attention on writing for children, having worked with young people for over a decade. She was invited to attend the BBC Children's New Voices festival, and latterly to sit-in on a story conference for a new animated series. She is currently developing a young adult sitcom entitled "Fourteen Forever". Tara is passionate about television which celebrates the diversity of modern life, and particularly things which shine a light on the humour and heart of the working-class experience.
BELLE JONES
Belle trained as an actor at the RSAMD (now RCS) where she won the Percival Steeds Prize for Spoken Word and the Norah Cooper Mulligan Award for Verse Speaking. Her first piece for the stage, an adaptation of Aesop's Fables had a successful run at the Arches in 2011. She wrote several short pieces for the Village Pub Theatre before she was a mentored playwright with the Playwrights Studio Scotland and shortlisted for the Tron's Progressive Playwright Award.
Her mixed media show "Shame" ran at the Edinburgh Festival Fringe in 2017 and was shortlisted for the Scottish Arts Club Award. The following year she returned to the Fringe with "Closed Doors", a spoken word storytelling piece supported by Summerhall and was commissioned to write a play for Hopscotch Theatre company which toured Scotland.
In 2019 her show "High Land" was premiered at Coastival in Scarborough and she has developed this idea into a pilot episode with support from BBC writersroom's Scottish Voices. Also in 2019 Belle received the ICONS commission from Perth Museum and Art Gallery to develop an installation about the life of Flora MacDonald, another project she has developed for TV format. During 2020 Belle studied Screenwriting and Script Editing with NFTS and was invited to write and direct a short film "Lapse" as part of the web-series The End. Most recently, her comedy short "Showing Face" was released as part of BBC Scotland Short Stuff.
LISA KEDDIE
Lisa is a Glasgow based writer who writes for the stage and screen. She has created short form comedy for BBC Scotland and Channel 4's online platforms. Her BBC Short Stuff 'Internal Monologue Girl' series of sketches has over 3.2 million views to date. She has written 4 web series' for theatre company Visible Fictions, has sold out Glasgow Comedy Festival with her sketch group Who Fed Benny?, was one of the writers for stage sketch show Witsherface, and her short plays have been performed across Scotland. During lockdown she has adapted Romeo & Juliet for zoom, which was nominated for best film at the Shakespeare Shorts festival, written and directed an episode of The End, a collaborative filmmaking project, and created a short film about talking pigeons for Visible Fictions.
Lisa has an MA in Television Fiction Writing from Glasgow Caledonian University, for which she received a full academic scholarship from Shed Media. She was one of the Playwrights' Studio mentored playwrights in 2015.
HANNAH LAVERY
Hannah is an award winning poet, playwright and performer. Lavery's poetry has been published widely and her poem, Scotland, you're no mine, was selected by Roseanne Watt as one of the Best Scottish Poems 2019. The Drift, her autobiographical play toured Scotland as part of the National Theatre of Scotland's Season 2019 and in 2020 she was awarded a New Playwrights' Award by the Playwrights Studio Scotland and selected by Owen Sheers' as one of his Ten Writers Asking Questions That Will Shape Our Future for the International Literature Showcase, a project from the National Writing Centre and the British Council. Hannah is one of Imaginate's Accelerator Artists and an Associate Artist with the National Theatre of Scotland. In November 2020, her play Lament for Sheku Bayoh was directed by Hannah in a co-production with the Royal Lyceum Theatre, National Theatre of Scotland and Edinburgh International Festival.
EMMA LENNOX
Agent: Julia Kreitman, The Agency
Emma is a comedy and drama writer based in Glasgow. She currently has a sitcom in development with Young Films and Channel 4, and an episode of Channel 5 mini series The Holiday is in production with Projector. She has worked on original TV ideas with Carnival Films, Banijay and has a feature script with Hopscotch Films. Emma was awarded a place on the Young Film Foundation 2019/2020 programme and is currently in development with TOD productions awarded through the Scottish Drama Writers' Programme.
Emma has a filmmaking background and developed her short film Grimm Street through the Scottish Film Talent Network. Grimm Street premiered at the Edinburgh International Film Festival before screening internationally and winning a BAFTA new talent award for lead actress Sarah Miele. Emma started out writing comedy for BBC Radio Scotland, and educational shorts for BBC Learning and Bitesize.
SEAN LIONADH
Agent: Emtpage Hallet
Sean is a poet, writer and filmmaker from Glasgow, known for his visual poem Time for Love, which reached millions of people online, won a 2019 Royal Television Society award and was translated into five languages. It also inspired a Ted talk, and a movement called the Time for Love Project. Sean's poems are studied as part of the English curriculum in International Schools. On Creative Scotland's Bellrock Residency, Sean developed his first feature script, Nostophobia, a psychological horror and relationship drama exploring a gay relationship, and the terror where intimacy and trauma meet. The project is currently in development with producers. Sean published his first poetry collection in 2019 with Speculative Books. Aside from creating work, Sean runs poetry workshops with young people, and is keen to work closely with the LGBTQ+ community within schools, community groups and institutions.
ERIN MCGEE
Erin is a playwright and dramaturg, born and based in Edinburgh. She graduated from Queen Margaret University with a BA in Drama and Performance in 2016 and, more recently, the University in Glasgow with a Masters in Theatre Studies in 2018. She first began to explore playwriting through the Traverse Young Writers programme in 2017 and has been writing ever since, her work being rooted in feminism, gallows humour, and the Scottish identity. Erin has had her plays performed in Edinburgh and Glasgow, with her one woman show Scuttle being performed at the Assembly Roxy and at Gilmorehill. Her play Mooning was commissioned by the Traverse Theatre as part of their 2019 festival programme. Currently, her play Crickets is in development with Edinburgh based company Shift Theatre.
EDEN LUKE MCINTYRE
Eden Luke is a script consultant, editor, performer, and writer for TV, radio, stage, and online. He completed his Master's Degree in TV Fiction Writing at Glasgow Caledonian University in September 2020, writing an original comedy-drama pilot as his dissertation. Previously studying at the University of Stirling, he received BA Honours Degrees in English Studies and Film & Media Studies - specialising in scriptwriting - under the tutelage of writer Stuart Hepburn.
Eden began his professional writing career in 2018 when he was part of the BBC Scotland Writersroom 'The Biggest Weekend.' His original sci-fi comedy shows 'Jettisoned' and 'Intergalactic Layabouts' aired on Stirling City Radio between Summer 2019 and early 2020, alongside a sketch comedy series 'Well-Fired Radio' and 'The News Where You Aren't'. His online comedy series for The Comedy Crowd TV, 'Well-Fired Comedy', won a place at the LOCO London Comedy Film Festival in Summer 2019.
Currently, Eden is freelance writing and consulting for various companies, competitions, and productions. He was appointed as a judge for NYC Midnight 2021 and provides script support and scriptwriting blogs for Screenwriters Network. He also creates original content with his production team, 'Well-Fired Productions', which debuts online on various platforms. He is hopeful that several stage shows, radio plays, and other projects commissioned before lockdown will be produced and performed soon.
Additionally, Eden has a selection of TV projects in early development and is looking forward to adding more to his creative slate in 2021.
LINDA DUNCAN MCLAUGHLIN
Linda is currently writing for BBC Scotland's flagship drama, River City, and is an award-winning playwright, novelist and screenwriter. She's had several audio-stories commissioned for BBC Digital Learning, 'Time for a Story', and has written for BBC Alba's FUNC and story-contributed on Waterloo Road. Her debut novel, Original Sins, was shortlisted for the CWA Debut Dagger Award, and was recently announced as runner-up in the Grindstone International Novel Prize; and her play, Descent, was nominated for Best New Play (CATS Awards), and won a Spirit of the Fringe award. She's had a number of short stories published - most recently, Fly, Sissy in the Edinburgh International Prize anthology. She's also a graduate of Glasgow Caledonian's MATV and a professional actor.
Linda's currently working on an adaptation of Original Sins for TV; a YA story, Winging It, about a young woman who begins to grow a pair of wings; and Sub Rosa, a new four-part TV thriller about a female undercover officer caught up in the 2010s outing scandal.
KIRSTY MCNEIL
Kirsty is a Glasgow born writer who graduated from Caledonian University with an MA in Television Fiction Writing. Her 60-minute one-off drama Moira and Margaret was longlisted for the 2019 BBC Writersroom's Drama room. She has also developed and written a pilot for an original continuing drama based around the Circuit in Glasgow. She's currently Script Secretary at BBC Scotland's River City. She has also been involved in generating both factual and scripted online content for River City's Social Media Team. She was involved in co-writing an online commission for River City surrounding child sexual abuse and grooming. During lockdown, she wrote a monologue for River City character Bernie, which was received well on River City's Social Media accounts. Most recently Kirsty has been given the opportunity to write a shadow script for River City. Starting in April she'll be joining the Story Room, at River City, as a trainee story liner.
MARA MENZIES
Mara is an award-winning performance storyteller based in Edinburgh. She has written and toured several storytelling shows over the last few years, the latest Blood and Gold being presented as part of the Made in Scotland Showcase 2019. It was nominated for the Filipa Braganca award and continues to tour in 2020. Mara has toured and opened the Lagos International Theatre Festival in 2018. She will be the International Teller in Residence at the International Storytelling Centre in Jonesborough, Tennessee in October 2020 and is an invited speaker at the 2020 Clinton Global Initiative University on digital storytelling. She is also currently working with The Royal Lyceum Theatre developing a script of the alternative story of British heavyweight boxing champion Anthony Joshua.
SHERRY MORRIS
Sherry is a prize-winning flash and short story writer originally from the American Midwest now living in the Highlands. Since 2015, she has had over sixty short stories and flash fiction pieces published online or in literary journals and has recently transitioned into script writing. Highlights in 2020 include a shortlisted play about the #MeToo Movement with Pint-sized Plays, and an ongoing collaboration with Kilter Theatre where her humorous story about rude Christmas lights was performed on Bristol doorsteps in December. She will work again with Kilter in April 2021 with a surreal story about a woman who falls in love with a bear. Previous performance work includes a black comedy monologue about a misguided superhero and his cancer-sniffing dog with London's The Space theatre which received a four-star review. Sherry has also written a comedic sex-positive story featuring women over 50 that won an award. During her time as a Scottish Voice she wrote short scripts starring strippers who cope with the pandemic in novel ways and a charming female barber who collects her clients' hair for inventive purposes. Sherry likes to write quirky stories about women who find their own alternative way in a man's world and is delighted that Arachne Press intend to publish a collection of her stories in 2021 because she thinks spiders are tops.
Currently, she is writing a comedy drama that flits between Kansas and Scotland about donuts, dogs and drag queens.
HANNAH ELIZABETH MORTON
Hannah is a twenty-six-year-old, Glasgow based, up in coming actor/playwright. After studying acting at City of Glasgow College and touring with Children's theatre groups Theatre& and Kapow! Theatre Scotland, she moved into writing comedy. Hannah started writing sketches when she was a part of critical acclaimed, all female, comedy collective sketch group "Witsherface", starring alongside comedy power houses, such as Karen Dunbar and Maureen Carr. She wrote and performed her first play A Work in Progress with the Guilded Balloon at the 2018 Edinburgh Fringe Festival to rave reviews, before it moved in 2019 to the Glasgow comedy festival to sold out audiences. In 2020 she was in development with her new play Sad Girls Club, which sadly had to be put on hold because of the pandemic. The play takes a comical look at what makes young women sad in modern day Scotland. Hannah is dedicated to giving a voice to the youth of today who feel "A bit lost in the world" through her writing.
Recently Hannah, made the leap into writing for camera, when she was commissioned by BBC Short Stuff. Her debut sketch "Cusp" was released earlier this year and she wrote and is starring in her own show 'Sad Girls Club' at the gilded Balloon, at the Edinburgh Fringe 2022.
LYNSEY MURDOCH
Agent: Christina Pickworth at Imagine Talent (UK); Sarah Arnott at Zero Gravity Management (US).
Lynsey is an award winning playwright, her work has been performed at venues such as The Arches and the Tron Theatre. A Glasgow native, Lynsey's short film Eat Me was directed by the award winning Tom Shrapnel and her second short, Goon was directed by David Goodall and starred Jane McCarry (BBC's Still Game). Her debut TV pilot The Roar was named in the Top 100 script at Content London 2017 as well as making the Top 10 Drama Scripts list on Coverfly. Her play for young people, Escape Speed, was developed with support from the National Theatre of Scotland. Lynsey was selected for the London Screenwriter's Festival Talent Campus 2018 and shortlisted for the BAFTA Rocliffe Film showcase 2018. Lynsey is currently in development with Blazing Griffin Productions on an original TV drama and with Pirate Productions on an original horror feature film. Last year, Lynsey was selected for the EIFF Talent Lab with her feature project Little Hazard which is now in development with Inceptive Films. This year, she was longlisted for the Sundance Episodic Lab and gained representation with Zero Gravity Management in the US.
RUARAIDH MURRAY
Ruaraidh's critically acclaimed shows Big Sean, Mikey and Me, Bath Time and Boxman (Diana Rigg Edfringe Award) and plays Allie (BBC Scriptroom Drama Finalist) and The Club premiered at Gilded Balloon Edfringe 2012-16, toured Scotland, England, Vault Festival, Park Theatre London and Under St. Marks Theater New York. He starred in award-winning feature Night Bus (BFI LFF Official Selection), Trainspotting (UK Tour), Borgia (Netflix) and Bob Servant (BBC). Development: TV Drama Highlifers (BBC Scottish Voices), TV Comedy Drama Salt 'N' Sauce (co-writer Megan Shandley), short film The Finger and feature films Edinburgh Chosen Few and No Trees on Tiree (EP Douglas Mackinnon). The pitch for his drama T is for Tracksuit is shortlisted to be commissioned by BBC Audio Drama Wales.
UMA NADA-RAJAH
Agent: Giles Smart, United Agents
Uma is a playwright based in Kilbarchan. She is the current 2021 Writer- in- Residence at the Traverse Theatre in Edinburgh and was recently Female Political Comedy writer- in- residence at the National Theatre of Scotland. She is a graduate of École Philippe Gaulier and the Royal Court Theatre's Young Writers Group. Uma is a previous winner of the New Playwrights Award from Playwrights' Studio Scotland and currently works as a staff nurse with NHS Scotland.
AMELIA NASHE
Amelia is an award-winning screenwriter, new playwright, published poet and short story author. Originally Cotswoldian, she moved to Glasgow to complete the MA TV Fiction Writing course and never left. She has written and produced two short films - What The Cat Dragged In (Best Screenplay, CKF International Film Festival March 2019, co-produced with CotswoldTV), and The Flame, made in lockdown. Both available to view on SVoD service, Indie-clips. A third short film script was long-listed for BBC Writersroom's InterConnected, from almost 7,000 entries.
Amelia's play for teenagers, Blood Ties, was programmed in the Scottish Mental Health Arts Festival 2020, and is currently being rescheduled due to Covid. She has explored comedy via sketches for Witsherface and jokes for BBC Scotland's Breaking the News.
Amelia is currently developing a spoof film noir stage musical with MTN and MMD, a comedy drama TV spec and is in talks with international indies and broadcasters on a paranormal crime drama series. Common themes in her work include mental health, climate change, and the power of play. When she's not writing she's subtitling a vast range of British TV output in her work for Red Bee Media, and working as the Ambassador and Head of K Studios, the film and TV department of a global sustainable development company, K Enterprises."
GEORGIA NELSON
Georgia is an award-winning playwright who's play Soft Boy won the ELT and National Newspaper's playwriting prize. Originally from Edinburgh, Georgia grew up in New Delhi in an international school environment. Her international background inspires her writing which often explores cultural intersections that can exist at once. She began developing her writing while living in Hull during the City of Culture 2017 year. Her work was showcased as part of Hull Truck Theatre's GROW festival and within the City of Culture 2017 programme. Based in Glasgow and working as a freelance theatre practitioner and director, Georgia devises youth theatre and community projects across Scotland. Georgia is eager to tell stories that reflect Scotland's diversity. More recently, she worked in the writers room for an upcoming young adult drama with Balloon Entertainment for BBC. She is also developing several sketches for BBC Short Stuff, and ghostwriting similar short form content for individual social media platforms.
ALISON O'DONNELL
Alison has been a professional actor for 15 years, working across theatre, TV and radio and is in the very beginning stages of pursuing a career in writing. In 2019 her first sitcom script, co-written with fellow Scottish Voices member Tara Hepburn, got to the interview stage for BBC Comedy Room. She is currently working on a sitcom pilot and a Christmas-themed romantic comedy film set in Glasgow.
MHAIRI QUINN
Mhairi is a Glasgow based theatre and screenwriter and has had work performed at the Tron, Traverse, Assembly Roxy, Dundee Rep, The CCA and Oran Mor. A finalist of the Tron Theatre's Progressive Playwright Award with her play 'The Bridge Street Flats'. Her short play Preparing for the Afterlife was commissioned and directed by Andy Arnold for the Take Me Somewhere festival. Mhairi has written comedies for In Motion Theatre Company's Winter Words and ReWrite Festivals. She was selected for the Mentoring Programme by the Playwrights Studio Scotland to develop her play 'Politics of the White Stuff' under the mentorship of playwright Morna Pearson. Mhairi makes up one third of The Tandem Writing Collective with her new work showing at the Tron and Traverse in April and May this year.
Mhairi was one of BBC Writersrooom's 'Scottish Voices 2020' cohort. Her short film script 'Little White Lies' was shortlisted by Underwire Festival and co-produced by INDELIBLE INK through the Glasgow Film Accelerator Scheme run by Sigma Films and the SFTN. Mhairi is currently developing two comedy series pilots for TV and has a range of experience in writing for younger audiences. In 20/21 she was part of the writing team for Winduna Enterprises LTD's new children's show 'Winnie and Wilbur' based on the best-selling books by Valerie Thomas and Korky Paul for Milkshake! on Channel 5. Interest in her submission for the CBBC's Children's Comedy Monologues opportunity led her to be invited onto the 'BBC Children's New Voices Scheme' for 2021. Most recently, Mhairi was credited for her work as part of a BBC writers' room for the development of their new 'CBeebies Presents' show. Following this she was then recommended by Kay Benbow (ex CBBC Controller) to be part of the development and writers' room for Three Stones Media's 'Attention Action Ayshia' which was funded by the BFI's Young Audience Content Fund. Mhairi is a drama and pastoral care teacher and works closely with many Glasgow based theatre companies such as Solar Bear and Wonder Fools. Mhairi writes and performs spoken word poetry and she can communicate in British Sign Language.
AMNA SALEEM
Agent: Matthew Dench, Dench Arnold
Amna is a Scottish Pakistani screenwriter based in Glasgow with original series TV projects in development with Hat Trick, Blazing Griffin and FilmNation. Her first pilot (BETA FEMALE), was performed as a live table read sponsored by Sky featuring Nina Wadia and later broadcast on BBC Radio 4 in 2019. Beta Female was then recommissioned for a full series with a transmission date of the 5th of January 2021. Amna's script, Psychic Overload, was one of only ten chosen, from a record breaking 6408 submissions after a BBC Writers Room nationwide call out. The resulting short, was produced and shot entirely over video chat in keeping with the rules of lockdown. She has also written sketches for Channel 4 and BBC Short Stuff. Amna is also a journalist, broadcaster and author. Her work can be found in publications such as the Guardian, BBC News, Huffpost and Glamour. As a broadcaster she has been featured on the BBC, SKY and ITV amongst others. She was also featured in two literary anthologies and her first ever Tedx Talk is available online. Her parents are still waiting for her to get a real job.
NASREEN SARAEI
Nasreen (Nas) is a 2017 1st class BA Film graduate from Screen Academy Scotland and Brooklyn College NYC. Following her degree, she worked as an Intern Producer at Edinburgh Napier University, producing award winning short films for The Scottish Prison Service and The National Museum of Scotland. Nas was selected for The SFTN Writer/Director New Voices on Screen Lab 2016 and The Edinburgh TV Festival's Network Talent Scheme 2017 where she wrote and directed a scene with the cast and crew of Casualty. She has written, produced and directed the short films 'Is This It?' selected and screened at Glasgow Short Film Festival 2018 and winner of Best Film at Girls on Film 2018, and 'Hearts'- selected and screened at The Scottish Queer International Film Festival 2018, The Scottish Short Film Festival 2019 and winner of Campbell X's Wahala Film Fund. In 2019, Nas was awarded a scholarship from the NFTS Scotland - Writing the TV Pilot- developing her pilot episode, Carpet Arms. Carpet Arms was a Quarter-finalist in the Screencraft 2021 TV Pilot Competition, a Semi-finalist of WeScreenplay's 2021 Diverse Voices Competition and recently was commissioned by UKTV as part of Comedy 50:50's Female Writing Initiative. Carpet Arms is now currently in development with Eleven Film. Nas was also recently commissioned for BBC Short Stuff, has been in a development writers' room with Beano Studios, and selected for The Young Film Foundation 2021/22- receiving a paid commission for a 60-minute pilot for BBC Drama.
KARELIA SCOTT-DANIELS
Karelia Scott-Daniels is a commissioned writer for BBC Doctors and is in development with a US producer to write a children's comedy Christmas film. She is a Scottish screenwriter living in Port Glasgow and has written and directed five short films, one of which had a theatrical release. Her work has placed in a plethora of writing and film competitions including Austin, Page, Screencraft, Euroscript, Blue Cats and others.
Prior to embarking on a writing career, she launched an award-winning property business from scratch, was Chairman of the Central London branch committee of the Institute of Directors and was made a Freeman of the City of London, which entitles her to drive her sheep over London Bridge. By nature a cathartic writer, she writes witty emotional family drama and thrillers with laugh out loud moments and intriguing characters. She is particularly interested in themes of injustice, mental health and ways in which to make the world a better place.
This is a link to her most recent broadcast episode:
https://www.bbc.co.uk/iplayer/episode/m0015g0t/doctors-series-23-19-in-loco-parentis
ASHLEY STORRIE
Agent: Corrie McGuire, Corrie Maguire Management
Ashley is an award-winning comedian, writer, presenter and content creator. Ashley's online work has amassed over 40 million views across her own channels, BBC Scotland's Short Stuff and Channel 4's Sparks. Her writing credits include two radio pilots "Cat's Crime" and "Conundrums My Dad Says", both broadcast on Radio Scotland and 5 Edinburgh Fringe shows. She has a BA in film making and is currently developing several long-form scripted projects. She is the star of BBC Scotland's Up For It! which returns for its second series in 2020, and has a radio show on Radio Scotland. She has also appeared on The Blame Game (BBC NI), Breaking The News (BBC Scotland) and Fred MacAulay Live At The Stand (BBC Radio 4).
MANJOT SUMAL
Glasgow based actor-writer Manjot is best known for playing the role of PC Surjit Singh in BBC Scotland's BAFTA award winning sketch-sitcom Scot Squad, and Mr Wasu in CBBC's The Demon Headmaster. A former radio presenter/producer, Manjot wrote, produced and performed in sketch show The CraZians and sitcom Da Southsiderz, for radio station Awaz FM.
In 2012 Manjot co-wrote his first play How To Make A Killing In Bollywood. The play toured extensively throughout the UK and played to rave reviews at the Edinburgh Fringe Festival. Manjot is currently writing a sitcom pilot and screenplay for his second feature for the Punjabi film market. He is also developing TV treatments for a dark Scottish-Asian comedy, a coming-of-age mini-series and a psychological horror series.
JOERN UTKILEN
Originally from Norway, but based in Scotland, Joern is an award winning writer and director who graduated from both the Edinburgh College of Art and Screen Academy Scotland. He has written and directed a range of films that have been presented at numerous international film festivals and broadcast on several television channels. Joern gained a BAFTA Scotland nomination for his controversial film Little Red Hoodie. His black comedy Asylum, funded by Film 4, was in 2011 nominated for an Amanda. In 2018 Joern completed his first feature length film, Lake Over Fire, an experimental film showing in competition at the Munich international film festival.
Joern is currently developing various new projects including a new feature film and a comedy crime TV series, both supported by the Norwegian Film Institute. He is also developing a new TV comedy series with Channel X Hopscotch.
If you wish to wish to make contact with any of the Scottish Voices Writers Click Here to contact BBC Writersroom
What does it mean to be a Scottish Voice? Find out below from two of the 2019 alumni, Niki Rooney and Maryam Hamidi.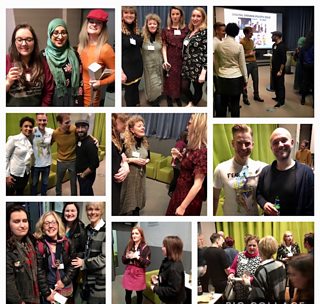 The launch of the 2020 BBC Writersroom Scottish Voices
Niki Rooney
There have been a few things I didn't expect to get out of the Scottish Voices group. First of all, the amount of opportunities to pitch for paid work with actual credits. I'd never considered doing anything for radio before, so getting the chance to write a BBC Learning audio story and a CBBC podcast took me out of my comfort zone in a positive way. I'd never considered sketch writing either, but I also ended up writing an episode of Swashbuckle and taking part in a shadow scheme for The Dumping Ground has led to a commission for the show. Being part of the Scottish Voices group added credibility to my name, and I'm definitely seeing the benefits of that reflected in the amount of interest I've had in me and my work recently.
I also didn't expect to meet so many other writers and become friends with them! In such an isolated, freelance career, it often feels like you're screaming into a silent void. Now we all scream into a WhatsApp group and support each other through the ups and downs of writing life, as well as sharing advice and information about what's going on in the industry. For me, that sense of community has been one of the most valuable additions to my career over the last year and a half! It's been a fantastic an opportunity and the BBC Writersroom team work really hard to support emerging writers and open doors for us that might otherwise feel impossible to access. The TV industry can feel quite unwelcoming at times, so it's brilliant to have advocates for fresh (Scottish) voices, to ensure that they are heard.
Maryam Hamidi
The Scottish Voices group is not an egotistical show boat or about looking good on twitter. It's a very practical gig with real opportunities which is a bit unsettling after rattling around this industry trying to prise open its doors. Like a lot of good things that happen they creep up unexpectedly. Sitting in the Scottish Voices Writers Hub room at BBC Glasgow as we tap out various adventures for screen has been one of the most revelatory experiences for me. What? Sharing opportunities with other writers is nourishing? Celebrating their successes is fun? Having writers around you who take an incisive interest in your work is beneficial? Yes reader, these rhetorical questions are getting embarrassing now. Sorry, I'll stop. Good things have happened for me. I have managed to wrangle some meetings and convince producers to allow me to write for CBeebies. I had a radio comedy pilot produced. I think some other things happened - but it's all a joyful blur now. I have built really brilliant friendships with other writers who often attend events together for the ulterior aim of getting a drink together afterwards, but how lovely to not show up at free wine events on your tod, but strut in slo-mo flanked by pals.
Ultimately though, my writing's got better. Almost imperceptibly at first and then one day you wake up and all that confidence, nurturing and talent championing has given you the space and time and support to believe in your work, your skills and your voice - and that's the tipping point. Writing for TV and Film is one continuous merry dance between success and failure, and sharing the successes and failures with fellow writers is way healthier than doing it all on your own.