There was a time every little town and community in Wales had one – an Italian cafe and ice cream parlour. Although many of them have now disappeared, dispossessed and superseded by giant multi-national chains, the memories remain, not just of the cafes but also the people who ran them and provided a unique service for the men, women and children of Wales.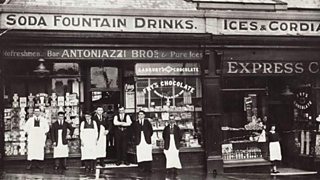 Moruzzi family (Image: St Fagans & the ACLI-Enaip Italian Memories in Wales project)
In these cafes adults could sit and discuss the issues of the day. Children could swoop excitedly on the ice cream cones and wafers. And, in the background, the huge silver coffee machine would hiss and rumble like any spaceship about to take off from Cape Canaveral.
Italian immigration to Britain began as early as the 18th century; most of the people who made the move to Britain were political refugees. In the main these early immigrants settled down in the London area, although as the years passed they did begin to spread all over the country.
Obviously the Italians brought their traditions of cooking with them but, in those early days, they worked at a wide range of jobs, including everything from woodwork and plastering to organ grinding and knife sharpening. And, of course, as the 19th century began to draw to a close they started to open the cafes for which they have become famous.
It is estimated that about 4,000 Italians came to Britain in the years between 1821 and 1851. By the time of the 1871 census that figure had risen to 5,063 – by 1911 it was up to an amazing 20,389.
By the end of the 19th century approximately 1,000 Italians had come to Wales, most of them working as seamen out of ports like Cardiff and Newport or in related industries such as ships chandlers or as dockers.
Immigrants to Wales came from all over Italy. But, in particular, they originated in the northern Appenine Mountain region of the country, many of them from the town of Bardi. The names of these new arrivals have since gone down in Welsh and Italian folk lore. They were the Sidolis, Bracchis and Antoniazzis, people soon to be famous across the length and breadth of the land.
From the 1890s onwards they began to open up cafes, ice cream parlours and fish and chip shops. Most of these were located in the Glamorgan and Gwent valleys but they also ventured much farther afield. In Pembroke Dock there was Montis Cafe, and in Aberystwyth the Antoniazzis opened up the Penguin Cafe close to the town's famous pier.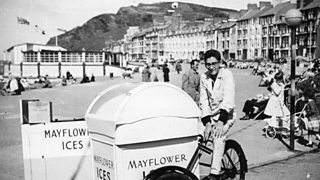 Ice cream seller 1906(Image: St Fagans & the ACLI-Enaip Italian Memories in Wales project)
And it wasn't just shops that they ran. Many of them operated from ice cream carts, selling their wares around the streets and houses of the valley towns. Pietro Sidoli was the last man to sell ice cream from a horse and cart in Wales – his family now run ice cream parlours in Porthcawl.
One cafe owner in the Rhondda, by the name of Bracchi, became so famous that his name was taken and used as a collective noun. Consequently, for years any Italian cafe was known as "a Bracchi".
Frank and Aldo Berni began their catering business in Merthyr Tydfil and then went on to found the Berni Inn chain of restaurants.
The Italian cafes provided a valuable service during the dark days of the Depression. Men who were out of work could find, for a few hours at least, warmth and comfort in the welcoming glow of the town cafe – and many was the time that the bill was carefully put aside until better days arrived in the village.
War and immigration
World War Two brought an unpleasant interregnum after Mussolini declared war on Britain in the summer of 1940. The British government was terrified of spies and what were then called Fifth Columnists. As a result, any Italian who had not taken British citizenship – and, in those easy going, more naive days that meant most of them – was promptly arrested and interned.
The lucky ones went to the Isle of Man, sometimes for as long as four years. The unlucky ones were put on board the Arandora Star and sent off to internment camps in Canada. They never made it.
The Arandora Star was torpedoed by a German U-boat. The captain failed to realise there was also a large number of Germans on board. A total of 805 people drowned, among them 470 Italian internees. Of these 53 were from Welsh towns and communities.
In the years after the war there was a renewed burst of Italian immigration. Now they came to plug the gaps in British industry. They worked in industries such as mining, tin plating and in agriculture. Of course, they continued to run cafes, establishments that were in as much demand then as they had been in the pre-war days.
It is estimated now that there are over 40,000 men, women and children of Italian origin living in Wales. It is the largest Italian community in Britain and has included famous individuals such as boxer Joe Calzaghi, actor Victor Spinetti and the rugby playing Sidoli brothers in its number.
The Italians have made an important and significant contribution to Welsh life. They have added to the culture and brought colour and, sometimes, luxury to a people who sorely needed it. They are, quite simply, part of Wales.