Eminent geneticist Steve Jones to give talk on Alfred Russel Wallace
This year marks 100 years since the death of one of Charles Darwin's lesser-known contemporaries - Alfred Russel Wallace.
Born in Usk, Monmouthshire and later a resident of Neath, Russel Wallace's reputation as a scientific pioneer has been largely overshadowed by Darwin's resurgent popularity.
But in fact he co-discovered the theory of evolution by natural selection with Darwin, a year before the latter published On the Origin of Species.
This idea states that the "fittest" animals or plants are more likely to survive and reproduce.
Although eminent in his day, Wallace has been somewhat forgotten since his death.
In 2013 a series of centenary events is taking place to celebrate the contributions of this important explorer, naturalist, anthropologist and social commentator.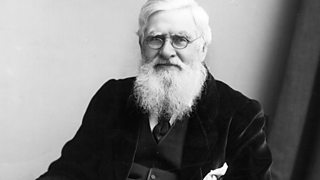 Alfred Russel Wallace. Photo: Hulton Archive/Getty Images
And this Thursday, another Welshman, the leading geneticist Professor Steve Jones, from Aberystwyth, will speak about his life and legacy at a sold-out lecture at the Natural History Museum in London.
Professor Jones, who is Emeritus Professor of Genetics at University College, London, has just finished a book, The Serpent's Promise (Little, Brown), which aims to rewrite the Bible as a scientific text.
He told me that his lecture will explore Wallace's interest in spirituality and the dilemmas raised by his theories on natural selection.
Wallace was certain that Homo sapiens had "something which he has not derived from his animal progenitors - a spiritual essence or nature... (that) can only find an explanation in the unseen universe of Spirit" – a theory which prompted criticism from Darwin.
Professor Jones said: "Wallace was sure that humans had something called a spirit which was not part of their biology.
"This was something Darwin most emphatically hated any insinuation of and Wallace rather fell out with Darwin over it.
"My lecture will surmise that this spirit he was looking for was actually the application of language and this is what has made humans unique.
"Unlike Wallace thought, you don't need something magical to explain what makes us unique."
Evolving languages
The lecture will draw on Wallace's own fascination with the evolution of language and his much-mocked theories that many words in language emerged from chimpanzees and how they communicated with one another.
"Wallace came up with the idea that certain words had actually evolved to go with the concepts they describe, so words in languages like English, French and Malay that signify 'away' are open-mouthed long words, whereas 'come' is signified by short, closed words.
"He was actually such a polymath and man of many talents whereas Darwin wasn't.
"Darwin knew biology but simply did not have that enormous sweep of landscape type of mind that Wallace did, so to me Wallace was far more interesting."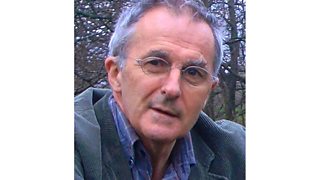 Professor Steve Jones
Professor Jones will also examine how the questions raised by Wallace's theories sit with science today and current religious precepts.
The lecture, entitled Wallace and the Joy of Sects, will also make reference to Professor Jones' book and the way in which the Bible itself acts as a textbook, attempting to find answers for humanity.
"In objective terms we can now say that many of these answers are wrong - science has proved that the world is more than 6,000 years old and Eve was not cloned from Adam's rib.
"The Bible is basically about sex and this begins with the Serpent's Promise and the idea of Original Sin, which is actually genetics by a different name.
"People do have different genes which pre-dispose them to criminality, unhappiness and different personality attributes, but when we use this information in social terms there is no consistency.
"We know men murder at 10 times the rate of women and commit all victim-directed crimes at a greater rate, but in the courts men are punished more for these crimes than women, despite their genetic pre-disposition to criminality.
"The moral issues remain unresolved in the Bible but science tells us what to do about these moral, ethical and spiritual questions."
Restoring a reputation
Professor Jones believes Wallace did lose credibility in his lifetime because of his interest in spirituality, at a time when his peers, like Darwin and Thomas Henry Huxley, deplored such beliefs.
But he feels that if Wallace were alive today, he would still be up there with the greats.
"It is probably Wallace we should thank for On the Origin of Species, because he inspired Darwin to publish.
"Darwin was painstakingly gathering evidence to support his ideas and in the process had written four books on barnacles.
"If Wallace had never written to him, Darwin would never have got around to it and would probably have spent about 40 years looking for further proof!"
The lecture is part of a series being held by the museum to mark the centenary of Wallace's death.
Last month it was announced that letters written by Wallace, including his full correspondence with Darwin, are to go online for the first time.
Events will be taking place throughout the year at various venues to publicise the anniversary.
Professor Jones' lecture takes place at 5pm on Thursday, 7 February, in the Natural History Museum's Flett Lecture Theatre.