"I am Welsh, you know" - Henry IV
So little is known about the life of William Shakespeare that scholarly debates continue to rage nearly 400 years after his death. Our scant biographical knowledge has been augmented by theory, supposition and guesswork, but we will probably never know more than a fragment of the truth.
Even the authorship of the 37 plays attributed to Shakespeare has been cast into doubt. This, one of the world's longest-running conspiracy theories, continues to attract new supporters, with the 2011 film Anonymous adding fuel to the fire.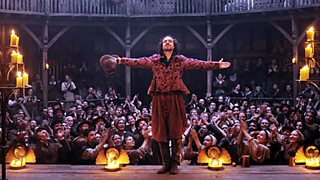 Rafe Spall as William Shakespeare in the 2011 film Anonymous (image: Sony Pictures Releasing UK)
Despite being born in England to a mostly English family, Wales and the Welsh figured prominently in Shakespeare's life and works. Here are 10 things we know - or at least think we know - about Shakespeare's links with Wales.
1. Shakespeare's Welsh play.
Cymbeline, one of Shakespeare's romances, is set largely in Wales. The play's heroine, Imogen, becomes lost after attempting to flea to Milford Haven, referred to as "blessed Milford", and so spends most of the action embroiled in chaos deep in the Welsh mountains. Both John Keats and William Hazlitt listed it as one of their favourite plays by Shakespeare, though George Bernard Shaw was less enamoured, describing its last act as "tedious".
2. Shakespeare had Welsh blood.
Shakespeare's maternal grandmother, Alys Griffin, was Welsh. Some scholars in the early 20th century believed these Celtic roots and their link to an oral poetic tradition explained Shakespeare's artistic gifts. Contemporary criticism has been somewhat more sceptical.
3. Shakespeare's First Folio was dedicated to Welsh aristocracy.
The first folio was published in 1623 and was dedicated to brothers William and Philip Herbert, the Earls of Pembroke. The dedication described them as the "most noble and incomparable paire of brethren". Although this suggests Shakespeare had ties with the Welsh aristocracy, he had died seven years earlier, making it unclear if the dedication was in accordance with his wishes.
4. Shakespeare was Owain Glyndwr's PR man.
And what a fine job he did, as the enduring image of Owain Glyndwr as an exotic and magical Celtic warrior is largely thanks to Shakespeare's Henry IV.
5. There are more Welsh characters in Shakespeare's plays than from any of England's other neighbouring nations.
The playwright's best known Welsh creations are Sir Hugh Evans in Merry Wives and Captain Fluellen, the die-hard Celt in Henry V. Shakespeare gives his Welsh characters familiar verbal tics, with dialect such as "look you" peppering Fluellen's comical English-Welsh speech.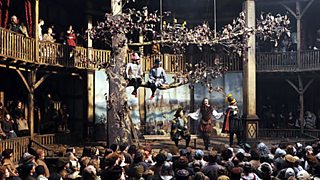 Still image from the 2011 film Anonymous (image: Sony Pictures Releasing UK)
6. Shakespeare's Welsh characters are predictably proud to be so.
An all-too familiar national trait, Shakespeare's Welsh are as keen to express their patriotism as many a modern day gentleman this side of the Severn. When Fluellen's English colleague, Pistol, insults the Welsh vegetable of choice on St David's day, he forces him to eat the national emblem as punishment: "If you can mock a leek, you can eat a leek".
7. A Welshman helped make Shakespeare a writer.
Shakespeare's Welsh teacher, Thomas Jenkins, had a profound influence on the playwright in his formative years, according to eminent Shakespeare scholar Jonathan Bate. Jenkins taught Latin to the young Shakespeare at the King Edward VI grammar school in Stratford-upon-Avon, an education many think instilled the playwright's linguistic flair.
8. Many of Shakespeare's actors were Welsh.
The Bard appears to have harboured something of a penchant for the Renaissance's answers to Michael Sheen and Richard Burton: at any one time there were multiple Welsh actors in The Chamberlain's Men, including Robert Gough, Jack Jones and Henry Evans recorded as company players.
9. Shakespeare chickened out of writing in Welsh.
He wasn't first and he won't be the last but nevertheless, while Shakespeare transcribes whole scenes in French in Henry V, and likewise into gibberish in All Well That Ends Well, for a scene in 1 Henry IV when the Welsh Lady Mortimer features, he reverts to the stage direction "The lady speaks in Welsh". It's assumed Shakespeare would have relied on the ad-libbing talents of his Welsh players for this scene. However his contemporary, Thomas Dekker, included Welsh phrases and words in at least half a dozen of his plays.
10. Shakespeare probably never set foot in Wales.
Somewhat incredibly given Stratford-Upon-Avon's close proximity to Wales, his Welsh granny and the abundance of references to Wales in his work, there is no evidence that Shakespeare ever found it necessary to visit the country to which is he was so closely tied and from which he drew considerable inspiration.
Clearly he was of the opinion "that way madness lies."