Do Not Go Gentle festival designed with Dylan Thomas in mind
Organisers of the inaugural Do Not Go Gentle festival, which takes place in Swansea this weekend, have kept one of the city's most famous sons firmly in mind during its planning.
The new festival celebrates the life and work of Dylan Thomas. As the website says, it aims "to be a festival Dylan might have liked, and yes that involves beer, but it also involves cosy and atmospheric venues, great acts and the lovely people of Swansea who first inspired him to write all those years ago."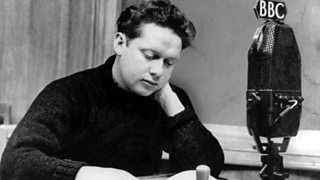 Dylan Thomas at the BBC in 1948
I spoke to festival organiser Pierre Davies, who told me that the idea for Do Not Go Gentle was conceived "on a whim".
He said: "It all started after I read about a new Dylan Thomas festival in Ireland". He refers to the Dylan Thomas Literary Weekend held in County Clare in May, which celebrated Caitlin Thomas' Irish connections and the fact her father, Francis Macnamara, once lived in the festival venue, the Falls Hotel in Ennistymon.
News of the Irish festival, and perhaps its tenuous link to the poet, inspired Davies to create an event in Uplands area of Swansea, which has a far greater connection to Thomas but, he felt, was doing little to celebrate him.
He said: "We only started planning it about six months ago, which is a little risky for a festival - starting it on a whim! But people have really grasped the idea and the response has been great."
Davies explained the reasoning behind creating a festival that the poet may have enjoyed: "He seemed to enjoy small cosy bars and pubs. I think he'd be right at home in the venues chosen for the festival; we've tried to create an ambience that he might have enjoyed."
For a fledging festival there's a full and varied line-up, something Davies attributes to the respect shown towards the poet. He said, "It's all thanks to Dylan really; everyone we've contacted, when we've mentioned Dylan Thomas, they've said yes."
Writers involved in the weekend include the inaugural winner of the Dylan Thomas Prize, Rachel Trezise; poet Rhian Edwards, who was the winner of the 2012 John Tripp Award for Spoken Poetry; writer and co-organiser of the recent xx minifest of women's writing, Susie Wild; plus comic poet and performer Mab Jones.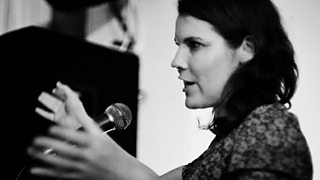 Rhian Edwards performing at Mozart's, Swansea in October 2011. Photo: Michael Süß/suessmichael.de
There's also a number of musicians from Swansea on the line-up such as Out Of The Woods, Captain Cat & The Sailors, Rag Foundation, Andy Jones, Thistledown and The Attic People.
Other musicians involved include Llandeilo duo Trwbador, Jemma Krysa, The Gentle Good, Peter Bruntnell and west Walian band Chailo Sim.
I asked Davies for some of his highlights. He said: "We've fantastic musical artists like Greta Isaac, who's only 17 and going to be star I think, plus great poets like Mab Jones and Rhian Edwards.
"Julie Murphy is going to be performing and we have the Dunvant Male Choir, which perhaps people won't have expected. They are amazing, and will be performing the Eli Jenkins Prayer from Under Milk Wood in a 300 capacity church. It'll be impressive.
"Scottish comedian Phil Kay is also performing, and we've just found out that some of the shortlisted authors for the Dylan Thomas Prize will be attending and reading extracts from their books."
There's also a little drama thrown into the mix, as Swansea-born actress Helen Griffin will perform the one-woman show Caitlin, bringing the love story of Caitlin and Dylan Thomas to life.
Do Not Go Gentle takes place between 3 and 4 November. For more details visit the website donotgogentlefestival.com.
There are more Dylan-related events taking place in Swansea over the next week or so.
The winner of the 2012 Dylan Thomas Prize will be announced at a ceremony on 9 November, the 59th anniversary of the poet's death.
The five shortlisted authors vying for the £30,000 prize are Chibundu Onuzo, Andrea Eames, Maggie Shipstead, Tom Benn and DW Wilson.
The Dylan Thomas Festival, which runs annually at the Dylan Thomas Centre and is unrelated to the Do Not Go Gentle festival, also continues until 9 November.
Upcoming events include a performance from Irish poet Paul Durcan, a talk by football journalist Graham Hunter on the similarities between FC Barcelona and Swansea City Football club and a poetry workshop by Rhian Edwards.
Derek Shiel will present his film on the Welsh artist and poet David Jones, poets Ros Barber and Samantha Wynne-Rhydderch read from their latest works and Nigel Jenkins will launch the book Real Swansea 2, and will be in conversation with the series editor Peter Finch.