Hit children's book about ospreys adapted for stage
If you haven't read the award-winning children's novel Sky Hawk, then you really should.
It combines all the elements of a gripping children's tale - friendship, adventure and a love of animals - as the main characters Callum and Iona embark on a fast-paced journey of discovery.
With the blessing of the author Gill Lewis, it has been adapted for the stage for the very first time at Clwyd Theatr Cymru Theatre For Young People in Mold by Tim Baker, just as osprey sightings in Powys are soaring.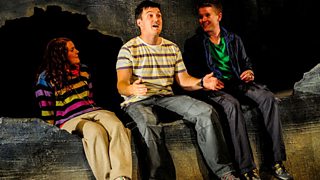 Gwawr Loader as Iona, Berwyn Pearce as Rob and Daniel Graham as Callum. Photo: Kirsten McTernan
The first osprey chick in the valley for 400 years hatched in 2011. Montgomeryshire Wildlife Trust is currently monitoring the number of the birds intruding on the current breeding pair's nest in the Dyfi Valley and has noted an increase.
The show features music by Dyfan Jones in a production that has enjoyed close collaboration with the Dyfi Osprey Team at the trust, who have provided materials and online content to support classroom learning.
I caught up with Tim Baker amid his hectic schedule of school shows and ahead of Thursday's public show.
He said: "One of the things I'm always looking for is trying to engage children in theatre through something they already find interesting and exciting.
"Sky Hawk is currently being read everywhere and has been translated into 25 different languages so I knew it was already very popular with kids.
"It's a wildlife story that's held together by modern technology and has a very broad appeal and is very current.
"We're thrilled with how it's going and the author Gill Lewis has been to see the show and was really complimentary.
"I hope the production will tour in the future and we can interest a whole new generation of children in going to the theatre."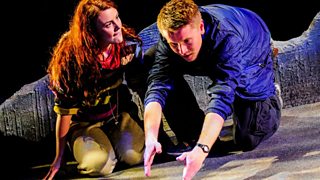 Gwawr Loader and Daniel Graham in Sky Hawk. Photo: Kirsten McTernan
The story centres on Callum and Iona, who discover an osprey nesting on their farm. The bird becomes injured just before its annual migration to Gambia but the children are able to fix it with a tracking device so they can monitor it as it flies south.
When they lose its signal in Gambia, an internet search helps them connect and form a friendship with a young Gambian girl called Jeneba.
When the bird is found it flies back to the children just as Callum manages to raise enough money to bring Jeneba to Britain for surgery to save her legs, broken in a car accident.
Tim added: "Ten years ago the technology aspect might have been lost on such a young audience but these kids really understand it, which is wonderful and it really fits in with what they are learning at school, about wildlife, about other countries and about friendship.
"We've worked hard on making the satellite tracking aspect really visual and we've really enjoyed working with the Dyfi Osprey Project.
"They've shared links with schoolchildren so they are able to see their ospreys live in the nest in Machynlleth and really get involved with learning about the birds and their migration path.
"When we were rehearsing the show, the ospreys were flying back from Gambia and we were able to track their progress which was brilliant."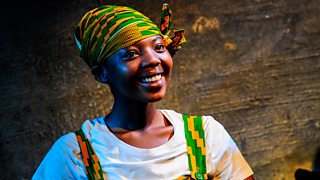 Mimi Ndiweni as Jeneba in Sky Hawk. Photo: Kirsten McTernan
The birds of prey have been nesting on a 30ft (9m) man-made nesting platform at the Cors Dyfi reserve near Machynlleth.
Jessica Richardson from the Montgomery Wildlife Trust, which runs the Dyfi Osprey Project, said: "Ospreys are such dynamic, charismatic birds, full of personality.
"In both the book and at the Dyfi Osprey Project they have captured the imagination of their audience and formed a bond between nature and people that is hard to shake.
"We hope that our younger generation will be inspired by the story, will beg their parents to come and visit the ospreys for real, that they will follow them avidly as they make their migratory journey to Africa and that they will want to learn all about their intricacies."
Gill Lewis said: "I am absolutely thrilled that Clwyd Theatr Cymru Theatre For Young People is taking Sky Hawk to a wider audience.
"It feels especially fitting as conservation efforts have encouraged more ospreys to nest in Wales."
There will be a public performance of Sky Hawk on Thursday 4 July at 7pm. For more details visit clwyd-theatr-cymru.co.uk.