The Call Centre - the location producer
I have been fortunate enough to be involved with the Call Centre series since the idea was developed by BBC Wales. My very first task was to find a suitable call centre that would engage the BBC Three audience and tell a wealth of stories that they would resonate with.
I was brought up near Swansea and have always found the city full of character and filled with people who wear their hearts on their sleeves, so it seemed like a good place to start.
When I first met Nev I instantly knew he had something special to offer. He is exactly like he comes across on screen – larger than life, honest, and with a genuine passion for his business and employees. He gave me a tour of the call centre and introduced me to various people that worked there.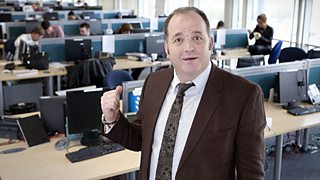 Nev and the team
Nev didn't treat us any different to his employees throughout the entire filming process – he made us feel like part of the family.
Before we started filming I spent a week in the call centre merely observing the people there at work, trying to get my head around the business structure, who's who, and the daily routines. This then gave the directors a heads up on any potential characters to latch on to as we embarked on an intense filming period.
Some of the people there stood out instantly. Hayley, for example: loud, brash, but incredibly loveable (and, hilariously as a tea lady, doesn't drink tea herself!). Twe's floor meetings are like nothing I have ever experienced before – who has ever had the opportunity to put a custard pie in their boss's face? And Johnny Allen, a guy with the gift of the gab and a laugh that you can hear from across the sales floor.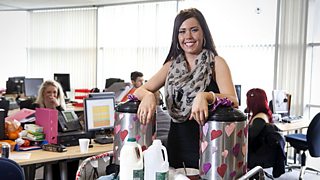 Hayley brings refreshments to the team
It was clear from the start of filming that we were making something different; with a window on a world that many of us had heard of but no idea what goes on there.
We filmed the series over a six month period. We had three crews, hundreds of contributors, and lots of footage. My job was to be the lynchpin between the production team, the people and the business. It was no easy task.
Understandably when you are filming with that volume of people some are not as keen to be filmed as others. The call centre had never done anything like this before so naturally, at times, there were questions raised about how they may come across.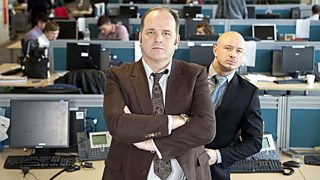 Nev and Twe
There were business sensitivities to take into consideration too. A major part of my role was the ongoing process of building the relationship between the BBC and the call centre, and discussing the problems from both sides as we moved through the various stages of the production process.
I also had to keep across the large number of stories that the directors were covering to make sure we were getting enough variety of character and events. When you are filming real life things don't always go to plan – filming schedules change at the drop of a hat!
But after a huge team effort from both sides - the production team and the people at the call centre, we began the process of shaping the series.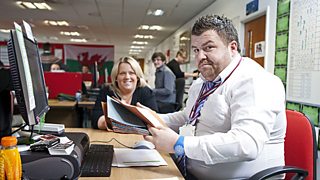 Gemma and Johnny
I think we have all at some point or another formed an opinion of cold-calling call centres, Of course no-one really wants to be cold-called when they're eating their dinner or watching television, but how often do you think about the person at the other end of the phone? They are trying to do a job, trying to earn a living and as you can see from the series, they are decent people, and have heaps of fun while doing so!