Terry Jones pens libretto for The Doctor's Tale
Welsh actor and director Terry Jones has written a Monty Python-esque libretto for a new opera, which is set to open next month at the Royal Opera House.
Jones has written the libretto for The Doctor's Tale, which he will also direct. The story focuses on the plight of a devoted doctor, with a wonderful cure rate, whose devoted patients rush to the rescue after he is forced to stop practising by the General Medical Council - because he is a dog. The patients protest and eventually rescue the doctor from the dog pound, where he was due to be put down.
The Doctor's Tale is one half of a double bill of new short operas called OperaShots, commissioned and produced by ROH2 - the contemporary arm of the Royal Opera House. The productions have been developed by famous names outside the world of opera, and often have unexpected subjects and novel approaches.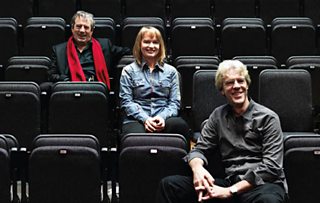 Terry Jones, Anne Dudley and Stewart Copeland. Photo: Perou
Composer Anne Dudley - who scooped an Academy Award for her work on the music score for The Full Monty - is also involved with The Doctor's Tale, which will be performed at the Royal Opera House from Friday 8 April to Saturday 16 April. (Former Police drummer Stewart Copeland is also involved with the other OperaShots production, The Tell-Tale Heart.)
This latest venture isn't Jones' first foray into the world of opera. He co-wrote and directed an opera called Evil Machines, based on a series of his own short stories where a group of household appliances, such as vacuum cleaners and tumble dryers, rise up to overthrow their human masters.
For more information on The Doctor's Tale visit the Royal Opera House website, and read an interview with Jones on the WalesOnline website.
Plus listen to an audio clip from the BBC Radio 4 Today programme, in which Nicola Stanbridge met Stewart Copeland and Terry Jones in rehearsals for the productions.